How Do Fully Electric Vehicles Work?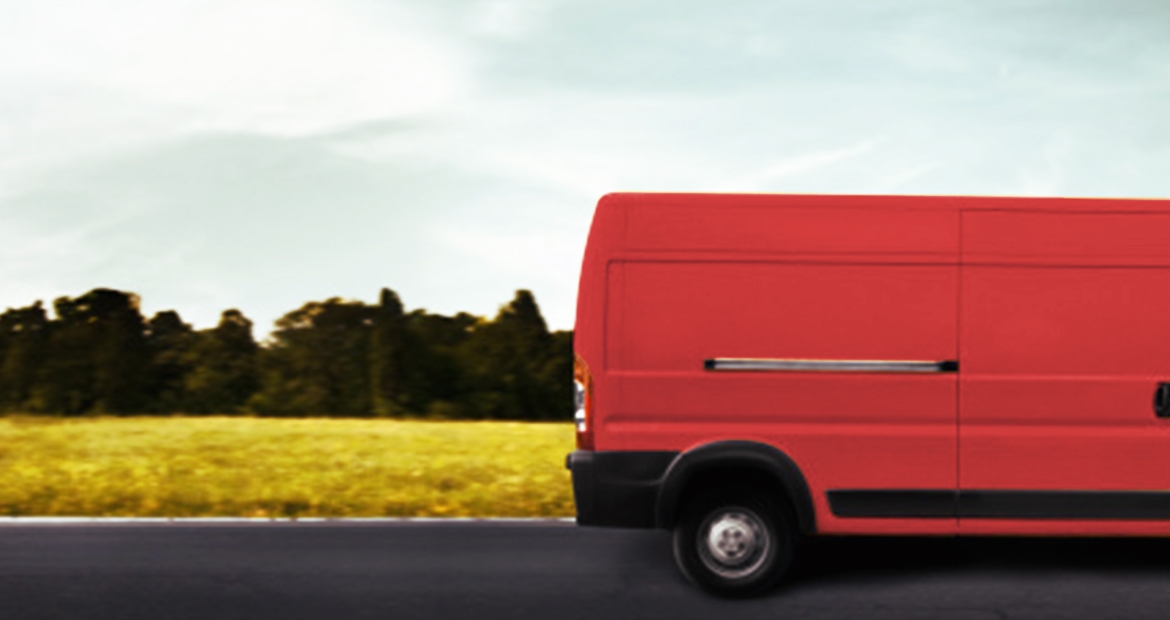 Fully electric vehicles (EVs) may seem like the cars, vans, and buses of the future, but they have actually been around since 1834. However, it wasn't until recently that they gained popularity due to increased affordability and public desire to reduce carbon emissions.
To understand more about electric vehicles and the opportunities they present, it's important to look at what they are and how they work.
What is a fully electric vehicle?
Fully electric vehicles (EVs) are powered by an electric motor instead of a conventional internal combustion engine (ICE). The drivetrain, which supplies power to the vehicle's axles, gets power from a collection of rechargeable batteries.
You may be familiar with hybrid vehicles, such as the Toyota Prius or other popular consumer models, but EVs are different. While hybrid vehicles run on both gasoline and battery power, using an internal combustion engine and a battery electric drive system, EVs only run on a battery electric drive system.
How does an electric vehicle work?
It all starts with the battery supplying electrical energy to the stator, which is the stationary part of the motor's rotary system. In turn, this electrical energy powers coils within the stator to create rotating magnetic fields that spin the rotor. This mechanical energy turns the gears of the car, which then rotate the wheels.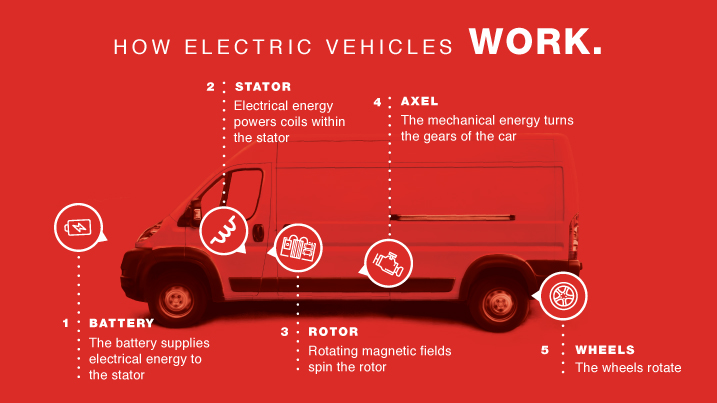 None of this movement is possible without an electrical charge. An EV is charged by plugging into a charging station or wall port. Passenger cars can charge using a 240-volt outlet similar to the outlet that powers a clothes dryer. Trucks, buses or delivery vans require a direct current charge of 150kw or 350kw.
An EV's working range depends on the vehicle. A package delivery van featuring the Cummins electric drivetrain can go over 120 miles on a single charge. Cummins' AEOS semi-truck model has a range of about 100 miles, with potential for 300 miles in the extended range version.
While there is still plenty of room to grow, electric vehicle charging stations are becoming more embedded in urban infrastructure, making fully electric vehicles a viable option for urban transit, package delivery and school buses.
What does this look like in the real world?
Organizations across the globe are beginning to explore fully electric fleet options. School systems, public transit, postal delivery and other industries see great opportunity to benefit from the unique features of electric transportation.
Electric School Buses
The PowerDrive 7000 school bus, for example, is a recent development from Cummins' PowerDrive electrification business unit. This all-electric bus cuts maintenance costs, eliminates emissions and matches performance of a conventional ICE bus.
The bus charges to 100% in under eight hours and features a top speed of over 65 mph. It also incorporates telematics and control software so fleet managers can analyze and optimize routes effectively.
Electric Delivery Trucks
Delivery and mail systems are also seeing promising results in recent tests of fully electric fleet systems. Cummins has entered a partnership with the United States Postal Service and will supply eight fully electric delivery trucks in 2019. We've previously executed tests with EV delivery trucks, resulting in great feedback from drivers.
Electrification is at the forefront of global climate change solutions. Cummins has been a leader in innovation for 100 years, and we're proud to be driving the industry forward as the leading provider of electrified power solutions.
For more information on how Cummins is powering an "always on" world with electrification, read our news about electrified power.