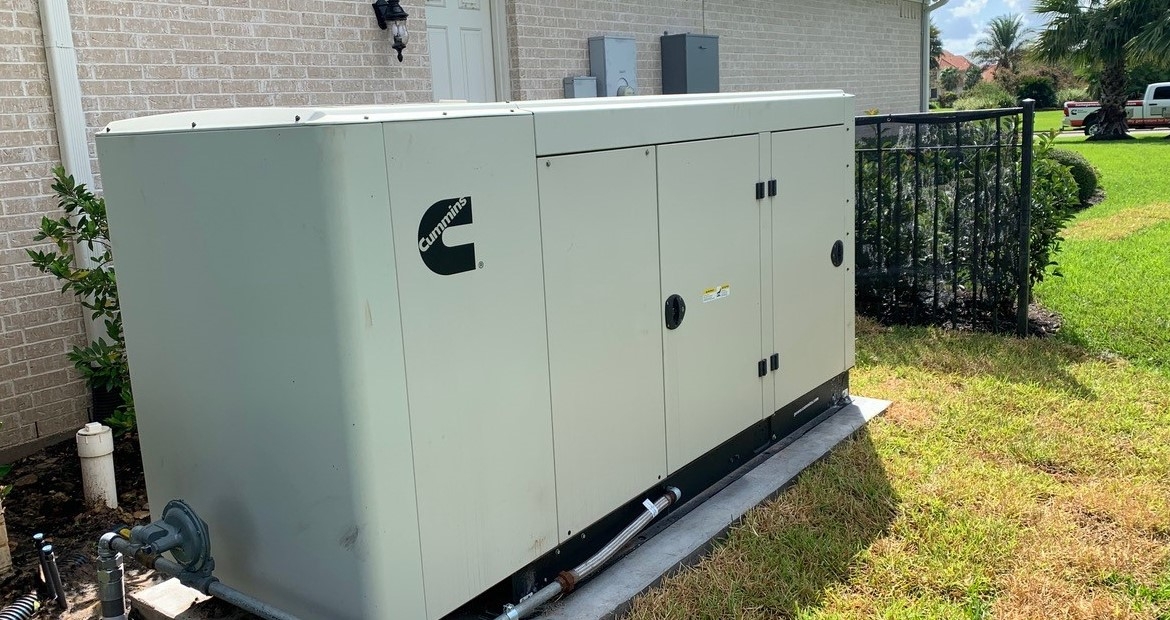 This article was authored by A&A Genpro, Inc., a Cummins Authorized Dealer
Selecting the right size Cummins QuietConnect™ standby generator is important. Choose too small of a generator, and you won't be able to power all your home's circuits. Choose too large of a generator, and it'll be inefficient, consuming more natural gas or propane than necessary during a power outage.
How do you perform a home generator sizing? Well, you have to do some math.
Stick with me, and I'll show you how to make the calculations. Or, if math isn't your thing, you can bail out now and use the generator sizing calculator.
Kilowatts
Generators are sized in kilowatts, which is 1,000 watts. Watts are a measurement of the rate of energy transfer for an appliance. Add up the wattage of every appliance in your home that draws electricity, divide by 1,000 and that's the generator sizing formula, right? Not quite.
Running Watts vs Starting Watts
Any appliance in your home that has a motor (your air conditioner, refrigerator or sump pump, for example) has two wattage ratings: running watts and starting watts. This is because the motor needs extra electricity when it first starts. After it's running, it needs less wattage.
When you add up your watts, you need to figure in the starting watts of the motorized appliances. Generally, starting watts are three times the running watts, but you need to check the appliance's label to be sure.
Converting Volts and Amps to Watts
Not every appliance label lists its energy transfer rate in watts. Sometimes they list the power needed as something called volt-amps (VA). This is just another name for watts. Other times, they will list the volts and amps (other measurements of electricity) separately. To determine the watts, you will have to multiply the volts times amps (V x A = W).
Room for Expansion
Before you finish your calculations, you need to add in a margin of safety. You may buy bigger appliances or new appliances in the future. You need to take this into account before you buy your standby generator. So, once you have determined the total kilowatts your home needs, add another 20 to 25% to give you the final generator load calculation.
Easier Ways to Make the Calculation
For a rough estimate, you can use the generator sizing calculator. But for the most accurate sizing, it's best to schedule an appointment with a Cummins authorized dealer, who will come out to your home and make the calculations for you. To find the dealer nearest you, start with the Cummins home generator dealer locator.
Preparing for Power Outages
While calculating your power needs, it is also important to consider how long an outage in your area could be. If you live in coastal areas that are frequently impacted by hurricanes, expect that your generator will be used for long power outage durations. To prepare your generator for longer run times, make sure to work with your local dealer to schedule preventative maintenance visits.
About A&A Genpro
We are the leading Cummins Generator Dealer in Houston, Texas with a track record supplying and installing Cummins Generators as well as other generator services. A&A Genpro, Inc was founded with the vision of providing premiere generator services including the installation and service of all makes and model generators. GenPro's founders are long time Houston residents, they understand the challenges and life-threatening situations that arise from massive hurricanes. The generator company was formed with the concept to provide safe alternatives to support the community of Houston and the Gulf coast area with affordable generators to keep your home and business operating. Visit our website at https://aagenpro.com/.