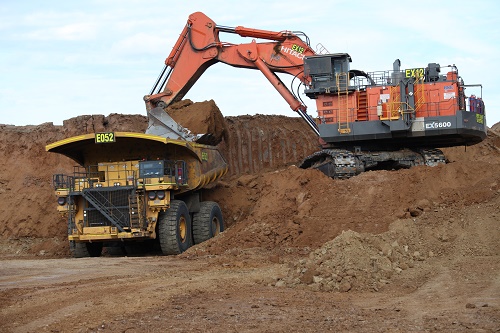 Cummins QSK60 "Advantage" Solution Delivers Major Environmental And Operational Benefits For Mining Contractor Kalari HSE In Australia's Bowen Basin.
Advantage Cummins.
Mining contractor Kalari HSE has taken major steps to reduce carbon and diesel particulate emissions at their South Walker Creek coal mine in Queensland's Bowen Basin.
By upgrading their Tier 1 Cummins QSK60 engines to the newly-engineered QSK60 "Advantage" solution in its Komatsu 830E haul trucks, Kalari HSE has slashed diesel particulate emissions by 63 percent. Additionally, fuel consumption has been cut by 3 percent across the six upfitted, trucks thereby reducing carbon dioxide (CO2) emissions by more than 510,000 kg for these trucks which operate 6,000 hours/year.
"Environmental sustainability is one of our key values," says John Ross, major components manager for Kalari HSE. "By upgrading to a more efficient engine, we're reducing our carbon footprint and diesel particulate emissions. And, at the same time, achieving a major cost efficiency gain for our customer by burning less fuel."
Lower Operating Costs. Longer Life-To-Overhaul.
The QSK60 "Advantage" solution not only lowers emissions, it also reduces total cost of ownership. It gets up to 3 percent better fuel economy, plus has a longer life-to-overhaul. The development of this advanced technology was carried out by Cummins high horsepower technical center in the U.S. and Cummins engineering team in Australia.
An Innovative Approach Using Proven Technology.
So what exactly is the QSK60 "Advantage" solution? It's a rebuild upgrade program for the 2500 hp, single-stage QSK60 that involves replacing the old fuel system with a Modular Common Rail fuel system (MCR), and installing Cummins latest innovations in combustion technology from its Tier 4 engineering programs.  The high-pressure MCR fuel system delivers the fuel and emissions savings critical to mining operations. It also runs significantly smoother and quieter, reducing driver fatigue and increasing safety
Additionally, the QSK60 "Advantage" solution utilizes the original factory 830E cooling system package, which provides a significant savings for Kalari HSE on this project.
Lowering Total Cost Of Ownership (TCO).
Kalari HSE carried out a cost benefit analysis of several engine manufacturers' upgrade packages before deciding on the Cummins solution as the best value proposal. "We wanted longer life-to-overhaul and we'll achieve that with Cummins solution along with the added benefits of significantly reduced emissions and reduced fuel consumption," says Scott Pease, technical support manager for Kalari HSE's truck fleet.
The Tier 1 QSK60 HPI engines in the Kalari HSE fleet were being changed out at 22,000 hours. With the QSK60 "Advantage" solution overhaul upgrade, supplied by the Cummins Master Rebuild Center in Brisbane, life-to-overhaul climbs to 30,000 hours and there is minimal mid-life replacement of components. The 30,000-hour life eliminates one engine change-out over the 80,000-hour life of the truck chassis.
100% Support. 100% Confidence.
Kalari HSE and Cummins have had a close association in the Bowen Basin since 2005 when the mining contractor bought five new K2000 engines to repower Euclid R190 haul trucks at the Ensham mine.
 John Ross highlighted how an important factor in the success of the QSK60 "Advantage" solution project was the teamwork between Cummins and Komatsu – working closely to ensure the project was carried out with a 100 percent safety record, within the budgeted timeframe, and with no impact on production.
"The support we get today from Chris Bugeja and his team at Cummins Mackay underpins our commitment to the Cummins brand," says John Ross. John also noted, "Having the 1-800-CUMMINS™ hotline to the Cummins Support Center has worked well for Kalari HSE, while having a Cummins technician onsite full time further ensures that everything is spot on all the time".