You can find copies of some of our most popular RV generator manuals below, free and downloadable.
Other manuals:
Cummins Commercial Mobile generator manuals
Generator warranty information
If what you need is not listed here, please see the complete inventory of all our product manuals on QuickServe Online.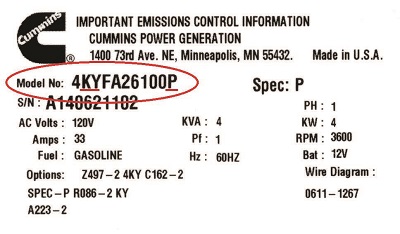 Each Cummins Generator has a model/spec number description, which is shown on the serial number tag attached to the generator. Here is a representation of the tag on Onan QG 4000.

Note the highlighted letter code, in this case P, which denotes the specification type of the particular generator, which can then be referred to as spec P.