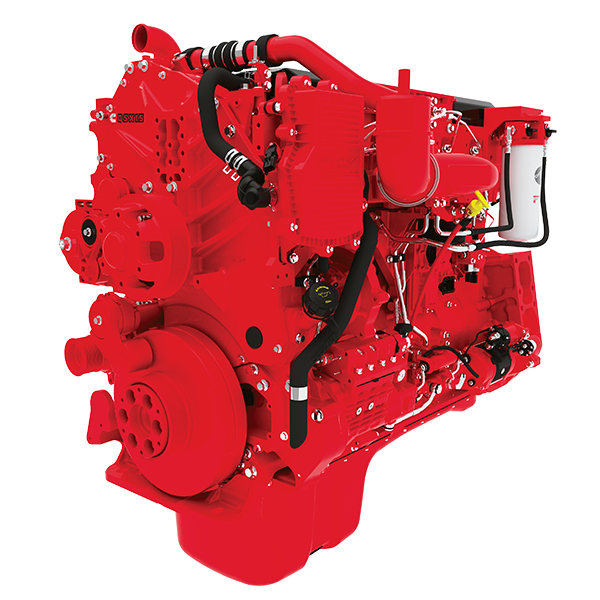 QSX15 (Tier 4 Final/Stage IV)
Power
450 - 675
hp
336 - 503
kW
Torque
1650 - 2050
lb-ft
2237 - 2779
N•m
Certification
Tier 4 Final / Stage IV
Overview:
Better Performance. Where You Need it Most.
Whether you are manufacturing a large excavator, wheel loader, grader, rock drill or compressor, the QSX15 is engineered to deliver the economical, reliable power and performance that you expect from a Cummins engine. In fact, the QSX15 for Tier 4 Final offers ratings that are capable of achieving over a 50 percent increase in torque while at the same time getting better fuel economy.

Every major component and system is designed by Cummins for total quality control, building on a proven engine with fully integrated electronics. Increased control over oxides of nitrogen (NOx) with the addition of Selective Catalytic Reduction (SCR) has enabled modifications to increase combustion efficiency. This results in higher fuel efficiency and better transient response. SCR combined with the Cummins Diesel Particulate Filter (DPF) ensures an additional margin of Particulate Matter (PM) reduction, optimizing performance, which gives the QSX15 one of the highest power densities of any engine in its class. Strong performance and durability, exceptional dependability and superior fuel economy give you every reason to choose the QSX15 for your heavy-duty equipment.
QSX15 Specifications
| | | |
| --- | --- | --- |
| Advertised Horsepower | 500-675 hp | 373-503 kW |
| Torque | 1650-2050 lb-ft | 2237-2779 N•m |
| Displacement | 912 cu in | 15 liters |
| Number of Cylinders | 6 |   |
| Oil System Capacity | 22 U.S. gallons | 83 liters |
| Engine Weight (Dry) |  3,009 lb | 1,365 kg |
XPI Fuel System – The proven technology of the XPI common-rail fuel system delivers a precise quantity of fuel at ultra-high pressures. This, together with more robust electronic engine controls, enables multiple injection events per cycle. Flexibility in injection timing increases fuel economy and performance while decreasing exhaust emissions.

VGT Turbocharger – The Cummins VGT Turbocharger is both simple and precise. Electric actuation allows infinite adjustment, providing the exact amount of boost necessary for superior response, so the QSX15 needs only a single turbocharger, whereas many competitive engines need two.

Cooled EGR – This next-generation system has been rebalanced for use with SCR, reducing flow volume and minimizing Diesel Exhaust Fluid (DEF) consumption levels.

Fleetguard NanoNet Fuel Filters – Fleetguard fuel filters with NanoNet advanced media provide up to 13 times greater protection against particles 4 microns and larger.

Fully Integrated Electronic Controls – A single higher-capacity Electronic Control Module (ECM) controls everything from air intake to exhaust aftertreatment, for peak performance and near-zero emissions.

Cummins Diesel Particulate Filter And Selective Catalytic Reduction – Cummins Diesel Particulate Filter (DPF), proven highly effective at Tier 4 Interim, virtually operates as a passive device, with active regeneration required less than 1 percent of operating time and no impact on equipment operation.
QSX15 Maintenance Intervals
| | |
| --- | --- |
| Maintenance Items | Hours |
| Oil and Filter | 500 |
| Fuel Filter | 500* |
| Coolant Filter | 1,500 |
| Valve Adjustment | 6,000 |
| Coalescing Filter | 3,000 |
| Particulate Filter Cleaning | 6,000 |
*Depending on fuel cleanliness
To view all brochures for this product, click here.