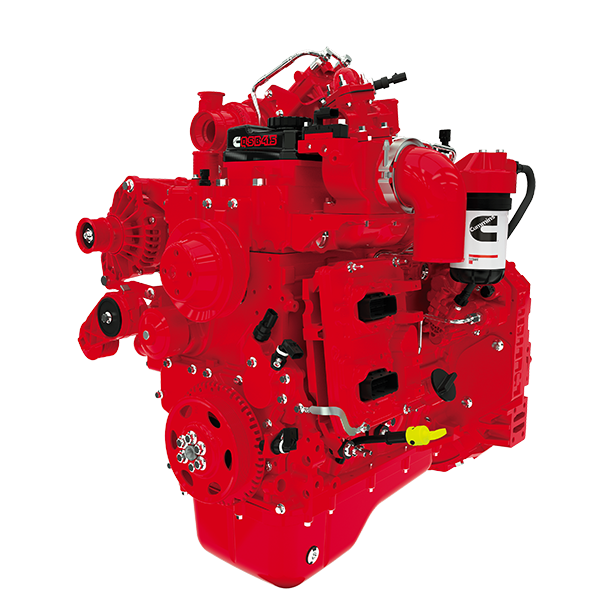 QSB4.5 (Tier 4 Final/Stage IV)
Power
121 - 173
hp
90 - 129
kW
Torque
347 - 520
lb-ft
470 - 705
N•m
Certification
Tier 4 Final / Stage IV
Applications
Agriculture
Construction
Oil and Gas Engines
Mining Engines
Rail Engines
Well Servicing
Overview:
Built To Overachieve.
The 4-cylinder QSB4.5 for Tier 4 Final is more powerful and responsive than ever before, delivering up to 173 hp (129 kW), with a peak torque of 520 lb-ft (705 N•m), a 12 percent increase over that of the previous Tier 4 Interim engine. The Tier 4 Final QSB4.5 shares a similar Cummins VGT Turbocharger, an HPCR fuel system and an ECM with the Cummins QSB6.7 engine. It is not surprising that the QSB4.5's power output is comparable in performance to that of many 6-cylinder engines below 174 hp (130 kW), from a much smaller and lighter package.

SCR is combined with the simplicity of our Diesel Oxidation Catalyst (DOC) as a highly flexible installation package. Used on Tier 4 Interim installations, the DOC is proven to effectively remove Particulate Matter (PM) using simple flow-through passive oxidation. Smaller dimensions than other types of aftertreatment make this catalyst ideal for space-constrained equipment. Together, the DOC and Cummins SCR work as a fully integrated, ultra-clean aftertreatment system. Extremely robust packaging ensures that the aftertreatment system achieves durability equal to that of the QSB4.5 engine. This is the first application of our award-winning VGT Turbocharger technology on a 4-cylinder engine.

Cummins patented sliding nozzle technology has fewer wear sites than any other variable turbine design, bringing unprecedented durability while providing precise adjustment of airflow delivered to the engine, enabling rapid boost at low engine rpm while maintaining a high level of boost at higher rpm. The QSB4.5 brings the simplicity of a single turbocharger, in contrast with other 4-cylinder engines requiring two turbochargers to achieve equivalent power, torque and altitude capability. Mid- and high-mount options provide design flexibility, for easier machine integration.

The SCR system on the QSB4.5 has been configured specifically for this engine by CES, with the catalytic reaction occurring even at low operating temperatures. DEF dosing levels are minimized with enhanced mixing into the exhaust flow. A Cummins Direct Flow air cleaner helps make installation easier with a significantly reduced space claim and higher filtration capacity.