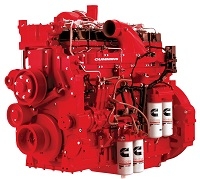 Power
506 - 800
hp
377 - 597
kW
Certification
EPA Tier 3, EPA Tier 2
Overview:
Extra-Wide Gear Train - Quieter, longer lasting and capable of handling high loads with ease.
Single-Stage Holset Turbocharger - Lower intake air temperatures provide increased air density, resulting in more power and lower emissions from less fuel.
Full-Authority Electronics - Programmable electronic controls optimize combustion at all altitudes and conditions. Superior performance is driven by an upgraded CM850 ECM with twice the processing speed of its predecessor.
Two-Stage Oil Filter - Combination full-flow and bypass oil filter reduces maintenance costs as it extends service intervals.
Precision-Honed Cylinder Liners - Precise liner machining with superior metal technology creates exceptional surface smoothness and durability.
Power Cylinder Package - Proven single-piece ferrous cast ductile iron pistons for maximum durability and reliability. This advanced design also uses nitride liners and cast-iron top rings to handle injection pressures with exceptional durability.
High-Durability Camshaft - Micro finishing makes it last twice as long as previous designs. Improved contact between the crosshead and rocker lever reduces wear and improves durability.
Fleetguard® ES Filtration - Fleetguard's ES oil filter keeps your equipment on the job with a combination full-flow and bypass design that simplifies service and reduces replacement costs.