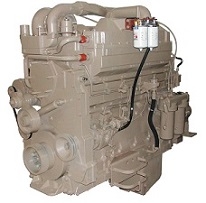 Power
500 - 600
hp
373 - 447
kW
Certification
IMO Tier II
Applications
Marine
Mining Generators
Oil and Gas (G-Drive)
Pump
Rail (G-Drive)
Overview:
PT Fuel System – uses the time-tested and proven PT fuel system for high performance and Cummins Marine Engine K19ease of maintenance. PT injectors are built to handle high pressures for optimum combustion.
Fillet-Hardened Crankshaft – smaller bolt circle and rolled threads for strength and durability
Cummins Prelub System – Distributes and pressurizes oil in the engine before cranking can occur, and is proven to greatly extend life-to-rebuild.
Galley-cooled pistons – reduced piston crown temperatures by as much as 100°F (38°C) for enhanced durability, reduced piston ring wear and 30% longer cylinder life.
Turbochargers – Custom-built for K Series engines and are available in single-stage or two-stage configurations to meet any application's requirement.