Benefits of natural gas engines in transportation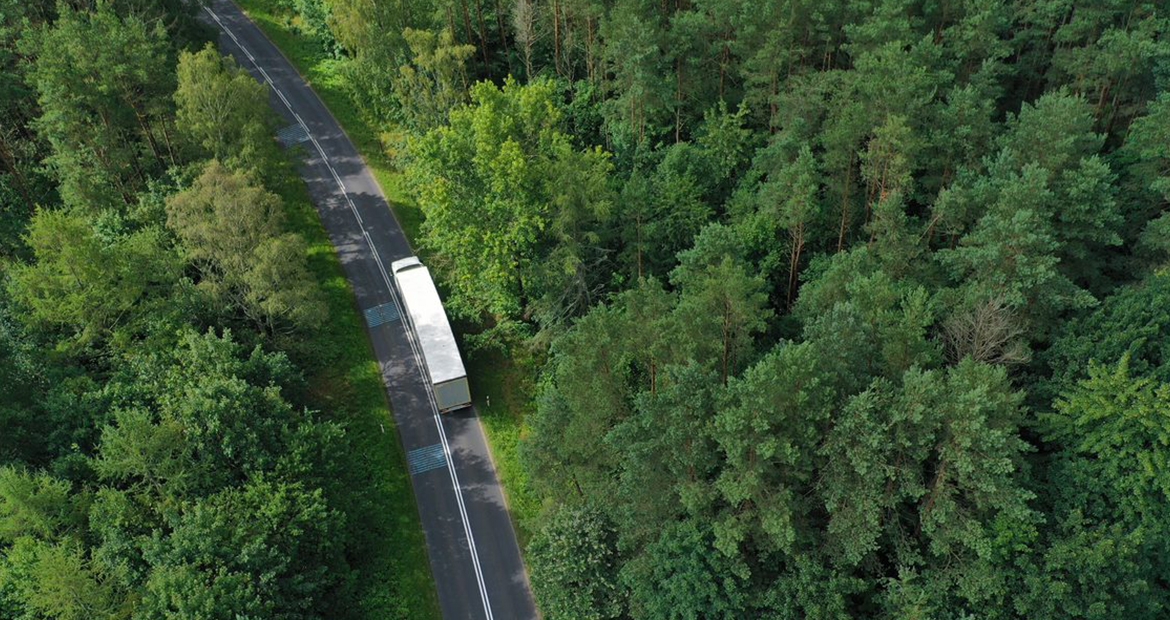 Reducing air pollution generated by commercial vehicles is one of the many benefits of natural gas engines. Nested in a valley in the French Alps, the town of Chamonix is known for breathtaking vistas of Mont Blanc, for being the birthplace of modern mountaineering, and, unfortunately, for its terrible air quality. Emissions from passing vehicles are to blame. The town sits by a major road tunnel used by more than a half million heavy vehicles, every year.
Wouldn't it be nice if the exhaust from all these vehicles could be cleaned up? Chamonix's residents would appreciate it. So would the countless millions who live in polluted cities.
Natural gas engines use reliable technology
One sure technology to reduce air pollution already exists—natural gas engines. Hundreds of thousands of vehicles with natural gas engines are operating all over the world. They generate almost no emissions of nitrogen oxides, particulate matter, volatile organic compounds, or carbon monoxide. Transit systems all over the world have deployed natural gas buses to reduce air pollution.
Natural gas engines are also a great fit for a wide variety of medium and heavy-duty applications, such as garbage collection trucks, delivery trucks and tractor trailers. Natural gas engines have been around for a long time. They are durable, reliable and they have enough power to get the job done.
Natural gas engines are kind to the environment
Natural gas vehicles can help fleets reduce greenhouse gas emissions. According to a well-to-wheels model developed by Argonne National Laboratory, compressed natural gas (CNG) vehicles were shown to reduce greenhouse gas emissions by up to 16% compared to an equivalent vehicle running on gasoline. These well-to wheel models incorporate emissions occurring as a result of the extraction, processing and transportation of fuels.
Natural gas vehicles can also run on renewable natural gas. Renewable natural gas is manufactured using organic waste such as animal manure, sewage sludge or agricultural by-products. Once it is suitably refined, renewable natural gas can be used interchangeably with regular natural gas. Depending on the energy source, the carbon intensity of renewable natural gas can be neutral, or even sub-zero. Switching to renewable natural gas is a great way for businesses to reduce their carbon footprint and lower transportation emissions. It can often be done without any capital investment. It's also a way to act now without waiting for technology that may not be available for several years.
Natural gas presents additional environmental benefits. For example, natural gas can't spill since it's lighter than air. It can't puddle or lead to ground contamination like an oil spill would. You can read more about these often-overlooked benefits of natural gas engines in environmental sustainability.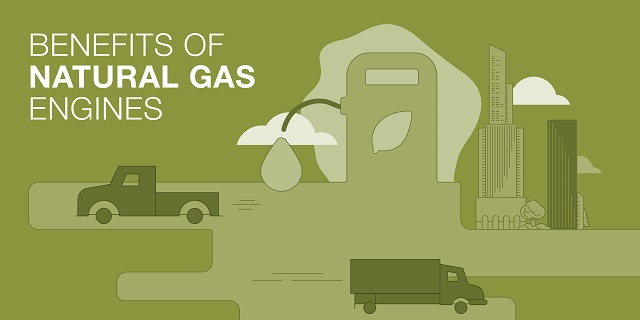 Natural gas engines are good for the business financials
Natural gas vehicles can also lead to big savings for businesses. Unlike some vehicles with diesel engines, natural gas vehicles do not require extensive exhaust aftertreatment systems. Many operators spend a lot of time and money maintaining these systems. Secondly, natural gas fuel costs less than gasoline and diesel. In some areas, the retail price of natural gas is less than half of the price of diesel. Natural gas prices are also stable—in North America, average retail prices have remained relatively stable for the past 20 years. This makes it easy for fleets to forecast their monthly and yearly fuel costs.
Switching to natural gas vehicles can also help businesses grow their revenues. Natural gas vehicles reduce transportation emissions, which is an attractive benefit for companies looking for lower carbon options that can help them meet corporate sustainability or ESG (environmental, social, and governance) goals.
Natural gas engines are noticeably quieter than diesel engines, making them an attractive option for service companies, delivery fleets, transit companies and school corporations operating in urban environments. For example, garbage collection companies or private school bus operators bidding for city contracts.
Natural gas engines are the mature, proven, and least disruptive alternative power technology available today
Natural gas vehicles fit current transportation, people and goods movement models. Integrating natural gas trucks into your fleet doesn't require radical changes in vehicle technology, transportation infrastructure or support networks. Natural gas engines share approximately 80% of the same components as their diesel counterparts, making it easier for mixed fleets to keep parts in stock and easier to train service technicians.
If interested in different fuels, don't forget to explore natural gas (CNG), LPG, LNG, RNG, and diesel.
The natural gas learning curve isn't as steep as many people think
When it comes to integrating natural gas vehicles into a commercial or municipal fleet, Cummins Inc. is a trusted partner with more than 30 years of experience making natural gas engines. We maintain deep relationships with channel partners to help customers understand whether natural gas is the right choice for their fleet. We also work directly with the truck OEM, fuel suppliers, fleet maintenance teams, etc. to ensure a smooth integration.
If these benefits sound interesting to you, don't forget to also check our answers to frequently asked questions about natural gas engines. These answers cover topics such as cost, practicality, and feasibility of integrating natural gas into commercial fleets.
Drivers like driving natural gas trucks
Did you know that drivers prefer the experience of operating natural gas vehicles? You can learn why by reading about how natural gas and diesel engines compare.