Natural gas engines vs. diesel engines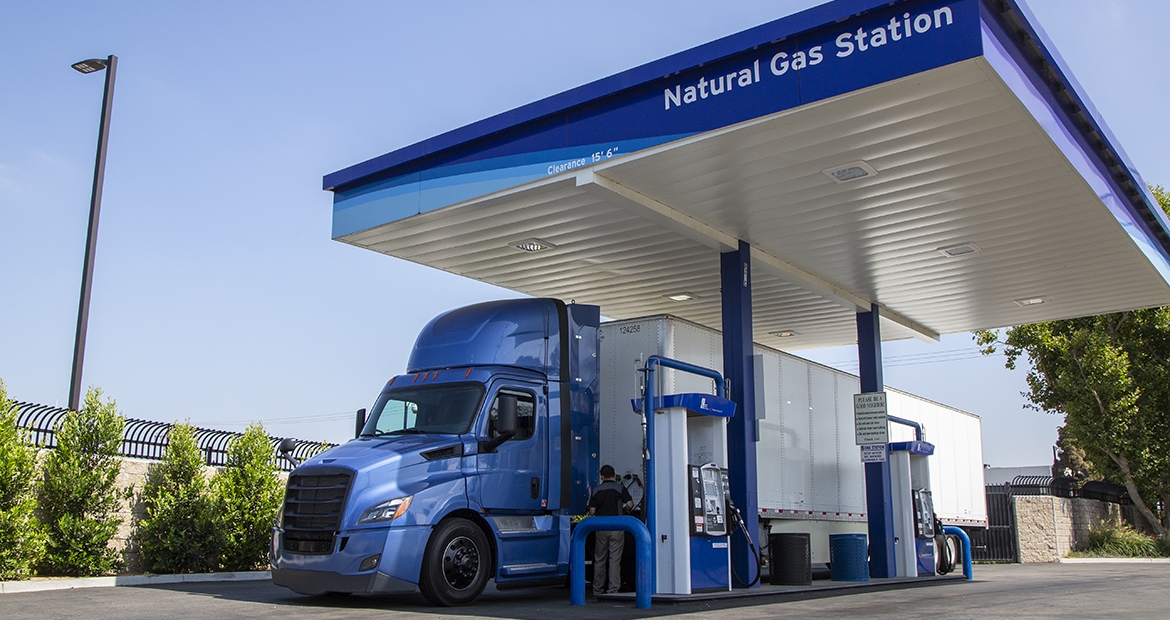 From tractor trailers and transit buses to delivery trucks and terminal tractors, fleets have traditionally relied on diesel engines to provide the torque, reliability and durability needed by heavy-duty commercial applications. Natural gas engines, however, have emerged as a great alternative to diesel. Drivers, mechanics, and fleet managers appreciate natural gas engines for a variety of reasons.
Drivers find that natural gas engines have similar performance and drivability as diesel engines. The leading difference between natural gas and diesel engines is noise; natural gas engines are quieter.
Natural gas offers convenient refueling options
Natural gas also improves the refueling experience for many fleet drivers. In a world of several alternative fuel options for commercial vehicles ranging from natural gas to liquified petroleum gas (LPG); natural gas can be used in a vehicle in either compressed or liquefied form. For fleets with behind the fence refueling capability, natural gas refueling stations can be set up on site to ensure that each vehicle has a dedicated fuel hose. There are two basic types of fueling equipment: fast-fill and time-fill.
Fast-fill systems combine a compressor and a high-pressure storage system. The storage system, called a cascade, fills the vehicle's fuel tank in about the same time it takes to fuel a diesel vehicle. Compressed natural gas can't spill during refueling and drivers never go home smelling of diesel.
Time-fill systems don't have a storage system and typically compress the gas directly into the vehicle storage cylinders to refuel vehicles while they're parked overnight. With time-fill systems, drivers pull into their designated space at the end of their shift, connect a fuel hose to their vehicle's natural gas cylinder and go home. Drivers don't need to wait for their turn at the diesel pump and don't need to wait again until their tank is full. This saves them time and saves their company money.
Natural gas exhaust systems are cheaper and easier to maintain than diesel aftertreatment systems
There are no complicated exhaust gas aftertreatment systems on natural gas vehicles. Modern diesel trucks require a set of sensors, filters and converters to scrub pollutants such as nitrogen oxides and soot from their exhaust. Some converters consume diesel exhaust fluid, or DEF, a water-based reagent whose handling can be challenging in cold weather. Natural gas burns much cleaner than diesel, so few or none of these systems are required on a natural gas vehicle. All of the exhaust is run through a simple three-way catalyst, resulting in near zero NOx levels (0.02 g/bhp-hr NOx).
It is important to closely follow recommended maintenance intervals with natural gas engines, but with proper maintenance, it's not uncommon for natural gas trucks to reach a million miles. And mechanics often find that maintaining a natural gas engine can be a more pleasant experience because of how clean they are.
Natural gas promotes cost savings
Besides enjoying savings in terms of lower maintenance costs and reduced maintenance downtime, fleet managers can also save big on fuel costs. In the United States, the retail price of compressed natural gas has been consistently lower than the price of diesel since the start of the shale gas boom in the early 2000s. It is also decoupled from the price of oil, and therefore has been quite stable. As a result, natural gas fleet operators don't experience wild swings in fuel prices that other fleets must deal with whenever oil prices rise and the cost of diesel jumps. This comes in addition to all the other benefits natural gas engines offer for transportation applications.
Natural gas cuts greenhouse gas emissions
Natural gas has many sustainability benefits, including 13% – 17% lower well-to-wheel greenhouse gas (GHG) emissions and 27% lower CO2 emissions than petroleum when using virgin natural gas. The benefits really shine when using renewable natural gas (RNG) made with biogas.
RNG can help fleets reach sub-zero GHG emission levels because producing RNG captures biogas like methane that would have otherwise been emitted into the atmosphere through natural decomposition. This biogas comes from the fermentation of organic waste such as animal manure in industrial digesters. Switching to renewable natural gas can be an effective way for these businesses to reach any greenhouse gas reduction objectives they may have. Many transportation businesses operating in agricultural areas have found ways to create win-win partnerships with local farmers willing to invest in a renewable gas production setup. Municipalities and refuse companies that own landfills are able to capture methane generated through waste decomposition and sell that to the RNG fuel producers, essentially offsetting their fuel costs.
If natural gas engines are relevant to your needs, don't forget to also check our answers to frequently asked questions about natural gas engines. These answers cover topics such as cost, practicality, and feasibility of integrating natural gas into commercial fleets.
Never miss the latest and stay ahead. Sign-up below to receive the latest in technologies, products, industry news, and more.