Types of cogeneration using turbines, engines, and fuel cells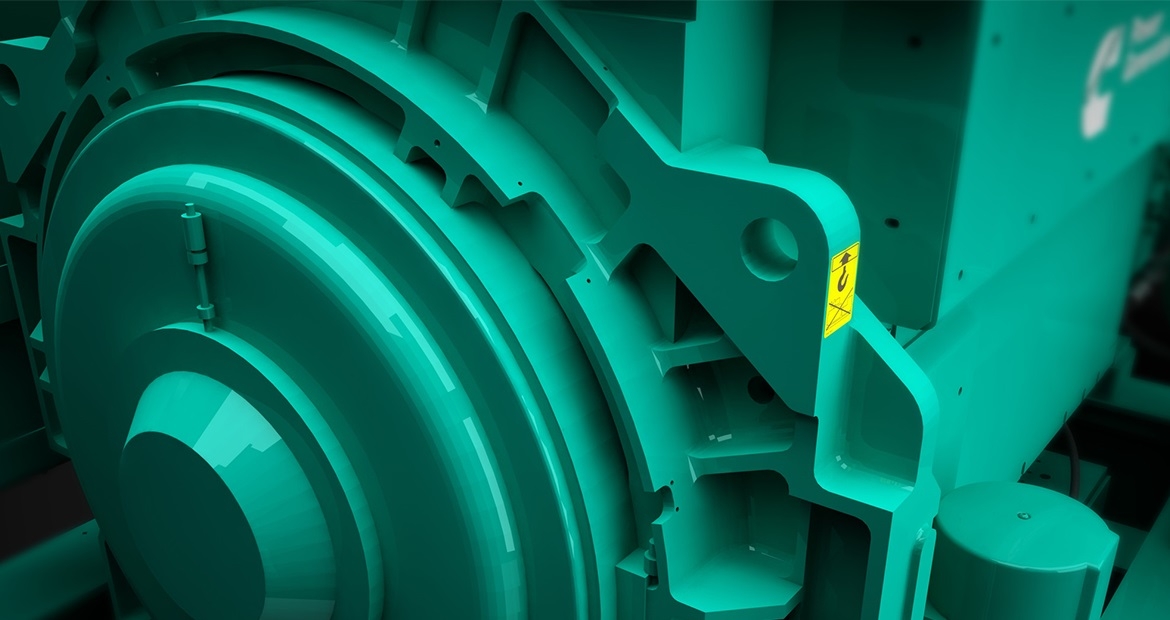 Cogeneration is a popular power generation technology. While the working principles of cogeneration remain similar, there are various types of cogeneration. You can find cogeneration applications that use gas turbines, internal combustion engines or even fuel cells. 
Before, we get into the details, let's look at what cogeneration is. 
What is cogeneration?
Cogeneration power plants and power generators generate electricity while ensuring that the heat created in the process is not wasted. 
Traditional nuclear power plants and fossil-fuel burning power plants convert the energy present in their fuel—uranium, coal, or natural gas—into electricity. In the process, they lose a significant portion of that energy in the form of waste heat. Even highly efficient combined cycle power plants experience heat losses that amount to at least 40% of the energy consumed.
The primary pathway for heat losses at power plants that rely on a steam cycle is through their condenser. Steam power plants work by boiling water and powering a turbogenerator group with the resulting steam. The job of the condenser—a large heat exchanger—is to convert the spent steam back to a liquid state. This is done by extracting the residual energy the steam contains using cold water. The cold water is heated in the condenser and is usually released into a river or ocean, or recycled in a cooling tower. Large power plants release so much hot water in this manner that they can increase the temperature of surrounding bodies of water. This sometimes impacts the local plant and animal life. Did you know this is why Florida manatees seek out the waters surrounding coastal power plants during the cold season? 
Why not use all that hot water to heat nearby homes and businesses instead of letting it go down the drain? 
This is what cogeneration power plants do. Combined heat and power is not a new idea. You can find cogeneration applications supplying steam and hot water to residential complexes, university, and hospital campuses, and other facilities. 
In some countries, particularly Eastern European countries and former Soviet Republics, district heating systems supplied by large utility-operated power plants are common. Likewise, on a smaller scale, a common feature among university campuses is a network of steam tunnels that supply heat across the campus from a central boiler facility. Many universities find it economical to replace an aging boiler with a modern cogeneration unit that provides both heat and electricity. 
Traditional power plants without cogeneration can only use, at the very best, about 60% of the energy they consume. With cogeneration, up to 95% of the energy consumed can be used productively for electricity and heating/cooling.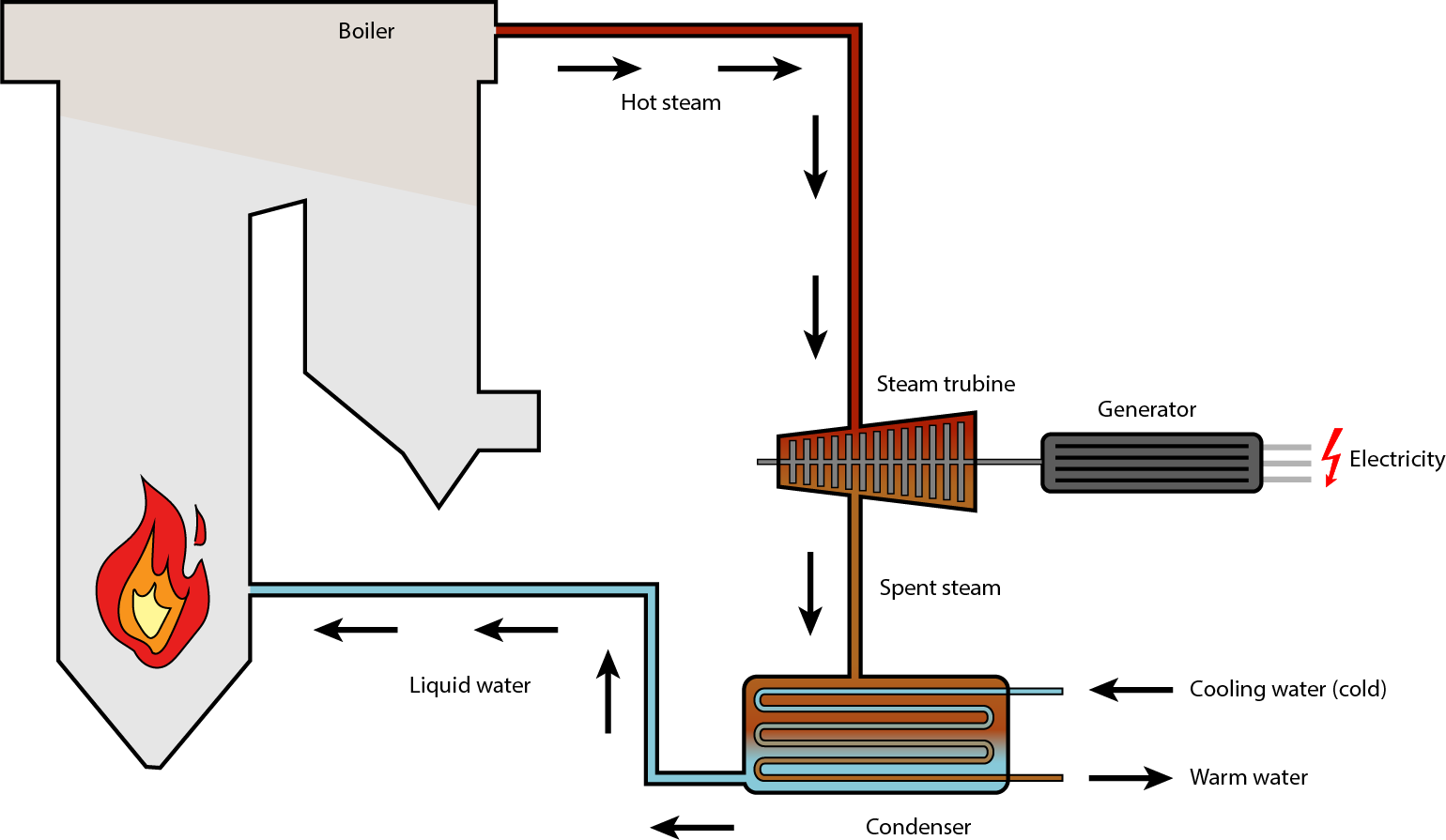 We discussed heat recovery at traditional steam power plants. Meanwhile, cogeneration applications are possible at other types of power plants as well. Here are some of the main ones:
Cogeneration plants with gas turbines
Gas turbines are large, stationary jet engines that can be used for electricity generation. 
Modern gas turbines are highly efficient and flexible. They are also rapidly replacing coal fired power plants in the United States. 
Gas turbines discharge a large volume of very hot gases as exhaust. Energy within this exhaust can be recovered in a component known as a heat recovery steam generator, or HRSG. HRSGs can recover so much heat that they are frequently used to boil water to supply a steam turbine and generate more electricity. 
In other cases, that heat can be used to boil water for cogeneration applications. The steam that HRSGs produce is very hot and thus suitable for many industrial processes requiring high quality steam. Power plants located close to industrial process steam users can generate additional revenue by supplying steam during periods of low electricity demand.
Cogeneration generators using internal combustion engines
Internal combustion engines are popular in a variety of power generation applications. These include:
Behind-the-meter applications, where they can be used to reduce a user's overall energy purchases as well as peak electricity demand charges.
On-grid applications, where their inherent flexibility features are highly advantageous. 
Internal combustion engines can operate on a variety of fuels. These include natural gas, biogas, and net-CO2 free fuels such as biodiesel. 
Just like automobile engines, internal combustion engines used for power generation produce a lot of heat, and thus need to be cooled. Cogeneration systems include heat exchangers designed to recover heat from, and provide cooling for, many components in the engine. These components include the lubricating oil system, the engine block itself, and the engine exhaust. 
There have been advancements in lean-burn gas reciprocating technology, digital controls, and heat exchangers. These advancements have made internal combustion engine cogeneration a practical and economical option for applications with power needs as small as 300 kWe. This has opened the possibility of installing on-site cogeneration for small and medium-sized users. These include greenhouses, hotels, swimming pools, and more.
Cogeneration using fuel cells
Fuel cells are an extremely efficient, clean, and cutting-edge power generation technology. Did you know they also produce a significant quantity of waste heat? 
Fuel cells can be easily coupled with a heat recovery unit to provide hot water. In principle, fuel cell cogeneration can be practical at any scale, including in residential applications. Imagine if your home water heater also generated electricity. Currently, residential fuel cell cogeneration remains too expensive for broad adoption.
Meanwhile, many fuel cell cogeneration installations in the United States are at malls, big box stores, office buildings and universities.
What is trigeneration?
Trigeneration technology takes cogeneration one step further by adding the option to provide cooling in addition to heat and electricity. 
The cooling feature is achieved by the addition of a device known as an absorption chiller. Absorption chillers are refrigeration units. They rely on a source of heat to provide the energy needed for the cooling process. The absorption refrigeration process was widely used in the first half of the previous century. Today, it is replaced by the vapor compression process, employed in most home refrigerators and air conditioning units. 
These units rely on a mechanical compressor powered by an electric motor, rather than on a heat source as is the case with absorption chillers. Today, absorption chillers are mostly used in trigeneration applications. They are also used in portable coolers and RV refrigeration units.
Trigeneration can greatly improve the economics of a cogeneration system in climates where heating is in lesser demand during the summer months. Instead of providing unwanted heat, a trigeneration system can provide, with the addition an absorption chiller, much needed cooling. This then further reduces energy costs and, in some cases, eliminates the need for a separate air conditioning system.
Interested to learn more about cogeneration? You might also like: