Smart devices and products for your connected RV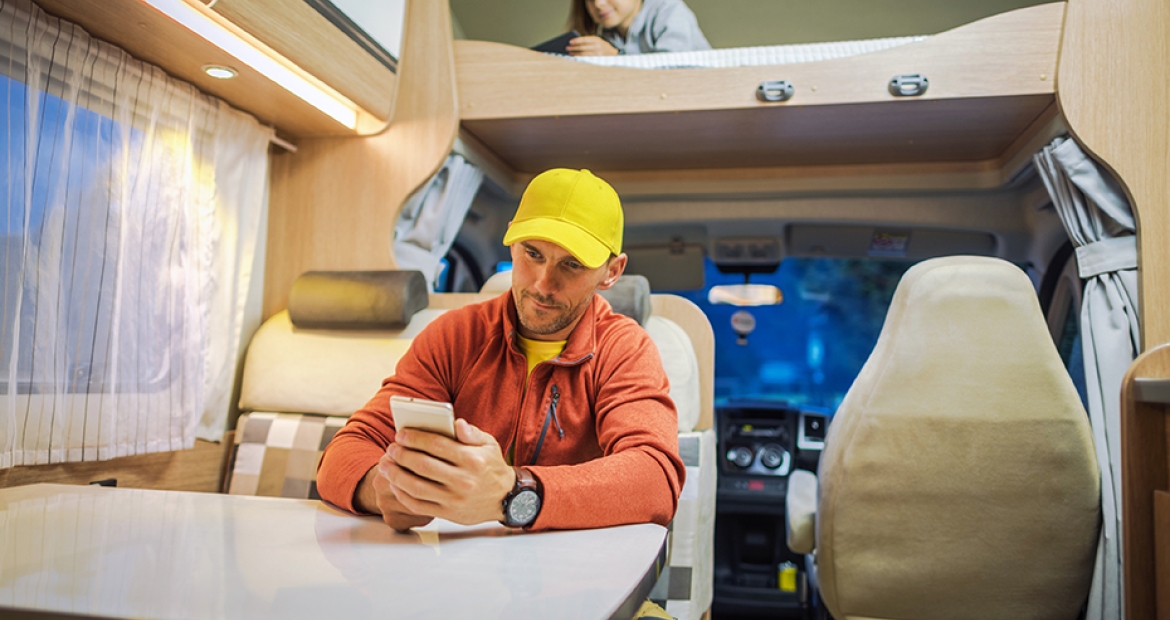 Get the most out of your RVing experience with smart devices and products. Your home is already a hub for smart devices, and now it is time for your RV to be a mobile hub. Safety, utility management, wellness monitoring, smart appliances, and smart entertainment; do you have one of these smart devices at your home? These are the five smart device categories that are most popular among households. Given recreational vehicles (RVs) are 'home away from home', many RVers are increasingly interested in smart devices and products, including connected RV generators. 
Let's start with why your family needs these smart devices in your RV. You can then read about a few smart device categories we have hand-picked for you to get the most out of your RVing experience.
Benefits of smart devices and products in an RV
Peace of mind and comfort are two of the key benefits many RVers enjoy with smart and connected devices. 
Connected technologies allow you to prevent unexpected events that could derail your next RV outing. Peace of mind comes with the ability to monitor what's happening in real time with your RV. This could be knowing that the batteries are charged, the water tank has enough fresh water, or the RV generator is ready to operate. 
Comfort focused smart RV devices can also help you enjoy your home away from home to the max. They could let you adjust the indoor temperature while you are out, turn on the water heater while walking back from a long hike and remotely adjust the lighting within your RV. These smart technologies are all designed to maximize the use of amenities you have in your RV.
If you are thinking about where to start, consider connected RV generators. RV generators with connectivity features help both on peace of mind and comfort perspectives. You can then build upon with more smart devices depending upon your RV setup. 
Popular smart devices and products for RVers
Smart bulbs and lighting are a perfect way to get familiar with the use of smart devices and technologies in an RV. Smart bulbs and lights are easy to install and operate. They also don't cost much, and can help you experience connectivity at a basic level. 
Smart thermostats and air-conditioners are two of the best smart device choices when it comes to return on investment. You are walking back from a long summer hike, open the door of your RV, and feel the cool air on your face. Smart thermostats can remotely start and stop your air conditioner. They can also adjust the temperature based on when you plan to be indoors, and both save you money since you don't need to run the AC continuously.
Smart RV generator: From televisions to coffee makers, many of your favorite amenities within an RV need electricity; electricity often produced by your RV generator. Connected generators with smart controls can provide both peace of mind and expanded comfort for your family. For example, Onan generators' upcoming Energy Command AGS+  allows the generator set to monitor the battery levels and indoor temperature. It then allows the generator set to auto-start as programmed, so your smart thermostat can kick in. This unique "auto gen start" also allows the generator to start charging your coach batteries in preparation for quiet hours. It also notifies you of maintenance needs like oil changes. These smart features ensure you enjoy your RV's amenities to the maximum. If quietness is critical for you, don't forget to also check out how to find a quiet generator for your RV.
Connected security systems: RVs are expensive investments and smart security systems can be a wise choice. Many smart security systems allow you to monitor your RV remotely and arm and disarm your system. These security systems also offer professional monitoring as an extra layer of security.
There are lots of smart devices for your RV out there. Let's make it easier for you. Here are three aspects to consider as you run into different smart devices and products for your RV:
Decide whether you need the capability to monitor only, or to monitor and control. Some smart devices offer one but not the other. 
Check to see if individual smart devices are compatible with connected platforms offered by your RV's OEM or third parties. Ideally, you want a single app that can interface with all of your smart devices.
Remember that access to a capable service network is still important. While smart features do a good job preventing issues, they don't yet fully eliminate the need for local and capable service networks. Whether it is your AC or generator, it is a good idea to choose brands that offer capable experts to solve your issues as needed.
Interested to get the most out of your RV? You might like these too.
Get the most out of your RV! Sign-up below to receive periodic tips and insights any RVer would enjoy.