Follow the Liter – The Evolution of the Cummins 5.9L to the 6.7L Pickup Engine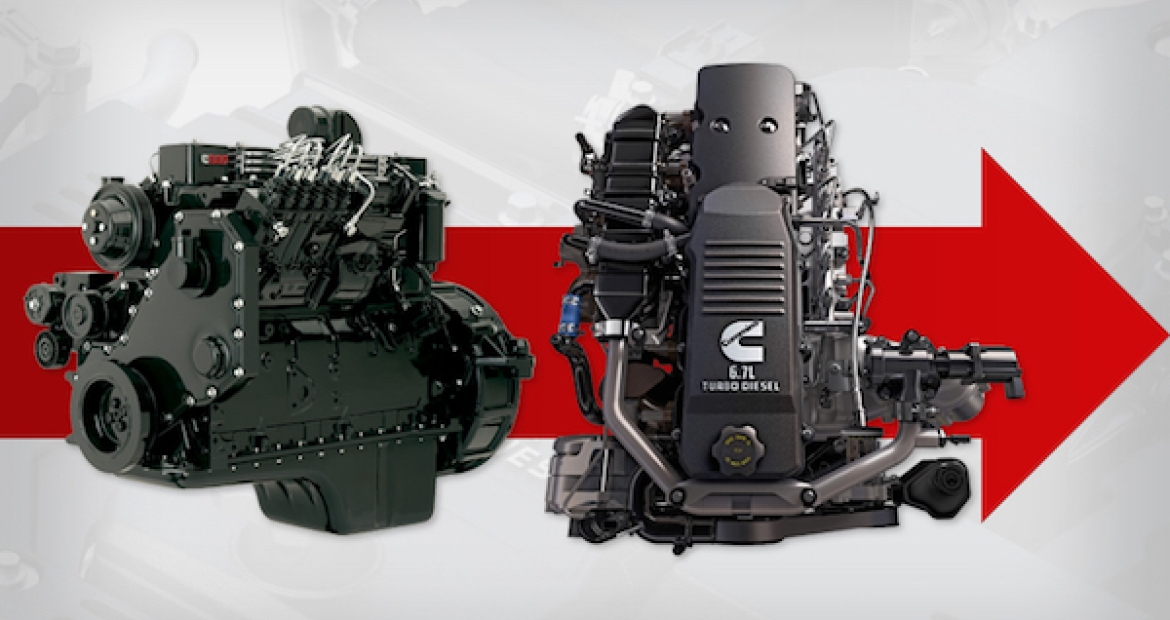 The Cummins 5.9L inline 6-cylinder was a fan favorite in RAM pickups for years, and when it evolved into the 6.7L Turbo Diesel mid year of 2007, a variety of enhancements – along with greater displacement – made it a real crowd pleaser. RAM owners gained a lot more power, improved fuel efficiency and a quieter, cleaner-running engine
Through the years, Cummins has promoted higher power density turbo charged diesel engines, and that dedication to power can be seen in today's RAM pickups. As our technologies have evolved, the 6.7L Turbo Diesel continues the Cummins legacy of performance and legendary reliability.
The original 5.9L Cummins B-series engine was a revolution in its day, and the introduction of the ISB5.9 in 1998 gave RAM drivers even greater power. That engine's four valves per cylinder and electronic engine management made it a favorite among drivers. During its nine-year run in RAM pickups, power numbers accelerated, growing from 215 HP and 420 lb-ft torque to 325 HP and 610 lb-ft torque.
To deliver more power and meet stricter emissions requirements, we knew the 5.9L would need to evolve in order to continue exceeding RAM owners' expectations.
In January 2007, we introduced 6.7L Turbo Diesel for pickups, bringing a 13% increase in displacement and some exciting new technologies. Out of the gate, it bested 5.9L power output and met stricter emissions regulations.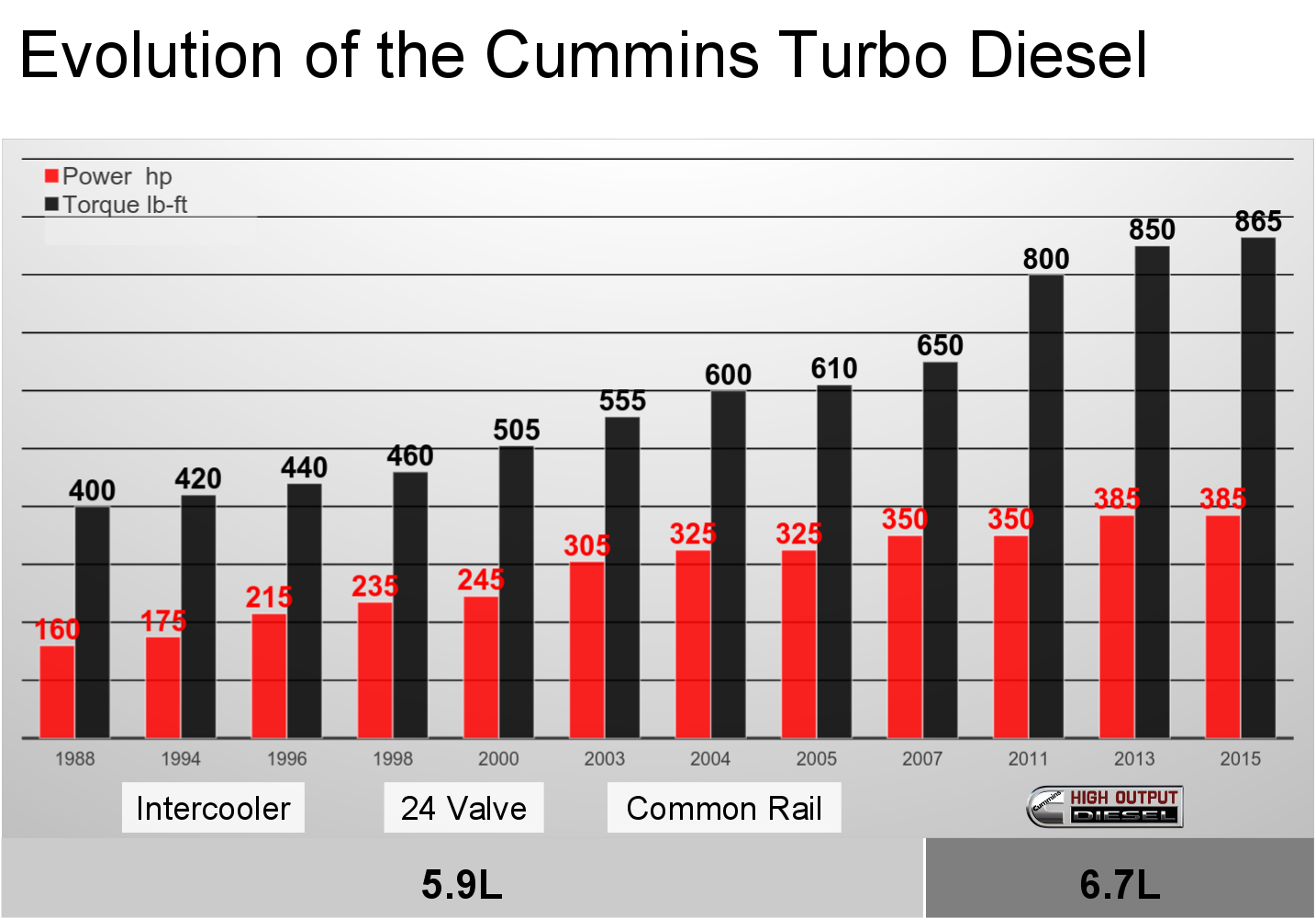 The model-year 2013.5 engine introduced a number of performance and environmental enhancements. The addition of SCR (Selective Catalyst Reduction) technology delivered a 10% boost to fuel efficiency and another increase in peak torque, while doubling the 6.7L's oil change intervals.
The new 6.7L Turbo Diesel retains the familiar cast iron block and cylinder heads of the 5.9L, but advances in fuel and air delivery change nearly everything else, especially power ratings and maintenance intervals – now at 15,000 miles. The 6.7L produces up to 900 lb-ft torque and 385 HP. Plus, full torque is reached at a low 1,700 RPM. This makes the ride in today's Cummins-powered RAM 2500 and 3500 models quieter, smoother and more powerful than ever before. Beyond the benefits of increased displacement, advances in Cummins technology continue to set the bar for power, fuel economy, durability and clean emissions.
The Cummins 5.9L B series turbo diesel engine blazed the trail that the 6.7L travels today, elevating performance in 3/4- and one-ton pickups and large commercial chassis cab applications. The versatility and efficiency of the 6.7L Cummins is reflected by its commercial brother, the ISB6.7, a leader in the medium duty truck, marine, and industrial markets.
5.9L 12V (6BT) Specs
Production Years....... 1989 - 1998
Horsepower................ 160 - 215 @ 2,500 RPM
Torque...................... 400 - 440 lb-ft @ 1,600 RPM
Configuration............ Inline 6 cylinder
Displacement............ 5.9 liters/359 cubic inches
Engine Block............. Cast iron
Cylinder Head........... Cast iron
Fuel System.............. Direct Injection Bosch VE44/Direct Injection Bosch P7100
Aspiration.................. Turbocharged / Intercooler (mid-1991 model year)
Valvetrain.................. OHV, 2 valves per cylinder
5.9L 24V (ISB) Specs
Production Years....... 1998 - 2007
Horsepower................ 215 - 325 @ 2,700-2,900 RPM
Torque...................... 420 - 610 lb-ft @ 1,400-1,600 RPM
Configuration............ Inline 6 cylinder
Displacement............ 5.9 liters/359 cubic inches
Engine Block............. Cast iron
Cylinder Head........... Cast iron
Fuel System.............. Direct Injection / Direct Injection - Common Rail (beginning MY 2003)
Aspiration.................. Turbocharged / Aftercooled
Valvetrain.................. OHV, 4 valves per cylinder
6.7L (ISBe) Specs
Production Years....... 2007 - present
Horsepower................ 350 - 385 @ 2,800-3,013 RPM
Torque...................... 610 - 900 lb-ft @ 1,500-1,700 RPM
Configuration............ Inline 6 cylinder
Displacement............ 6.7 liters/408 cubic inches
Engine Block............. Cast iron
Cylinder Head........... Cast iron
Fuel System.............. Direct Injection - Common Rail
Aspiration.................. Turbocharged / Aftercooled
Valvetrain.................. OHV, 4 valves per cylinder