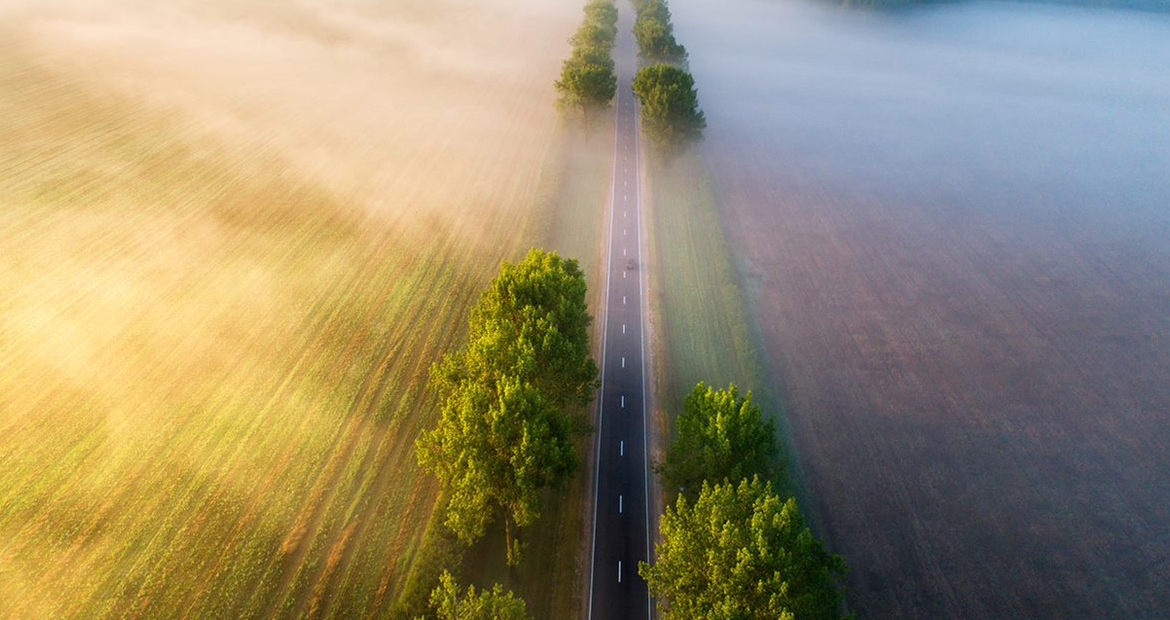 At the turn of the twentieth century, Theodore Roosevelt became the 26th president of the U.S. and a few years later Henry Ford debuted the Model T in Detroit, Michigan. Only few visionaries at that time may have imagined a future with an intricate highway system, carrying people and goods from one coast to another in a matter of days. Or trolleys and streetcars becoming massive urban busses, running hundreds of people around a city center. It wasn't until 1912 that the first transnational truck delivery was made—by a five-man crew travelling from Philadelphia to Petaluma, California, to deliver a load of olive oil soap in a record time of 91 days.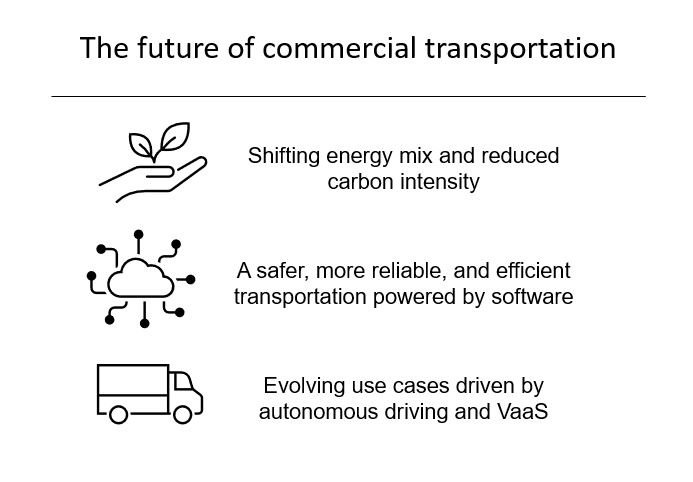 Since that soap was delivered, trucking grew into being the lifeblood of our economy, moving essential goods, medical supplies, and other items. It kept re-inventing itself through the great depression, the growth of air transportation, and the rise of globalization. As e-commerce soared, trucking has once again re-invented, becoming an integral part of our modern lives too. Through this journey, road transportation has seen the adoption of such technologies as collision mitigation, electrification, and lower carbon fuels. As the commercial transportation industry faces rapidly changing regulations and evolving customer needs, advanced technology will pave the way to not only meet these requirements but exceed what we previously thought was possible. Looking ahead, the future of commercial transportation will be shaped by three perspectives: a shifting energy mix, innovations in software, and evolving use cases driven by autonomous driving and vehicle-as-a-service (VaaS).
First will be the shifting energy mix and reduced carbon intensity
The story starts within our cities, where the need and benefit for decarbonization is the highest. Cities also offer two circumstances to spur decarbonization: a dense population of transportation assets that share a common infrastructure and the use-cases that are easier to decarbonize, such as last-mile delivery.
For commercial transportation, the future of energy can be summed up simply: zero carbon emissions, well-to-wheel. This is the destination, driven by societal pressure and environmental needs. This will require a shift in energy mix, and the journey to decarbonize commercial transportation will be rooted in a comprehensive technology roadmap with three primary components: zero emissions technologies such as battery electric and fuel cell electric; low to zero carbon fuels; and fuel agnostic powertrain platforms.
The 2020s will be shaped by two trends: those that will make the leap to zero, and the rise of low to zero carbon fuels. Busses that operate in urban areas are leading the sector in making the leap to zero carbon emission solutions, at the tail pipe. Transportation emissions will decrease by ~1.4% in the U.S. when the majority of buses switch to zero carbon emission technologies. There is another overlooked benefit of busses leading the way towards zero carbon emissions: fast-tracking innovations. As more of our bus partners choose zero-emission technologies, we find innovative solutions to meet their needs. These learnings ready zero carbon emission technologies for other transportation use-cases sooner. When it comes to the rise of low to zero carbon fuels, renewable natural gas, biodiesel blends, and hydrogen will lead the way, and internal combustion engine technology will see improved efficiencies. Meanwhile, we also plan to make our new engines compatible with increasing blends of low carbon fuels. During this era, hydrogen engines may also gain traction among line haul trucking. The key to hydrogen adoption will be the cost parity of hydrogen to diesel and infrastructure for refueling.
In the 2030s, we will begin to see a marked scale-up of new technologies and fuels. Battery-electric and fuel cell electric solutions will be viable for more use cases, especially with urban vehicles. Meanwhile, alternative fuels such as renewable natural gas (RNG), hydrogen, and biodiesel blends could have global footprints. At a regional level, varying local availability of different feedstocks will keep less popular low to zero carbon fuels in play. For bio-derived fuels, an interesting dynamic could play out during this decade. Given these limited stock bio-derived fuels could be the only viable path to decarbonize aviation, we could likely see a limited use of them in road transportation. The 2030s will also be the decade we will learn more about the viability of synthetic fuels for commercial transportation. Cost, availability, and efficiency of energy pathways will be three of the key factors to watch-out.
In the 2040s, electrification will become more viable even for today's hard-to-electrify use cases. For example, heavy-duty and line-haul trucks are challenging to electrify today, mainly because the energy density of today's batteries and limited recharging infrastructure would interfere with the truck's job. This may become less and less of an obstacle as technology and infrastructure continue to advance. As the vehicle electrification eliminates tank-to-wheel emissions, well-to-tank emissions will get increasing spotlight. The good news is, by 2040, renewable electricity is forecasted to account for over 60% of our electricity1. To get there will take doubling the investments in electricity industry, as a share of GDP, towards $1.2 trillion a year by the second half of the 2020s, and strong public and private partnerships.

A safer, more reliable, and efficient transportation powered by software
The commercial transportation sector has already begun a rapid period of software development, helping fleets avoid accidents, optimize their fuel usage, and identify the best routes. Going forward, safety will continue to be paramount; meanwhile, connectivity and software development will revolutionize condition monitoring and performance optimization. This revolution will take place at three levels: asset-level, system-level, and intermodal.
In the near future, asset-level connectivity will continue to be under a spotlight. For example, Cummins Inc. is already testing game-changing prognostic algorithms that leverage massive amounts of data to move customers away from reactive service models to predictive, planned maintenance. The idea is this: sensors in the vehicle monitor the way equipment is performing and report abnormalities. This allows us to detect potential issues early enough that the necessary action can be taken, either through over-the-air updates or at the next scheduled maintenance, so unplanned downtime is reduced, increasing the availability and reliability of the equipment.
Soon, we will see an increased focus on system-level connectivity, where emphasis will expand to managing the complete fleet and system elements such as distribution centers and refueling stations. With this, we will see the sector continue to drive automated decision making through an increased reliance on harnessing real time data and computing capabilities.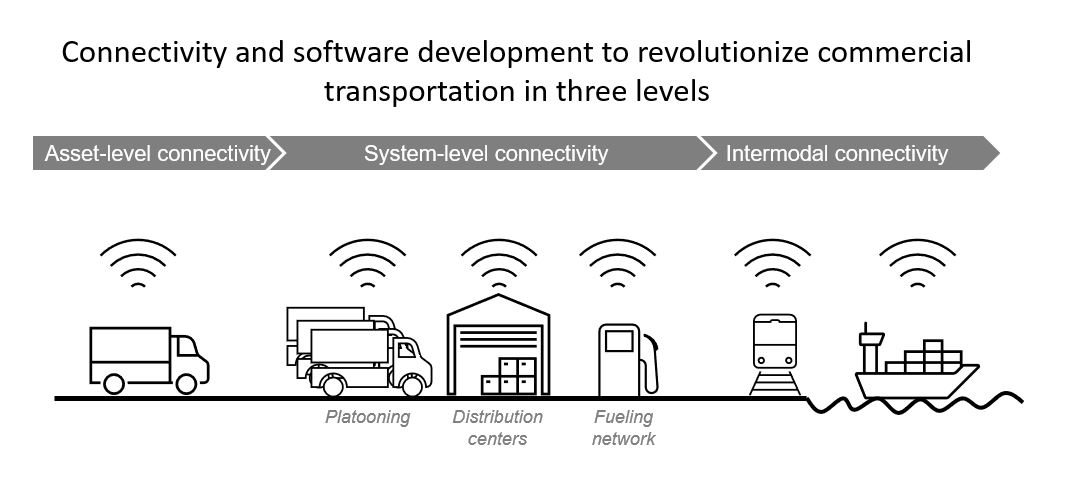 Finally, intermodal connectivity will connect different modes of transportation. This will create a commercial transportation eco-system where individual assets among different modes of transportation such as road, rail, sea, and air are connected and operate in harmony.
Evolving commercial transportation use-cases driven by autonomous driving and vehicle-as-a-service (VaaS)
One of the things common between autonomous trucking and VaaS is they may both drive an evolution among commercial transportation use-cases, but at different scales.
Autonomous trucking may have more profound impact on transportation, as more vehicles start to communicate with each other and with infrastructure elements such as traffic signals and depots. A key outcome of the rise of autonomous trucking could be the competitiveness of trucking against other modes of transportation such as rail. Autonomous trucking could also impact the financials of the industry; as these vehicles will be highly utilized, which could lead to shorter replenishment cycles and lower volumes of vehicles to own. As the safety considerations are getting addressed, this and the increasing focus on system-level connectivity will also continue to shape the role of the drivers in autonomous vehicles.
Vehicle-as-a-service, on the other hand, may have a limited impact in commercial transportation. VaaS, which mirrors the efficiency model used by Uber and Airbnb, primarily relies on under-utilized assets. Meanwhile, commercial transportation is inherently different from privately-owned cars and homes, where a wealth of these under-utilized assets exists. In commercial transportation, there is not a large reserve of under-utilized assets. Therefore, the impact of VaaS in commercial transportation could be limited to two areas. Firstly, fleets with under-utilized vehicles could see improved efficiencies with VaaS. Secondly, VaaS could also find traction with fleets where access to financial resources is limited. In these use cases, the increasing cost of vehicles, due to a combination of decarbonization, advanced connectivity and autonomous features, could make it more difficult for fleets to spend high capex upfront. For these fleets, VaaS could be the more economically-viable path forward. There may also be use-cases where a combination of VaaS and advanced autonomy (without a driver) could address chronic driver shortage issues. Meanwhile, for fleets where utilization rates are already very high and access to finances is not an issue, the impact of VaaS will be limited.
Commercial transportation is certainly in a period of rapid change, but the sector has always pushed hard to ensure it would meet the needs of society. Today, those needs are increasingly demanding, and technology will once again rise to the challenge.
References:
1 World Energy Outlook 2021 [PDF File]. International Energy Agency (2021). Retrieved from: https://www.iea.org/ 
FORWARD-LOOKING STATEMENT
Information provided in this article includes forward-looking statements, including statements regarding business forecasts, expectations, hopes, beliefs and intentions on strategies regarding the future. Actual future outcomes could differ materially from those projected in such forward-looking statements because of a number of factors. Readers and investors are urged to consider these factors carefully in evaluating the forward-looking statements and are cautioned not to place undue reliance on such forward-looking statements. The forward-looking statements made herein are made only as of the date of this article and Cummins undertakes no obligation to publicly update any forward-looking statements, whether as a result of new information, future events or otherwise.