Rima Salve Makes her Mark in Electrification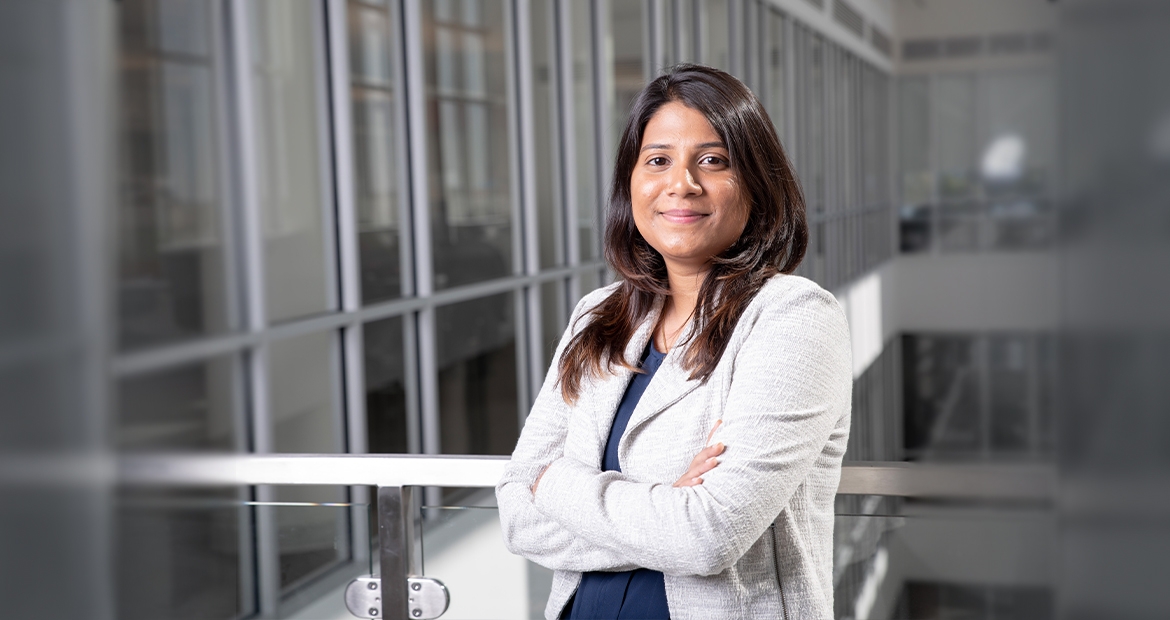 When it comes to career enthusiasm, you'll be hard pressed to find someone who's more excited about her prospects. She exudes pure energy as she talks about the future of Cummins - and how she's an integral part of it. 
Rima Salve, Power Electronics Sytems Engineer, rarely says something without punch and purpose, and this time is no exception. 
"I don't like cold places," Rima says, reflecting on her Cummins internship in Minneapolis. "But it was summertime, so it was perfect," she adds. "[My internship] was the first time I had an experience where I was working for someone, but they asked me what my expectations were. That was really something I liked."
This warm welcome at Cummins set the stage for Rima's professional development and upward mobility in the company.

Rima discovers an opportunity in every obstacle.
Moving from India to Indianapolis with a bachelor's degree under her belt, Rima obtained her master's degree in Electrical and Computer Engineering from IUPUI in Indianapolis before heading to Minneapolis for her initial Cummins internship. That internship led to an official job in Columbus, Indiana - and an unforeseen obstacle. 
The visa that allowed her to study and work in the United States was about to run out. 
"Throughout the process, my manager and even his manager were all involved in checking on me. That was a big relief to know they were supporting me on that front."
Rima didn't get her visa renewed that year, but that didn't mean she would be left without the job she loved. For nine months, she worked for Cummins in India, and upon her return to Columbus, her job - and a new opportunity - awaited. 

Electrification changes the game. 
As an electrical engineer, Rima took notice when Cummins debuted Aeos, its first electrified truck. EPBU, the Electrified Power Business Unit, gained more traction and opened up yet another possibility for Rima's career growth. 
Her manager even encouraged her to consider a career change in this new division. With a lot of thought, she eventually made the decision to take on a new, challenging role in EPBU. 
"Our whole team is new. I like that everyone's learning together. It's chaotic, but it's 'nice' chaotic. It's really fun."
For Rima, the chaotic moments also come with benefits. She enjoys a sense of work-life balance, which allows her to find more free time to do what she loves. 
"I have a whole window of time available where I can pursue whatever I want," Rima says.
She can attend "meet and greets" with other Cummins professionals, receives training opportunities, and, perhaps, most importantly, cultivates friendships. 

Culture and career stability keep Rima moving.
Although her EPBU team and the challenges they face are new, the welcoming culture that drew Rima to Cummins in the first place is still here. No matter where her day takes her, fellow team members are always willing to lend a hand or provide guidance. 
"Anyone will take five or ten minutes of their time to help you," Rima says.
In part, it's this cooperative culture that pushes Rima forward, along with the knowledge that she's a valuable team member helping to push the limits of electrification; on the other, the potential for her work to make a positive, widespread impact on the future of power outweighs the unknown.

Interested in Electrification at Cummins? Explore our careers.

Read more stories from team members in Cummins' Electrified Power Business Unit.