Odaro Omusi Experiences Electrical Engineering Without Boundaries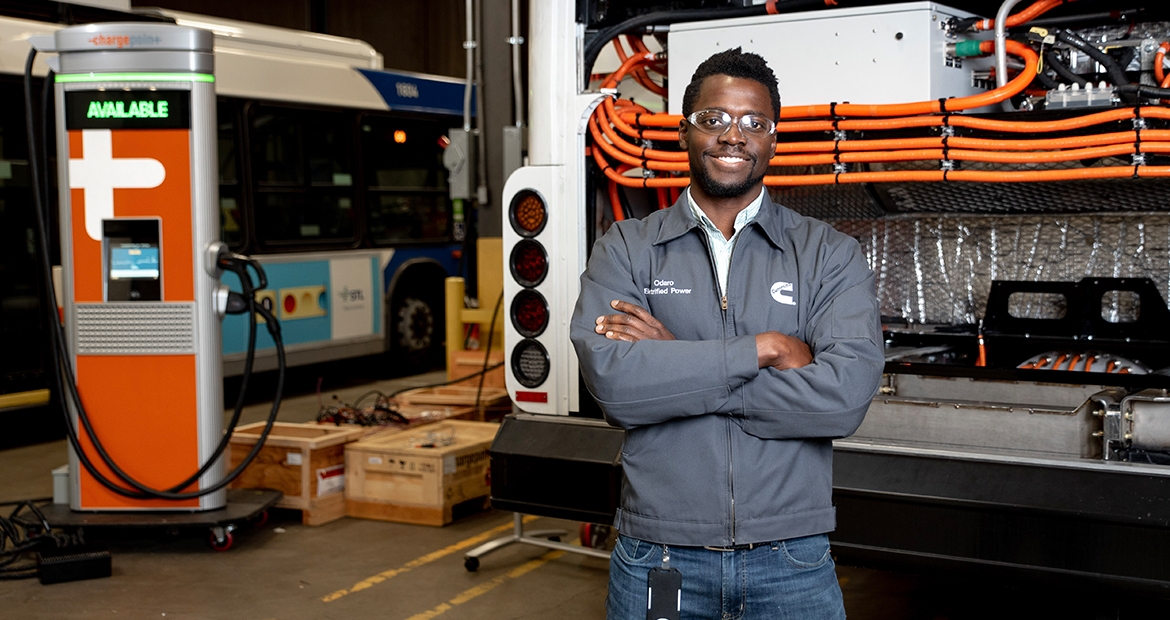 The fluorescent light bounces off his plastic protective eyewear as he stands proudly on the shop floor, hands pocketed in his standard-issue Cummins jacket. The sprawling equipment and line of hybrid buses ready for maintenance seem to be calling to him. 
Odaro Omusi, Electric Vehicle System Integration Specialist, smiles like he's gazing fondly into the past. To be sure, he remembers the details vividly.
"It's a place where, at any point in time, the lights might go out," Odaro says. 
Growing up in his hometown of Lagos, Nigeria's largest city and commercial hub, the lack of electrical infrastructure was always present. This context, paired with Omusi's interest in computers and engineering, became a catalyst for his curiosity. 
He remembers thinking, "I don't know how to fix the problems, but how can I be a part of trying to solve them?"

Odaro finds opportunities in education and beyond.
Odaro has no shortage of educational experience, to say the least. With two bachelor's degrees - one in electrical engineering and another in economics - plus a master's degree in electrical engineering, he quickly found an internship at Cummins.
"I really like working at Cummins because of the culture especially. I always got the sense that people actually cared about me trying to develop and grow."
This internship experience, he mentions, seemed to be different than his vision of what internships would include. Odaro definitely wasn't the stereotypical intern who grabbed coffee for coworkers. Instead, he was a key member of a helpful, diverse team.
"There's a huge emphasis on diversity at Cummins, which was really cool, just to see them be welcoming to everyone."
But Odaro wasn't just welcomed. He was constantly encouraged. He attended a "speed mentoring" event (think: speed dating but for professional development). Hosted by the Women's Employee Resource Grop, one of many employee resource groups at Cummins, the event led Odaro to meet his mentor, who in turn introduced him to a number of other team members. 
It was this collective effort from multiple mentors vested in Odaro's career growth that ultimately led him to his current role in the electrification space at Cummins. 

The future of electrified power looks bright.
After nearly five years at Cummins, Odaro is on the front lines of innovative change in the transportation industry, implementing new electric bus technology on a daily basis. And that's exactly where he wants to be.
"We could be talking about a complete revolution of transportation in the next few decades. Being part of that evolution is really exciting."
Odaro sees plenty of changes brewing in his future with Cummins, which excited him even more. The potential for growth, for innovation, for new possibilities in electrified power - there's a certain mystery about what's on the horizon. 
"It's growing and you're not sure exactly where it's going to go. But just the fact that it's growing is really exciting."
For Odaro, the great unknown is a fun place to explore.

What's so great about Cummins?
Looking back, Odaro remembers reading up on different companies when deciding where he wanted to apply. He had seen so many brochures, so many sheets of paper that seemed to promise the same bland experiences.
"The recruitment brochures from different companies all kind of look the same," he says. "As someone who's lived the Cummins experience, I can say that the experience does match what was talked about before I got here."
Whether it's the welcome culture, the hands-on experiences, or the thrill of taking part in an energy revolution, Odaro has never looked back. 
"At this point, you don't know where the ceiling is, and the bounds aren't fully known."

Want to work in electrification at Cummins? Explore our careers.