Repower Profile: TAV Toyota Xtra Cab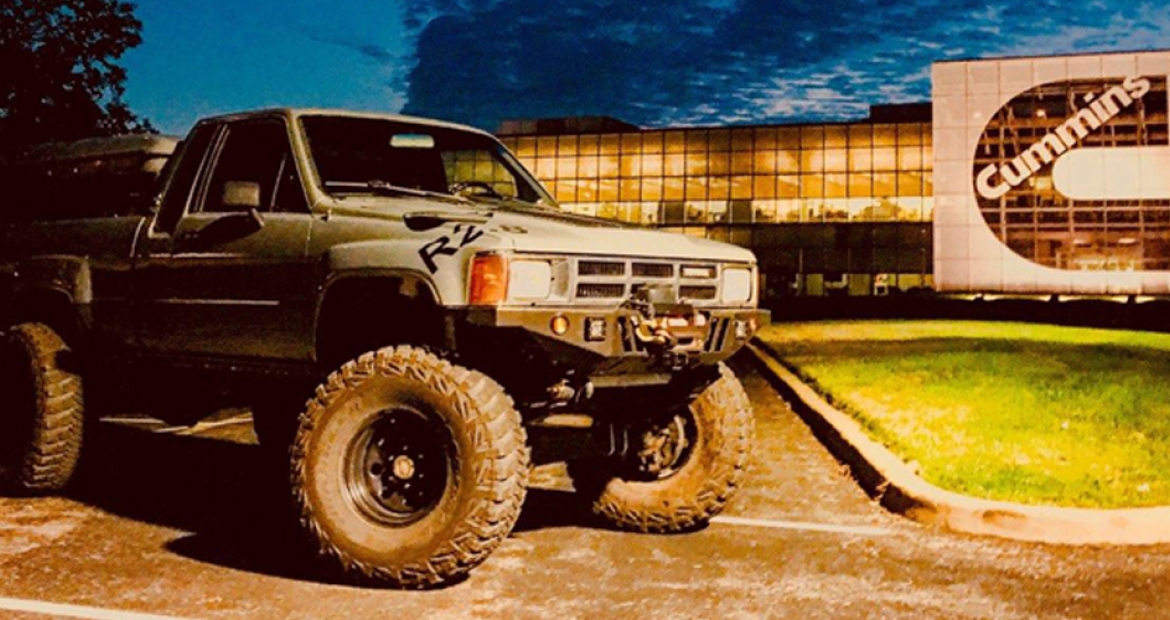 From sea level to over 13,500 ft., this 1985 Toyota Xtra Cab, built by TAV in Albuquerque, New Mexico, is a testing workhorse for the Cummins R2.8 Turbo Diesel. With engine mounts and a transmission adapter from Axis Industries, the R2.8 Turbo Diesel in this tough truck has been everywhere from off-roading adventures to highway cruising.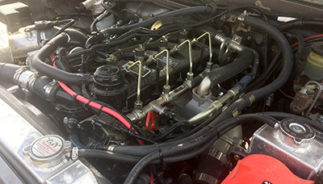 As one of the first Beta customers of the R2.8 Turbo Diesel, this truck features a data-logger that allows Cummins engineers to receive valuable information from a maiden off-roading voyage to FJ Summit to highway cruising and every mile in between.
With a home base in the mountains of Albuquerque, NM, the 1985 Toyota Xtra Cab provides Cummins the opportunity to collect altitude data and real customer feedback in a unique scenario. In addition, to the every-day data that it provides to Cummins engineers, this truck was also tested up the Davis Dam Grade. With miles of experience on the odometer, the builders at TAV note that using a 20" H x 9" W x 2.75" D charge air cooler along with A 20" H x 18" W x 2.5" D 3 core radiator coupled with 17" mechanical fan and custom shroud keep the engine cool even in the toughest conditions.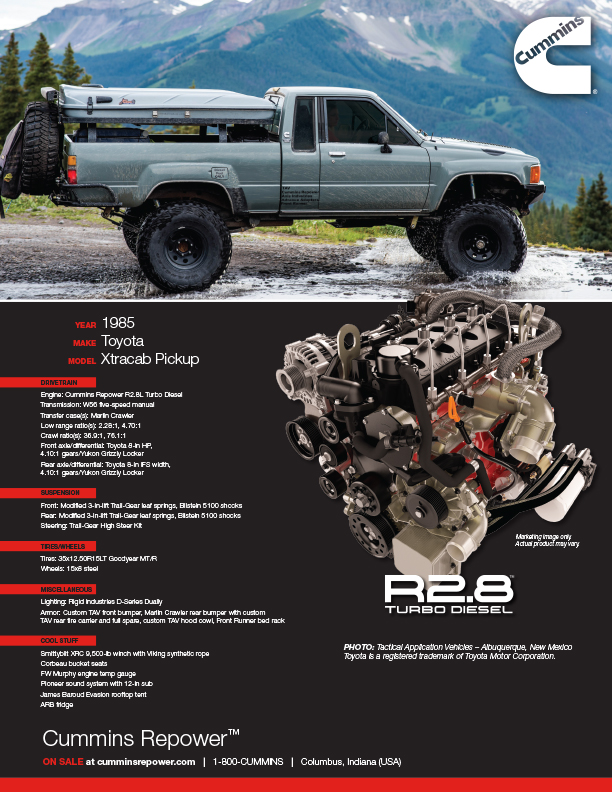 Click here to download your free poster with details about this build.
Vehicle Info
Year: 1985
Make: Toyota
Model: Xtracab Pickup
Drivetrain
Engine: Cummins Repower R2.8L Turbo Diesel
Transmission: W56 five-speed manual
Transfer case(s): Marlin Crawler
Low range ratio(s): 2.28:1, 4.70:1
Crawl ratio(s): 36.9:1, 76.1:1
Front axle/differential: Toyota 8-in HP, 4.10:1 gears/Yukon Grizzly Locker
Rear axle/differential: Toyota 8-in IFS width, 4.10:1 gears/Yukon Grizzly Locker
Suspension
Front: Modified 3-in-lift Trail-Gear leaf springs, Bilstein 5100 shocks
Rear: Modified 3-in-lift Trail-Gear leaf springs, Bilstein 5100 shocks
Steering: Trail-Gear High Steer Kit
Tires/Wheels
Tires: 35x12.50R15LT Goodyear MT/R
Wheels: 15x8 steel
Miscellaneous
Lighting: Rigid Industries D-Series Dually
Armor: Custom TAV front bumper, Marlin Crawler rear bumper with custom TAV rear tire carrier and full spare, custom TAV hood cowl, Front Runner bed rack
Cool Stuff
Smittybilt XRC 9,500-lb winch with Viking synthetic rope, Corbeau bucket seats, FW Murphy engine temp gauge, Pioneer sound system with 12-in sub, James Baroud Evasion rooftop tent, ARB fridge