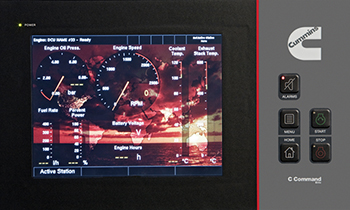 Building on common components, three system versions with progressively increasing features are available:
Based on C Command architecture, C Command HD is available for QSM11 propulsion and auxiliary engines. Both the cost-effective basic system and the type-approved Elite Plus version offer simplified installation and include local and remote control options.
Operators can now have all the benefits of modern engine monitoring on mechanical products with Cummins new C Command PT panels.  Based on C Command architecture, this modular panel system includes a selection of display options designed to enhance K Series engine performance and manage costs.
The latest extension of the C Command portfolio is C Command Connect. C Command Connect is available for quantum series engines from 6.7 liters to 11 liters which includes the QSB6.7, QSC8.3, QSL9 and QSM11 propulsion engines. Using J1939 protocol the system offers full access to engine data and fault code information through the Cummins ED-4 display panel or third party gauges.