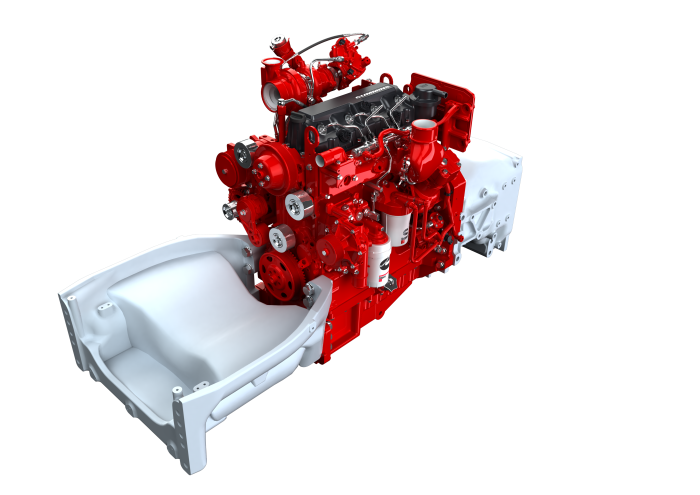 Power
90 - 200
hp
67 - 149
kW
Torque
295 - 575
lb-ft
400 - 780
N•m
Certification
Tier 4 Final/Stage V
Designed for tractors
Cummins structural engine capability is now available in a 4.5 liter displacements, ideal for small to medium sized tractors in the 90 – 200 hp power range.
Overview:
Performance that's ground breaking
The F4.5 Performance Series engines are designed for small to medium sized tractors (90-200hp) required to perform a wide variety of tasks such as ploughing, seed drilling, bailing, trailer pulling and front loader work. Complete with a structural block and oil pan, the F4.5 are optimized for minimal weight with maximum strength for engine and driveline durability.
Both engines have customizable features to suit a variety of installations, including:
Oil pan
Fan hub position
Turbocharger type and position - Holset® wastegate turbocharging as standard with variable geometry turbocharging available for higher torque at a wider range of engine speeds
Aftertreatment packages
Cummins' electronic control capability means that performance is tailored for on-farm operation with the optimum power bulge and torque back up available to suit tractor duty cycles
Performance Series for EU Stage V and EPA Tier 4 Final
Cummins next generation Performance Series technology significantly improves the capabilities of our Fengine, with 33% more power and 31% more torque versus the previous model. Pushing the power up to 173 hp has made the a leader in its class, delivering high machine capability and substantial productivity benefits for farmers who operate Cummins powered equipment.
The F4.5 structural engines meet the latest EU and EPA emissions standards with Cummins Flex Module aftertreatment. Using the same technology as Cummins' Single Module™ aftertreatment, but in a flexible two piece package, the Flex Module facilitates an EGR free design and is adaptable to suit the available space across a range of tractor designs.