QSB6.7 fuel miser hooks charter fishing captain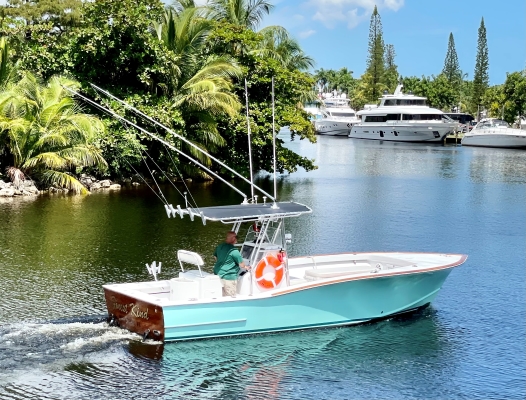 "I'm a big believer in Cummins products, and I've never had a problem getting Cummins parts."
— Capt. Norm Bekoff
---
Do the math: Counting on Cummins cuts fuel costs in half!
Several variables impact the success of a commercial fisherman with a charter operation. There's the unpredictable weather, identifying a hot fishing spot and getting potential customers to choose your boat – it's a combination of luck and marketing.  Finally, the ability to leverage the operation by controlling fuel and maintenance costs is the one variable that can actually be controlled by a shrewd businessman.
"When you get into a boat right, it's much easier to get started and stay in business," said Capt. Norm Bekoff. He knows he's maximizing his revenue by controlling the running expenses of his Fort Lauderdale-based charter operation. His vessel, M/V Finest Kind, is a 28-foot center console inboard boat designed and built by Ricky Scarborough, powered by a Cummins single QSB6.7L 210 horsepower engine.
Bekoff marvels over the efficiency of his ride. His 60-gallon tank only burns only about five gallons/hour. The math is elementary. "I can run five days on a 60-gallon tank, whereas many others burn upwards of 200 gallons in a day," said Bekoff. "I may not be faster than some of them, but I'll wave to them at the fuel dock. It's very, very low fuel burn, insane!"
Bekoff fishes offshore in Fort Lauderdale, catching sailfish, mahi mahi, dolphin, tuna and wahoo when his fishing charter isn't hired for inland cruising on the Atlantic Intracoastal Waterway in South Florida.
Launched in 1977, Finest Kind was originally built for commercial fisherman Ted James. After being battered in 2008 by a hurricane, she enjoyed a complete refit in 2009 where her engine was rebuilt by a Cummins factory certified mechanic and reconditioned to manufacturer specs.
While Bekoff touts the reliability of Cummins and the wide availability of parts for a very simple engine as big plusses, it's Cummins' fuel economy that hooked him. Naturally, this engine is not his first Cummins product. Bekoff previously ran passenger vessels, operating both water taxis and crew boats. In the Gulf of Mexico, he ran with KTA19 engines paired with ZF transmissions.
"I don't know if there is a more bulletproof combination," said Bekoff of the power pairing on the 135-foot quad screw crew boat under his command. "I just could not beat up that engine," he said, adding, "I'm a big believer in Cummins products, and I've never had a problem getting Cummins parts. I'm very fortunate to have great ground crew who can respond quickly. My mechanic is Troy Winbern and Cable Marine East is the local warranty and service rep, but I very rarely have to call them."
The extensive retrofit of the boat extended beyond the engine room, and included stripping the transom and fiberglass work. However, the name of the vessel will never change.
"The shadow of the name Finest Kind was burned into the wood so much, I would have had to replace all the wood," said Bekoff.
With his operational costs cut nearly in half with a QSB6.7, perhaps the boat's name is actually a self-fulfilling prophecy of the best boat, the very best inboard engine, perhaps even the finest kind.
Finest Kind specifications

Builder
Scarborough Boatworks 1977; REFIT 2009
LOA
28'
Beam
9'
Engine
Cummins QSB6.7
Cruising Speed
22 kts
Max Speed
28 kts