Powerplay: Catamarans and Cummins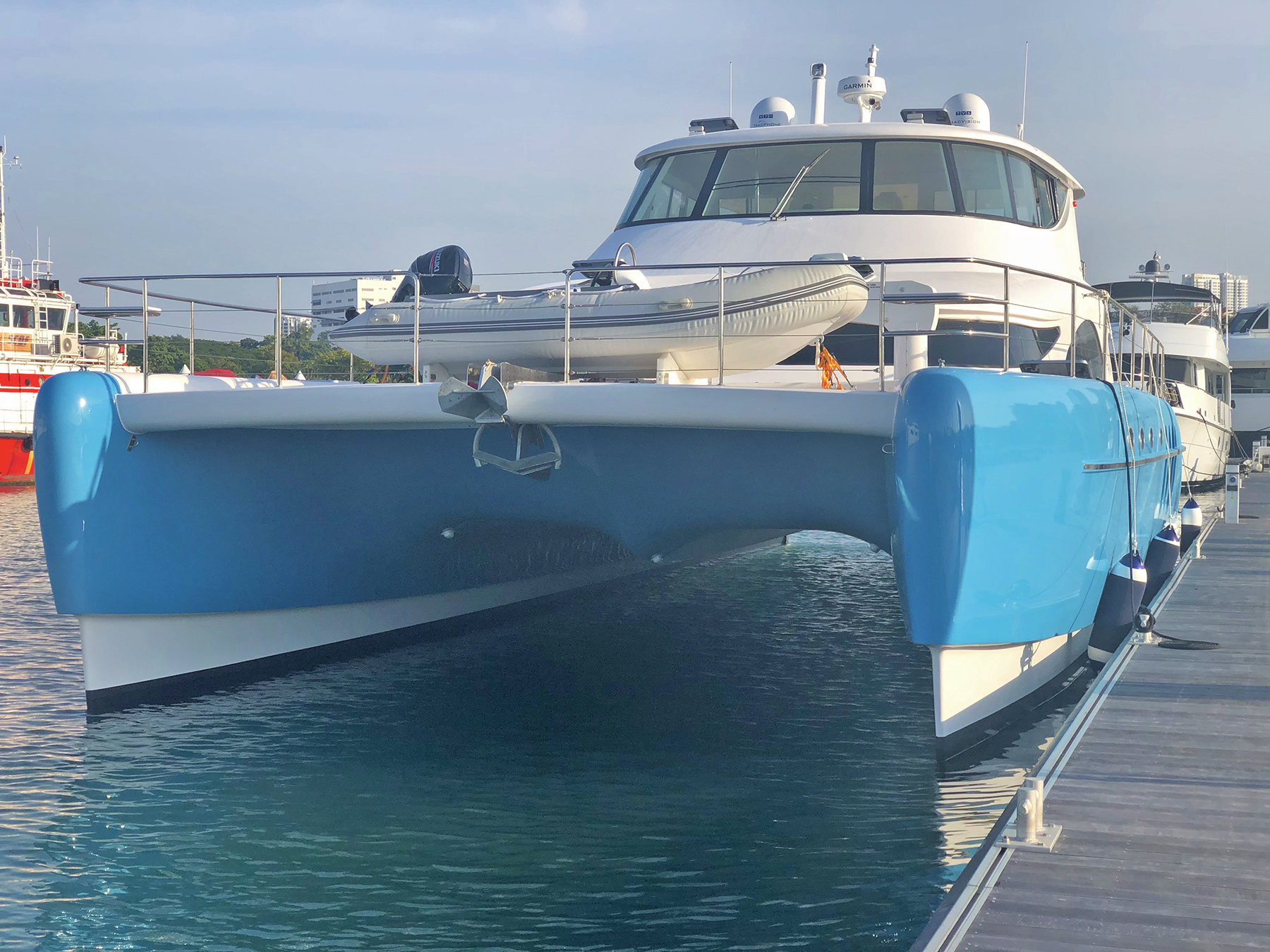 With all systems checked out and tuned to perfection, the big catamaran's GPS display read a crisp 25 knots. This met her design speed and the tastefully appointed galley and accommodation area matched the renderings approved by the owner. Another Powerplay boat was ready for delivery.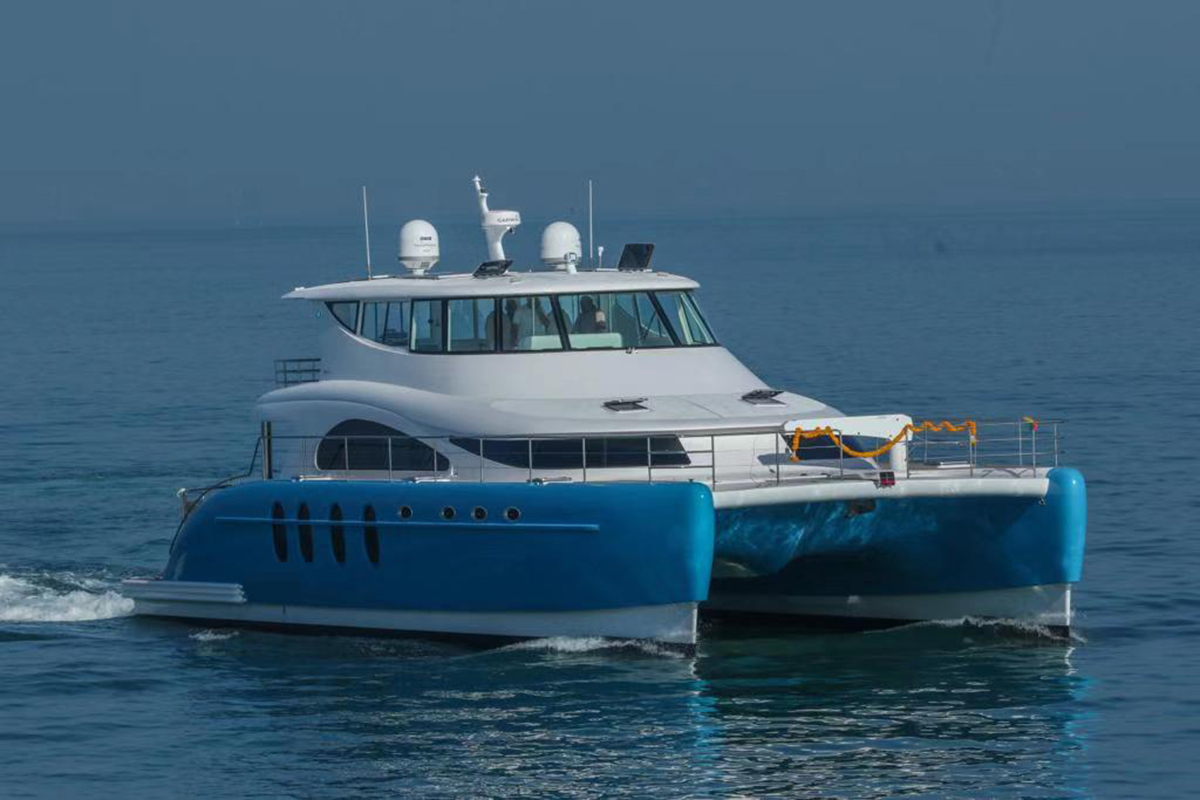 James Dewing started developing Powerplay catamarans in Australia and he has since built in China before settling in Thailand. As for many international firms, like Toyota, Nikon and other high-tech industries, he has found an educated and skilled workforce. "These are key elements in cost effective boat building," Dewing explains, adding, "The boat building industry is very strong here and being located in one of Asia's largest and fines Marinas, there is a wealth of quality services."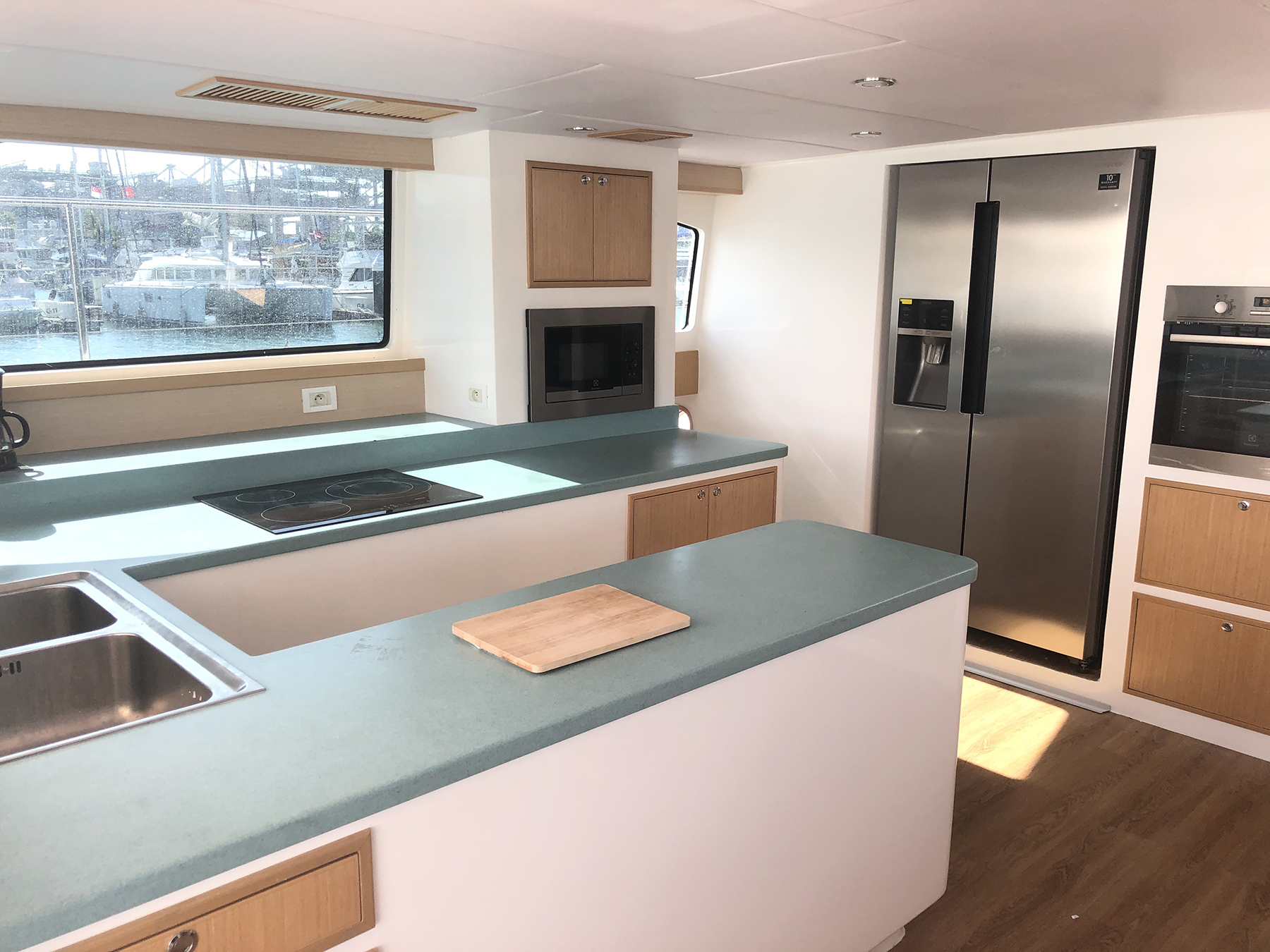 With a staff of about 52 he is able to fabricate, from start to yacht-finish, a 20-meter by 8.2-meter catamaran in about 12 months. The vessel recently delivered from the firm's Pattaya facility is fabricated from PVC core and Vinylester resin System offering all important good build weight. The company, Powerplay Catamarans, offers the option of an epoxy resin system. The current vessel, named Seamaster, has a displacement of about 28,000 kilograms light ship. And 38,000 loaded displacement.
Accommodation on Powerplay catamarans is customized to meet our client's requirements. The Seamaster has a total of ten berths. These are located in forward and aft cabins in the two hulls. Additionally, a master cabin, with king-sized bed and ensuite, is located forward on the main deck. The galley, dinning and extended cockpit are all located aft.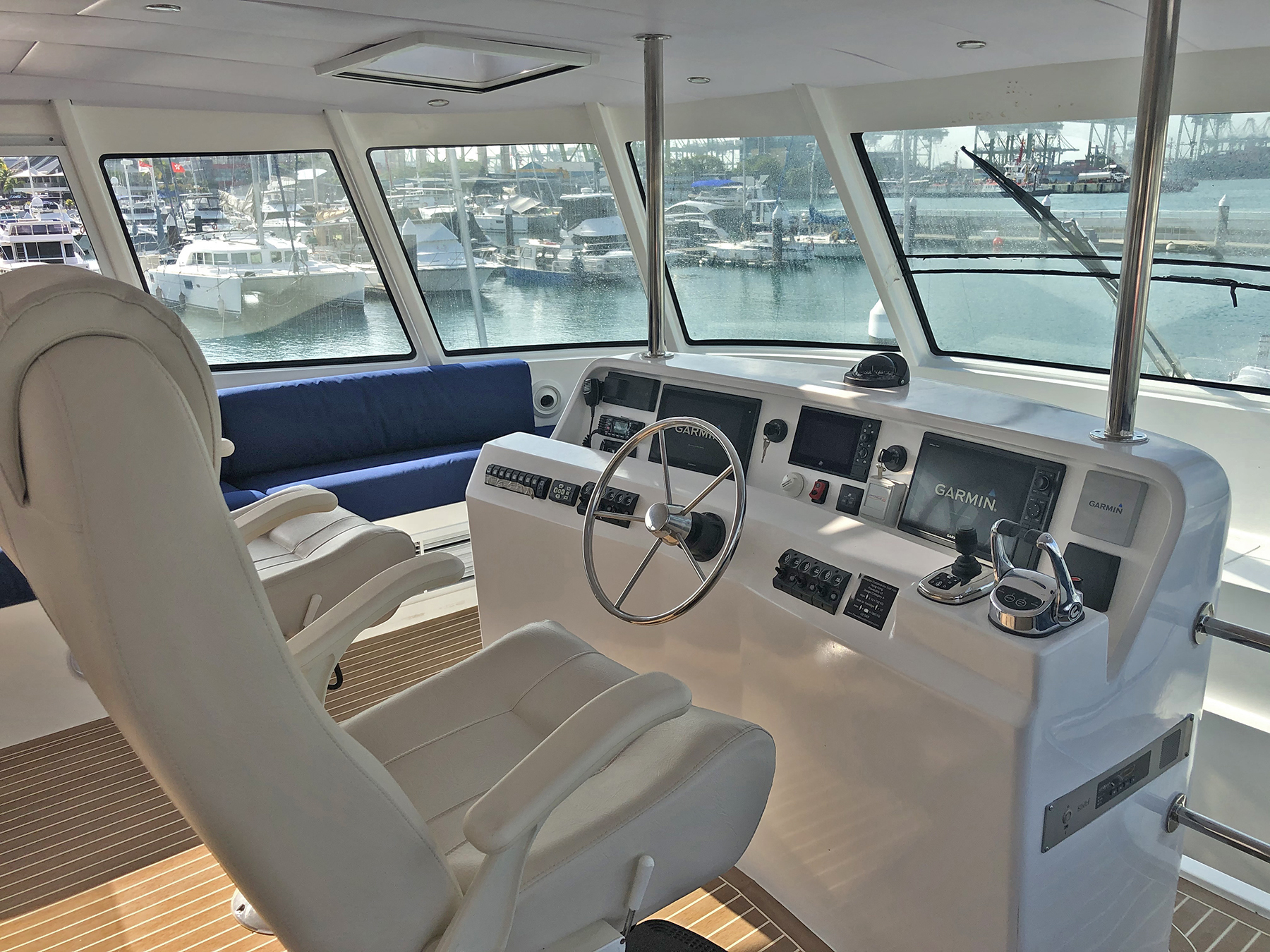 For future orders, modifications to the design can provide more berths configured for family or charter requirements on the topsides and other variations. The beamy nature of the catamaran lends itself well to nearly infinite design opportunities for accommodation spaces. James Dewing explains that in recent vessels he had kept to the same hull shapes. "In this iteration, I have achieved the best balance of speed, economy, range and good looks" he explained. "Individual owners can opt for variation in the main deck spaces and layout of the fly-bridge, but the hulls have been optimized."
For the Seamaster, the dual electric bow thrusters, one in each hull, enhances the already excellent slow-speed maneuverability of the catamaran. Twin Cummins QSC8.3-liter main engines, each producing 600 HP gave the new boat a 25-knot speed on sea trials. "We made the 850-mile delivery trip to Singapore on two of the three fuel tanks with some to spare." Dewing said.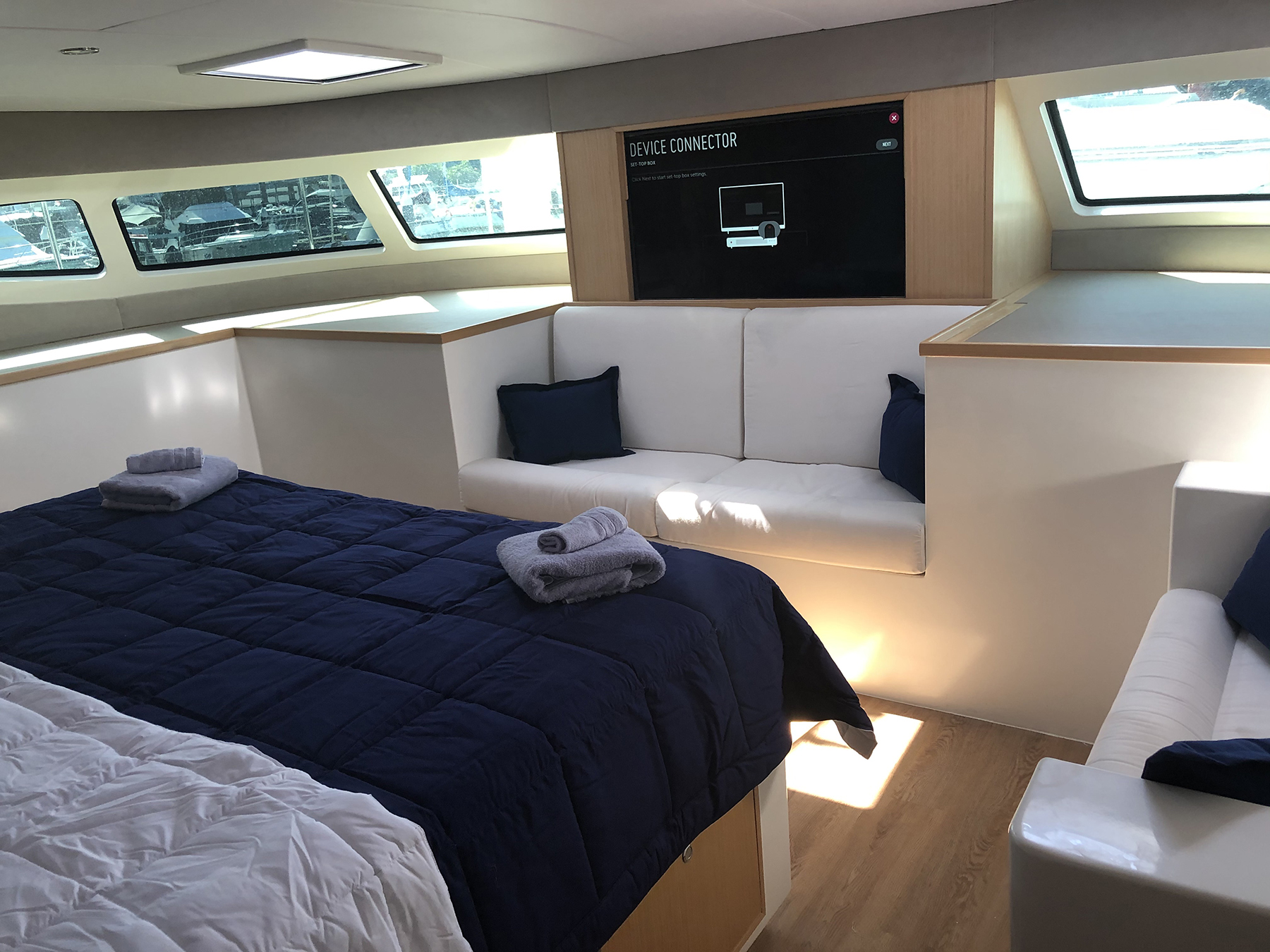 Joy-stick controls, on the comfortable fly-bridge and aft, allow the twin propellers to act in concert for ultimate fingertip control for the boat. An option of Cummins Zeus Pod drives with the 8.3-liter engines is also available. These innovative pod drives allow for excellent station keeping in wind or currents as well as good handling when docking. The single joystick controls combine the drives with bow thrusters to give ease of handling and efficiency of maneuvering.
Following sea trials in December 2019 the boat was delivered for shipping onward to her owner in Tahiti. James Dewing reports; "The second 65 is now out of the molds and being assembled. We will, of course, be using the Cummins QSC8.3 which is a remarkable quiet engine, delivering all the power we need. With the 27 x 29.5 five-blade props she is smooth and graceful. I'm very satisfied with the performance results and sensible economy."
Photos & video courtesy of Powerplay
Further information:
James Dewing
Owner
Powerplay Catamarans Co. Ltd.
Ocean Marina 167/3 Moo 4
Na Jomtien, Sattahip, Chonburi 20150
Thailand 
Phone: +66 6416 78377
E-mail: [email protected]
[email protected]
Website: https://powerplaycatamarans.com
 
Jennifer McQuilken
Marketing Communications, Marine and Oil & Gas
Cummins Inc.
4400 Leeds Ave. Suite 300
Charleston, SC 2940
E-mail: [email protected]
Phone: +1 843-696-9534 (call or text)

Alan Haig-Brown
A. Haig-Brown & Assoc. Ltd.
Bangkok, Thailand
Phone: 66 (0)8 5347 6206
E-mail: [email protected]
web: www.haigbrown.com