Cummins inboards power world's fastest diesel RIB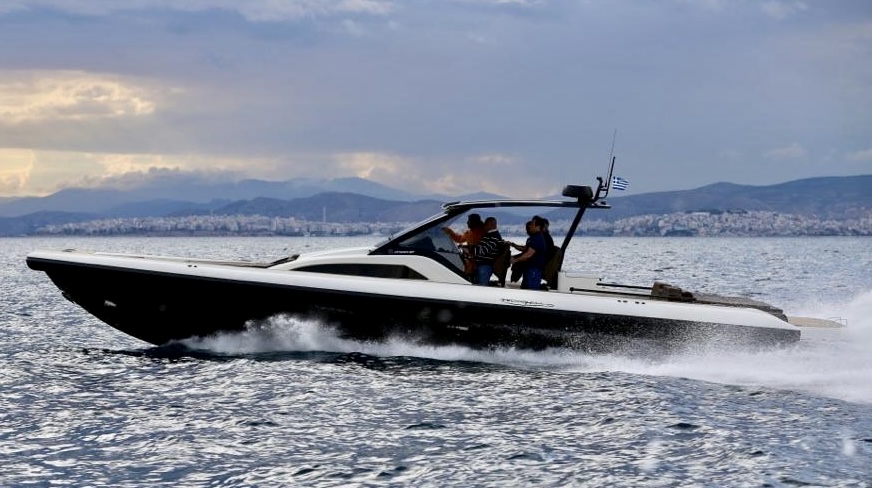 License to Thrill
Always moments away from leaping aboard a classy powerboat and then driving it like he stole it, the fictional James Bond would gravitate to the Technohull Omega 47 for his next dramatic, implausibly long, high-speed boat chase from some nefarious villain headquartered in a remote island compound.
The Technohull Omega 47 luxury RIB is a Bond-inspired, high-performance speedboat. Her pedigree combines the virtues of a genuine sport RIB with the space, comfort and high-quality finish of a yacht. Omega 47 is a true, luxury rigid inflatable. Her patented, Dynastream system-designed, twin-stepped hull ensures stability and excellent seakeeping while safely racing in style.
Packed with punch, Omega 47 can be powered by up to four QSB6.7L 450 horsepower engines. Topping out at 90 mph, this superyacht tender is a true offshore boat making every getaway quick.
Our favorite Bond-inspired boats are not just about record-breaking leaps; additionally, they exude luxury and style. Seductive lines and superyacht quality styling define this exclusive sport RIB by Greek builder Technohull.
Adorned in genuine, exotic teak with high-end nuances like supple leather, shockabsorber seats, the Omega 47 sports a full, walkaround deck and bow to stern teak gun rails creating an impeccably, flawless look and incredible eye candy. Spacious, supple sun pads indulge guests with haute comfort.
The Omega fleet is so appealing that KMB Yachting, the North American distributor for Technohull, can hardly keep the highly coveted demos in stock. Inventory moves immediately in the Miami Beach dealership.
"We're sold out," said Ivo Vassilev, co-owner of KMB Yachting and official Technohull dealer. Nine months into the year, Vassilev has already sold 23 boats.
While most center console RIBs are faux teak, the Omega 47 is a mini-megayacht; the all custom build has a 12 - 18 month lead time upon contract. Nothing but teak surrounds passengers arranged in two rows of three seats on this uniquely beautiful center console boat.
"With twin Cummins QSB6.7 engines, cruising speed is 40 - 45mph, depending upon sea conditions and boat load," said Vassilev. "She tops out at 65 mph, the draft is less than three feet, just under the surface drives. This is one of the fastest diesel RIBs ever built and she is also extremely agile, designed with stability and comfort in mind."
Technohull Omega 47 specifications

LOA
45'6"
Beam
11'6"
Hull Draft
27.17"
Hull Deep-V
2 ventilated steps
Displacement
13,500 lbs with enines
Fuel cap
300 gal
Water cap
32 gal
Engine
Cummins QSB6.7
Max engines

Cummins 4x450 hp