Cummins Reports Third Quarter 2022 Results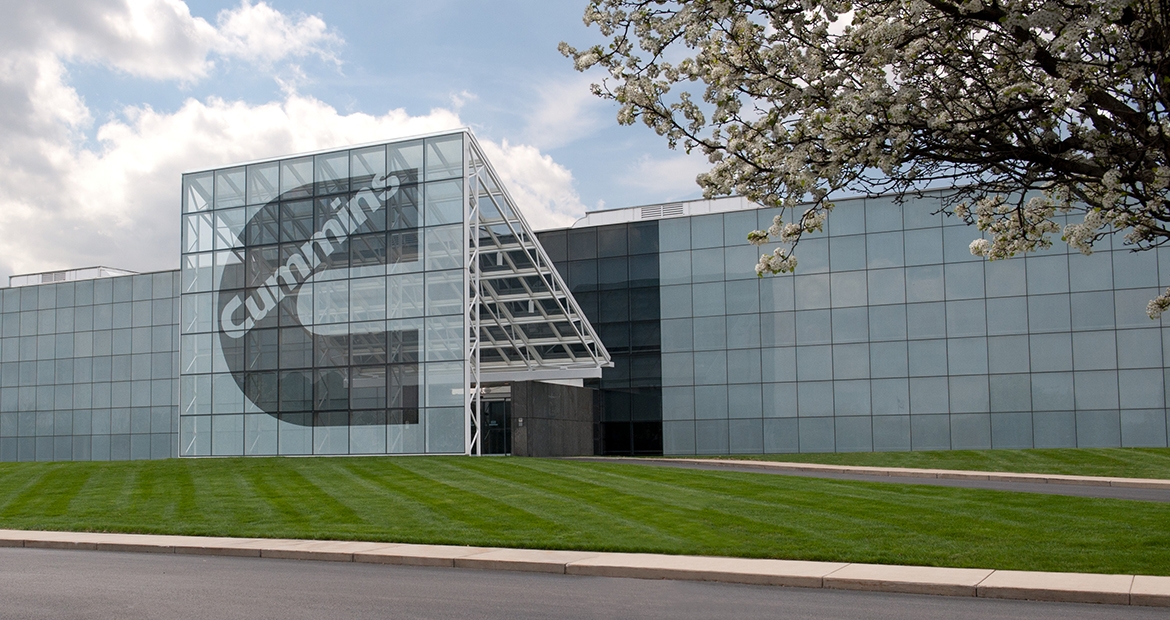 •    Third quarter revenues of $7.3 billion
•    GAAP1 Net Income of $400 million, or 5.5 percent of sales; diluted EPS of $2.82
•    EBITDA in the third quarter was 12.1 percent of sales
•    Third quarter results reflect: 
Two months of operations from the acquired Meritor business, including $737 million in revenue and $37 million, or $0.26 per diluted share of GAAP1 Net Loss. Cummins also incurred $25 million, or $0.13 per diluted share, of costs in the third quarter related to the acquisition and integration of Meritor. 
$16 million, or $0.09 per diluted share, of costs related to the separation of the Filtration business. 
$57 million, or $0.40 per diluted share, of discrete tax items, primarily related to the planned separation of the Filtration business. 
•    Updated outlook for full year 2022:
Full year 2022 revenue guidance, excluding the Meritor business, is being maintained, with revenue expected to increase 8 percent. 
Full year 2022 EBITDA guidance, excluding the Meritor business, is lowered to approximately 15.0 percent, from prior guidance of approximately 15.5 percent. 
Cummins Inc. (NYSE: CMI) today reported results for the third quarter of 2022. 
 
Third quarter revenues in total were $7.3 billion. Excluding the contribution of the Meritor, Inc. business, the acquisition of which was completed on August 3, 2022, third quarter revenues were $6.6 billion, representing an increase of 11 percent from the same quarter in 2021. Sales in North America increased 19 percent and international revenues decreased 1 percent compared to the same quarter in 2021, as strong demand across all global markets was offset by a market slowdown in China, as well as Russia, where operations have been suspended indefinitely. 
 
"During the third quarter of 2022, Cummins advanced its growth strategy most notably with the completion of the acquisition of Meritor, and we have been excited to welcome our new colleagues into our company," said President and CEO Jennifer Rumsey. "Demand from customers remains strong, reflecting the quality and performance of our products and robust conditions in most markets except China. EBITDA for the third quarter improved year-over-year but declined compared to the second quarter of 2022, reflecting weaker joint venture earnings in China, a one-time bonus to employees to recognize their relentless commitment to meeting customer demand in challenging conditions, and costs associated with both the Meritor acquisition and the planned separation of our Filtration business. We expect results for Meritor and Cummins in total to improve in the fourth quarter." 
 
Net income attributable to Cummins in the third quarter was $400 million, or $2.82 per diluted share. Excluding the Meritor business and related acquisition and integration costs, net income in the third quarter was $456 million, or $3.21 per diluted share, compared to $534 million, or $3.69 per diluted share, in 2021. The tax rate in the third quarter was 32.7 percent including $57 million, or $0.40 per diluted share, of unfavorable discrete items, primarily related to the planned separation of the Filtration business.
 
Earnings before interest, taxes, depreciation and amortization (EBITDA) in the third quarter was $884 million, or 12.1 percent of sales. Excluding the Meritor business and related acquisition and integration costs, EBITDA was $907 million, or 13.8 percent of sales, compared to $862 million, or 14.4 percent of sales, a year ago. Third quarter results include costs of $16 million, or $0.09 per diluted share, related to the separation of the Filtration business.  In addition, to recognize the extraordinary efforts by employees during the challenges over the last several years, as well as promote retention in a period of tight labor markets, a one-time employee recognition bonus was announced and recorded during the third quarter, which had a cost impact of $56 million.
 
The third quarter results for the company included two months of operations following the acquisition of Meritor. Meritor results within the third quarter include $737 million in revenue, EBITDA of $2 million and GAAP1 net loss of $37 million. Results of Meritor include an inventory valuation adjustment as required by purchase accounting, which resulted in a negative impact of $32 million. Third quarter results also include $25 million, or $0.13 per diluted share, of acquisition related costs, which consist of consulting and banker fees, and employee separation and retention payments. EBITDA for Meritor operations, excluding the purchase accounting and acquisition and integration costs, was $54 million in the third quarter, or 7.3 percent of sales.
Updated 2022 Outlook:
Based on its current forecast, excluding the Meritor business, Cummins is providing the following update of its outlook for the full year 2022:
Full year 2022 revenue guidance is being maintained, with revenue expected to be up 8 percent. 
Full year 2022 EBITDA is now expected to be approximately 15.0 percent of sales, excluding the Meritor business and related acquisition and integration costs, the impacts of the indefinite suspension of our operations in Russia and the costs associated with preparing for the expected separation of our Filtration business. This is below the company's previous guidance of approximately 15.5 percent of sales and reflects an improvement from the third quarter to the fourth quarter.
The company continues to expect to return approximately 50 percent of Operating Cash Flow to shareholders in 2022 in the form of dividends and share repurchases.  
Cummins expects revenues of the Meritor business from the August 3 completion of the acquisition through the end of 2022 will be between $1.7 billion to $1.9 billion. During the same period, EBITDA from the Meritor business is expected to be approximately 4.5 percent of sales including the impact of required purchase accounting.
Third Quarter 2022 Highlights: 
On August 3, Cummins completed the acquisition of Meritor, Inc., a leading global supplier of drivetrain, mobility, braking, aftermarket and electric powertrain solutions for commercial vehicle and industrial markets. The integration of Meritor's people, products and capabilities in axle and brake technology will position Cummins as a leading provider of integrated powertrain solutions across internal combustion and electric power applications. The acquisition of Meritor is expected to generate annual pre-tax run-rate synergies of approximately $130 million by year three after closing, anticipated to be comprised of, among other things, SG&A savings, supply chain operations and facilities optimization. 
The company announced several collaborations that further enable our customers to achieve their decarbonization goals. During the third quarter, Cummins announced collaborations with Werner Enterprises, Transport Enterprise Leasing (TEL) and Versatile to deliver 15-liter hydrogen internal combustion engines. The X15H hydrogen engine, part of Cummins' fuel agnostic platform, will enable a more-timely solution to reduce carbon emissions by providing customers with an option that has powertrain installation commonality and end user familiarity. 
The New Power business continued to expand its green hydrogen presence globally. Cummins announced it will expand PEM electrolyzer manufacturing capacity at its Oevel, Belgium, factory to 1 gigawatt (GW). The company also announced it will begin producing electrolyzers in the United States, underscoring the company's continued dedication to advancing the nation's green hydrogen economy. Electrolyzer production will take place in Fridley, Minnesota, starting at 500 megawatts (MW) of manufacturing capacity annually, scalable to 1 gigawatt (GW) in the future. In addition to electrolyzer capacity expansion, the business successfully launched the Cummins HD120 fuel cell system in China by delivering 52 units to the Lin-gang Government for a bus application. 
Cummins published its 19th annual Sustainability Progress Report, including the company's first update on progress on Cummins' 2030 environmental goals aligned to its PLANET 2050 environmental strategy. 
Progress continues to be made on the planned separation of the Filtration business. 
The company increased its quarterly dividend from $1.45 to $1.57 per share. Cummins has paid higher annual dividends to shareholders for 13 consecutive years.
1 Generally Accepted Accounting Principles in the U.S. 
Third quarter 2022 detail (all comparisons to same period in 2021):
Engine Segment 
Sales - $2.8 billion, up 8 percent 
Segment EBITDA - $363 million, or 13.1 percent of sales, compared to $391 million or 15.2 percent of sales
On-highway revenues increased 10 percent driven by strong demand in the North American truck market, pricing actions and strong aftermarket demand. Off-highway revenues decreased 3 percent driven by a slowdown in China construction. 
Sales increased 14 percent in North America and decreased 8 percent in international markets due to a decline in China demand and the indefinite suspension of operations in Russia. 
 Distribution Segment 
Sales - $2.2 billion, up 14 percent 
Segment EBITDA - $225 million, or 10.0 percent of sales, compared to $192 million, or 9.8 percent of sales
Revenues in North America increased 22 percent and international sales increased by 1 percent. 
Higher revenues were primarily driven by increased demand for parts and service. 
 Components Segment 
Sales - $2.7 billion; excluding Meritor, $2.0 billion, up 10 percent 
Segment EBITDA - $297 million, or 11.0 percent of sales; excluding Meritor and costs for the Filtration separation, $320 million or 16.2 percent of sales compared to $253 million, or 14.1 percent of sales 
Excluding Meritor, revenues in North America increased by 19 percent and international sales decreased by 1 percent due to lower demand in China.
Power Systems Segment 
Sales - $1.3 billion, up 16 percent
Segment EBITDA - $193 million, or 14.3 percent of sales, compared to $134 million, or 11.5 percent of sales
Power generation revenues increased 11 percent driven by pricing actions and increased global demand. Industrial revenues increased 17 percent due to strong demand for aftermarket products and increased demand in oil and gas markets. 
 New Power Segment 
Sales - $50 million; excluding Meritor, $45 million, up 96 percent 
Segment EBITDA loss - $96 million; excluding Meritor operating results, $86 million 
Revenues increased due to higher battery demand in the North American school bus market in addition to the shipments of fuel cell systems to the bus market in China.
Costs associated with the development of fuel cells and electrolyzers, as well as products to support battery electric vehicles are contributing to EBITDA losses. 
Presentation of Non-GAAP Financial Information 
EBITDA is a non-GAAP measure used in this release and is defined and reconciled to what management believes to be the most comparable GAAP measure in a schedule attached to this release, except for forward-looking measures of EBITDA where a reconciliation to the corresponding GAAP measures is not available due to the variability, complexity and limited visibility of the non-cash items that are excluded from the non-GAAP outlook measure. Cummins presents this information as it believes it is useful to understanding the Company's operating performance, and because EBITDA is a measure used internally to assess the performance of the operating units. 
 
Webcast information 
Cummins management will host a teleconference to discuss these results today at 10 a.m. EST. This teleconference will be webcast and available on the Investor Relations section of the Cummins website at www.cummins.com. Participants wishing to view the visuals available with the audio are encouraged to sign-in a few minutes prior to the start of the teleconference. 
 
Forward-looking disclosure statement
Information provided in this release that is not purely historical are forward-looking statements within the meaning of the Private Securities Litigation Reform Act of 1995, including statements regarding our forecasts, guidance, preliminary results, expectations, hopes, beliefs and intentions on strategies regarding the future. These forward-looking statements include, without limitation, statements relating to our plans and expectations for our revenues and EBITDA. Our actual future results could differ materially from those projected in such forward-looking statements because of a number of factors, including, but not limited to: any adverse results of our internal review into our emissions certification process and compliance with emission standards; increased scrutiny from regulatory agencies, as well as unpredictability in the adoption, implementation and enforcement of emission standards around the world; changes in international, national and regional trade laws, regulations and policies; changes in taxation; global legal and ethical compliance costs and risks; evolving environmental and climate change legislation and regulatory initiatives; future bans or limitations on the use of diesel-powered products; failure to successfully integrate and / or failure to fully realize all of the anticipated benefits of the acquisition of Meritor, Inc. (Meritor); raw material, transportation and labor price fluctuations and supply shortages; any adverse effects of the conflict between Russia and Ukraine and the global response (including government bans or restrictions on doing business in Russia); aligning our capacity and production with our demand; the actions of, and income from, joint ventures and other investees that we do not directly control; large truck manufacturers' and original equipment manufacturers' customers discontinuing outsourcing their engine supply needs or experiencing financial distress, or change in control; product recalls; variability in material and commodity costs; the development of new technologies that reduce demand for our current products and services; lower than expected acceptance of new or existing products or services; product liability claims; our sales mix of products; failure to complete, adverse results from or failure to realize the expected benefits of the separation of our filtration business; our plan to reposition our portfolio of product offerings through exploration of strategic acquisitions and divestitures and related uncertainties of entering such transactions; increasing interest rates; challenging markets for talent and ability to attract, develop and retain key personnel; climate change, global warming, more stringent climate change regulations, accords, mitigation efforts, greenhouse gas (GHG) regulations or other legislation designed to address climate change; exposure to potential security breaches or other disruptions to our information technology environment and data security; political, economic and other risks from operations in numerous countries including political, economic and social uncertainty and the evolving globalization of our business; competitor activity; increasing competition, including increased global competition among our customers in emerging markets; failure to meet environmental, social and governance (ESG) expectations or standards, or achieve our ESG goals; labor relations or work stoppages; foreign currency exchange rate changes; the price and availability of energy; continued availability of financing, financial instruments and financial resources in the amounts, at the times and on the terms required to support our future business; and other risks detailed from time to time in our SEC filings, including particularly in the Risk Factors section of our 2022 Annual Report on Form 10-K and Quarterly Reports on Form 10-Q. Shareholders, potential investors and other readers are urged to consider these factors carefully in evaluating the forward-looking statements and are cautioned not to place undue reliance on such forward-looking statements. The forward-looking statements made herein are made only as of the date of this press release and we undertake no obligation to publicly update any forward-looking statements, whether as a result of new information, future events or otherwise. More detailed information about factors that may affect our performance may be found in our filings with the SEC, which are available at http://www.sec.gov or at http://www.cummins.com in the Investor Relations section of our website.
About Cummins Inc.
Cummins Inc., a global power technology leader, is a corporation of complementary business segments that design, manufacture, distribute and service a broad portfolio of power solutions. The company's products range from internal combustion, electric and hybrid integrated power solutions to components including filtration, aftertreatment, turbochargers, fuel systems, controls systems, air handling systems, automated transmissions, electric power generation systems, microgrid controls, batteries, electrolyzers and fuel cell products. Headquartered in Columbus, Indiana (U.S.), since its founding in 1919, Cummins employs approximately 73,600 people committed to powering a more prosperous world through three global corporate responsibility priorities critical to healthy communities: education, environment and equality of opportunity. Cummins serves its customers online, through a network of company-owned and independent distributor locations, and through thousands of dealer locations worldwide and earned about $2.2 billion on sales of $28.1 billion in 2022.