Cummins Advocating for Racial Equity (CARE) supports relaunch of beneficial Indianapolis youth-canine programs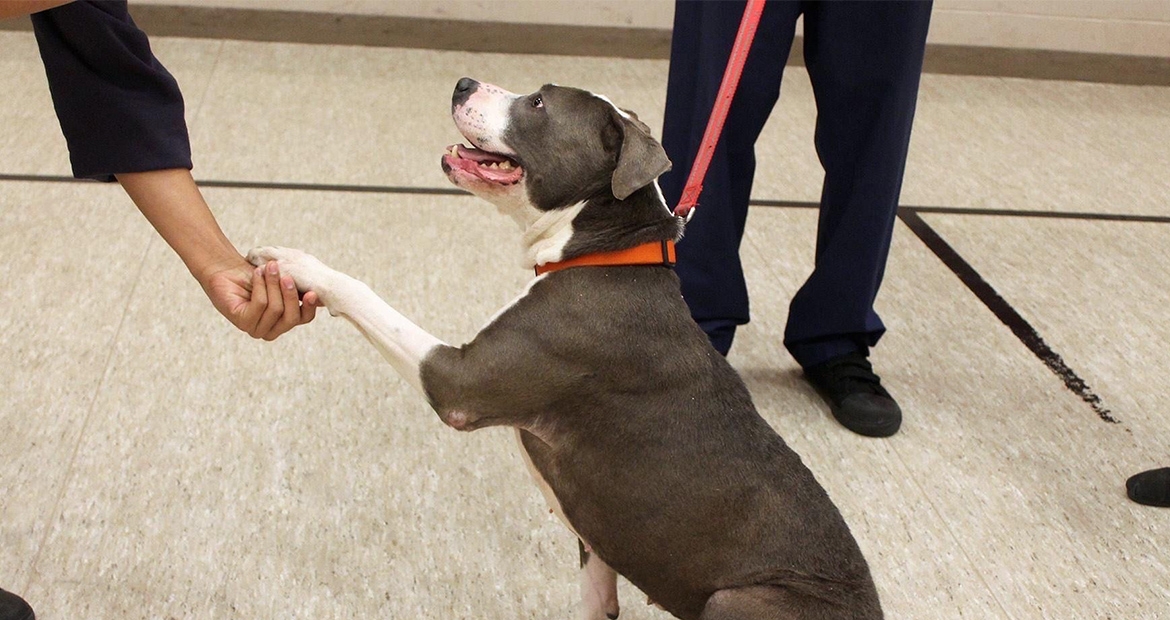 Cummins Inc. has announced a $40,000 CARE grant to support Indianapolis-based nonprofit, Paws and Think. Since 2001, the charitable organization has served at-risk youths, at-risk canines, and children and adults with disabilities/special needs in central Indiana (Marion and surrounding counties). Paws and Think is an all-volunteer, community-based organization partnering with schools, detention centers, youth agencies and humane societies/shelters. CARE was launched in 2020 so Cummins could take an active, leading role in the work to dismantle institutional racism and create systemic equity. Juvenile justice is one of many areas where CARE aims to drive sustainable impacts. 
Paws and Think has three youth canine programs that work with approximately 150 kids annually, held at Marion County Juvenile Detention Center (MCJDC), Warren Central High School and Hamilton County in partnership with Fishers Youth Assistance Program. This funding will restart the youth-canine program at Warren Central and also expand the other two programs at the MCJDC with adoptable dogs from Indianapolis Animal Care and Control Services and at Fishers Youth Assistance Program with adoptable dogs from Humane Society for Hamilton County.
"When I learned of Paws and Think in our CARE - Juvenile Justice meeting, there were two words that came to mind. Those were therapeutic joy," shares Patricia Covington, Global Integrated Aftermarket Supply Chain leader and CARE Social Justice Reform – Juvenile Justice leader. "There is a therapeutic joy that I get from helping others and this program is, at its core, therapeutic joy for youth that have experienced what it means to support training the dogs on basic skills and manners using only positive reinforcement methods. Supporting our youth happens in a variety of ways and we've been very fortunate to have found this unique organization."
Paws and Think's Youth-Canine programs pairs youth from vulnerable or at-risk communities with shelter dogs for a weeklong training. Program participants are taught opportunities to improve their lives by working together towards a common goal and demonstrating that kindness and positive reinforcement can produce results and pave the way towards opportunities and success. Research has also found that this program helps at-risk youth be more empathic and raise their self-esteem.
"We are excited to receive this dedicated funding to help our at-risk youth across Central Indiana," said Shafali Pillay, Paws & Think board president. "This grant will allow us the opportunity to continue to positively impact the lives of teens in need and homeless dogs in our community, specifically with them working together as a team to learn new skills and share moments of care and trust."
Paws and Think is currently seeking volunteers to help as both coaches and evening care youth-canine volunteers at the Marion County Juvenile Detention Center program as well as coaches for Hamilton County and the Warren Central High School programs. To learn more, please visit: https://www.pawsandthink.org/become-a-volunteer/youth-canine-volunteers/.
About Cummins Inc.
Cummins Inc., a global power technology leader, is a corporation of complementary business segments that design, manufacture, distribute and service a broad portfolio of power solutions. The company's products range from internal combustion, electric and hybrid integrated power solutions to components including filtration, aftertreatment, turbochargers, fuel systems, controls systems, air handling systems, automated transmissions, electric power generation systems, microgrid controls, batteries, electrolyzers and fuel cell products.
Headquartered in Columbus, Indiana (U.S.), since its founding in 1919, Cummins employs approximately 59,900 people committed to powering a more prosperous world through three global corporate responsibility priorities critical to healthy communities: education, environment and equality of opportunity. Cummins serves its customers online, through a network of company-owned and independent distributor locations, and through thousands of dealer locations worldwide and earned about $2.1 billion on sales of $24 billion in 2021.