Three Cummins Health, Safety and Environment employees recognized by the National Safety Council for their outstanding contributions in safety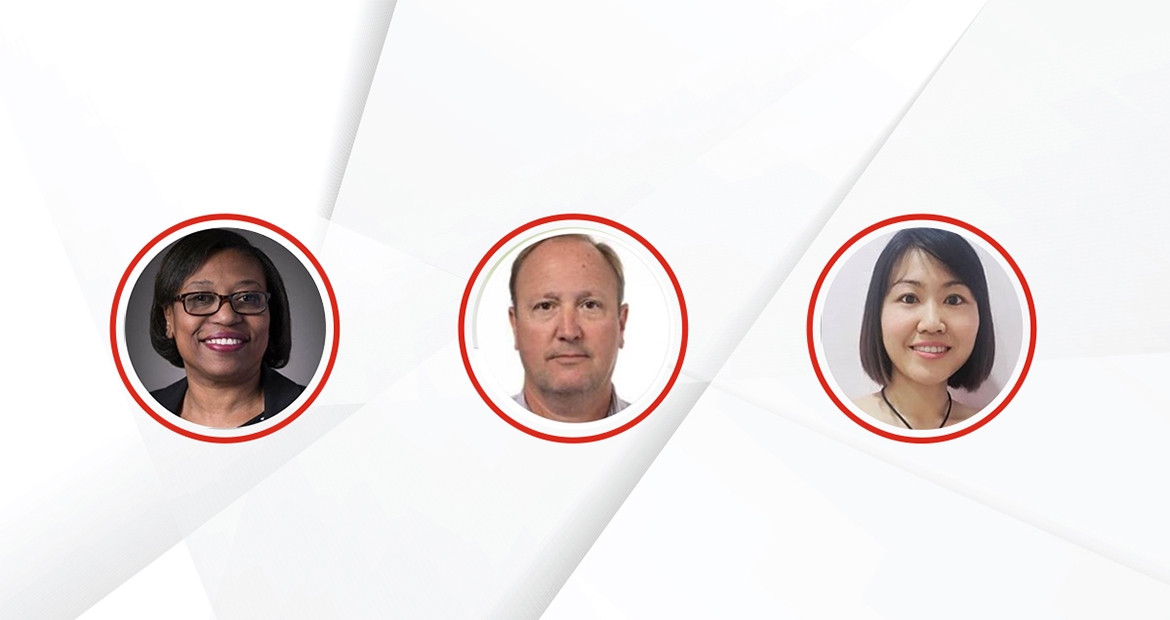 Maude McGraw, Pat Cunningham and Jolene Chong receive National Safety Council Awards
On September 20, 2022, three Cummins Inc. (NYSE: CMI) employees received National Safety Council (NSC) awards. The NSC presented the Marion Martin Award to Maude McGraw, the Distinguished Service to Safety Award to Pat Cunningham and the Rising Stars of Safety Award to Jolene Chong at the opening session of the 2022 NSC Congress and Expo and the National Award Ceremony in San Diego, California. All three Cummins employees received these prestigious awards for their continued dedication to safety. 
"I want to congratulate each of these employees for receiving this outstanding recognition and I want to personally thank them for their leadership and dedication to safety at Cummins," said Michelle Garner-Janna, Executive Director - Corporate Health, Safety and Environment, Cummins Inc. "I also want to thank the NSC for their partnership and continued efforts to help us all continuously improve. Cummins is a leader in health and safety because of the contributions of tremendous leaders like Maude, Pat and Jolene and the contributions of our more than 60,000 employees around the world." 
"National Safety Council award winners don't just aim to check off a box for safety," said Lorraine Martin President and CEO of the National Safety Council. "These leaders understand that they must prioritize safety at every level of decision making. We are proud to honor each of our nominees and our incredible winners, all of whom are committed to working alongside NSC to save lives, from the workplace to anyplace." 
McGraw leads the North America Regional Operating Team at Cummins. She is one of two women of color who received the NSC Marion Martin Award that celebrates accomplished female safety professionals who have paved the way for other women in the field. As a safety leader having worked in every region within Cummins, including Europe, India, China and Latin America, McGraw has developed health safety and environment (HSE) professionals and improved safety performance. McGraw is also a longstanding advocate for women and champion for diversity, equity and inclusion. 
Cunningham is the HSE Leader for Cummins Power Systems in Fridley, Minnesota. He was one of four safety professionals who received the 2022 NSC Distinguished Service to Safety Award. This is the most prestigious award given to individuals by NSC and recognizes outstanding service and contributions to the field of safety. Over Cunningham's 36-year health and safety career, he has helped advance the HSE industry in many ways through thought leadership, collaboration, worker engagement and continuous process improvement. 
Chong is the Asia Pacific HSE Management System and Compliance Leader for Cummins Sales and Service in Malaysia. She received the NSC Rising Stars of Safety Award, Class of 2022 that recognizes safety professionals under 40 who demonstrate safety leadership at work. In her current role, Chong has implemented multiple safety programs to educate and train technicians on Cummins' safety initiatives. She also advocates for interdependency where everyone strives to keep each other healthy and safe. Chong can often be found making her rounds on the shop floor leading by example.
About the National Safety Council
The National Safety Council is America's leading nonprofit safety advocate – and has been for over 100 years. As a mission-based organization, we work to eliminate the leading causes of preventable death and injury, focusing our efforts on the workplace, roadway and impairment. We create a culture of safety to not only keep people safer at work, but also beyond the workplace so they can live their fullest lives. Visit https://www.nsc.org/awards for additional information about the National Safety Council Awards.
About Cummins Inc.
Cummins Inc., a global power technology leader, is a corporation of complementary business segments that design, manufacture, distribute and service a broad portfolio of power solutions. The company's products range from internal combustion, electric and hybrid integrated power solutions to components including filtration, aftertreatment, turbochargers, fuel systems, controls systems, air handling systems, automated transmissions, electric power generation systems, microgrid controls, batteries, electrolyzers and fuel cell products.
Headquartered in Columbus, Indiana (U.S.), since its founding in 1919, Cummins employs approximately 59,900 people committed to powering a more prosperous world through three global corporate responsibility priorities critical to healthy communities: education, environment and equality of opportunity. Cummins serves its customers online, through a network of company-owned and independent distributor locations, and through thousands of dealer locations worldwide and earned about $2.1 billion on sales of $24 billion in 2021.