Cummins Fuels Hydrogen Commitment at IAA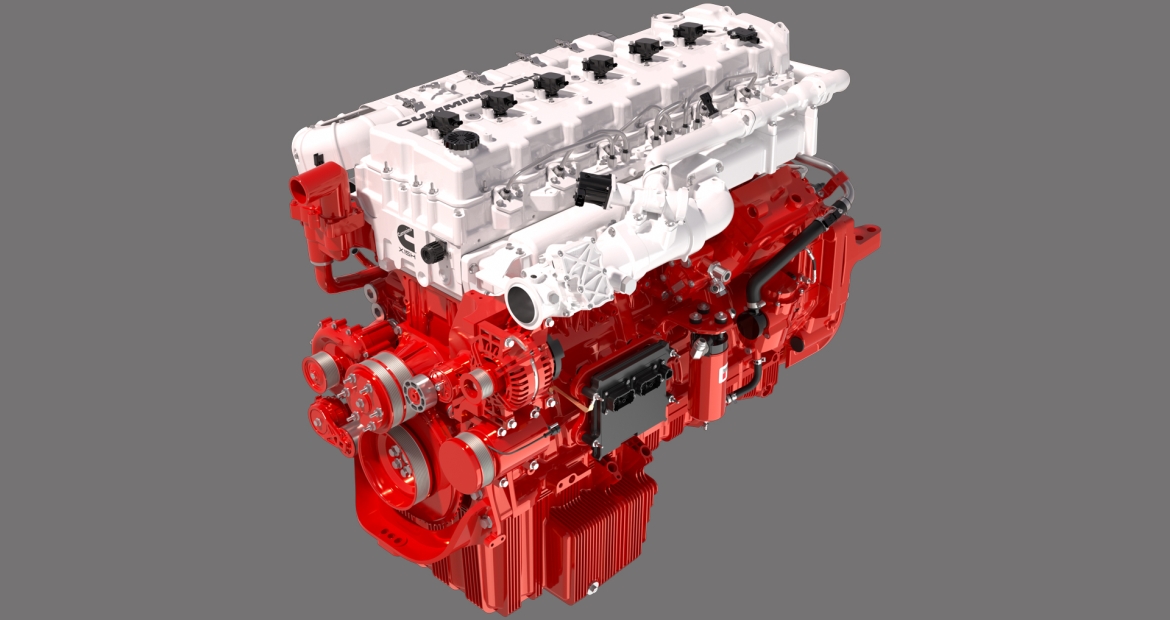 A Strategy Focusing On Production, Supply and Use
Cummins Inc. (NYSE: CMI) confirmed its commitment at IAA to playing a major role in the hydrogen economy as part of its Destination Zero initiative.
"Cummins has been at the cutting edge of developing power solutions for over one hundred years, and we continue to demonstrate industry leadership by developing a diverse range of sustainable drivetrains – with hydrogen playing a key role," said Alison Trueblood, Cummins Executive Director – On-Highway Business Europe. "Our aim is to focus on the complete hydrogen value chain to drive sustainability and enable faster adoption."
As a result of acquisitions and investment, Cummins is focusing on three key areas for hydrogen: the production of green hydrogen, the management and transportation of hydrogen, and the application of hydrogen in engines and fuel cells.
Green Hydrogen Production
Green hydrogen is produced using electrolysis to turn sustainable power (wind, solar, hydro) into hydrogen with zero carbon dioxide emissions. As announced in May 2021, Cummins is establishing a new Proton Exchange Membrane (PEM) electrolyser plant in Spain that will house system assembly and testing for approximately 500 MW/year and will be scalable to more than 1 GW/year. Cummins is investing in this technology, with over 600 electrolysers deployed globally in 100 countries.
Hydrogen Storage and Supply
On-board storage is a critical component of hydrogen power. Hydrogen needs to be compressed into the available space to store enough to meet vehicle duty cycle requirements. Cummins has a joint venture with NPROXX, a world leader in high pressure hydrogen storage for both stationary and mobile applications, to support the OEM integration process.
NPROXX hydrogen tanks were fitted to the medium-duty delivery concept vehicle on Cummins stand at IAA. The truck is powered by Cummins' 216 kW B6.7H hydrogen engine and paired with a 700-bar pressure high-capacity hydrogen storage system, enabling a potential operating range of up to 500 kilometres.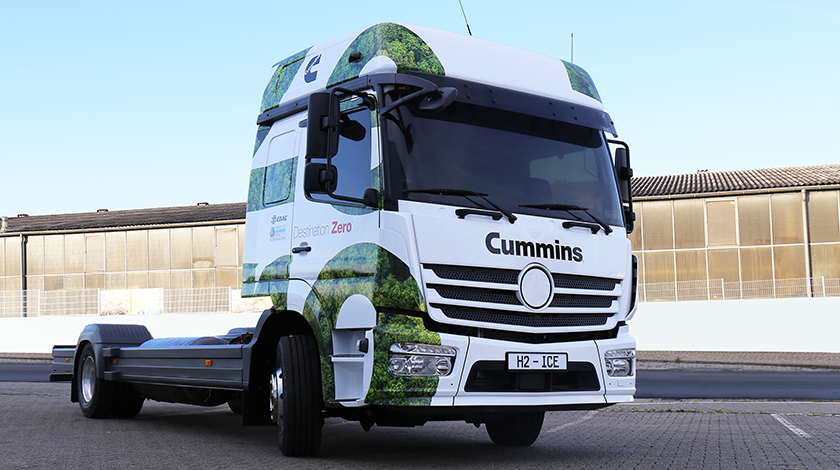 "Supply and infrastructure will take time to develop. Adoption of hydrogen will likely begin with applications where fueling can be done centrally such as at home base operations or close to large hydrogen hubs," noted Trueblood.
Hydrogen Engines
Cummins is developing hydrogen powered combustion engines which will provide sustainable solutions that are more aligned with current vehicle designs to reduce complexity for OEMs and their customers. The reuse of appropriate components drives economies of scale while also providing reliability and durability equal to diesel.
Alongside the B6.7H hydrogen engine in the medium-duty truck, visitors to IAA were able to see the larger Cummins' X15H hydrogen engine aimed at heavy-duty trucks up to 44T GVW, with a top rating of 530 hp (395 kW) and an impressive peak torque of 2600 Nm.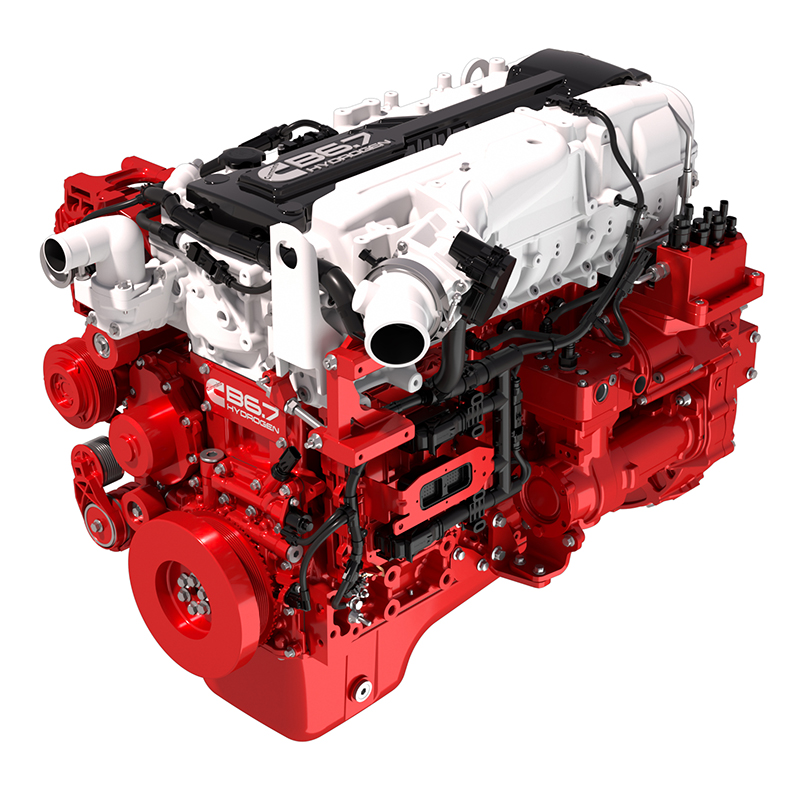 "A hydrogen combustion engine fits in today's vehicles, works with today's transmissions, and integrates seamlessly into the industry's existing service networks and practices," added Trueblood
Hydrogen Fuel Cells
Hydrogen fuel cell technology can offer an efficient power solution for heavy-duty vehicles with high utilisation and energy demands, while meeting zero-emission needs. The fuel cell uses oxygen to create a reaction, turning the hydrogen into electricity. It works alongside battery technology – ultra-capacitors, lithium-ion, or lead-acid – in a parallel hybrid set-up to deliver instantaneous response.
Cummins displayed its fourth-generation fuel cell at IAA which provides improved power density, efficiency and durability while delivering zero greenhouse gas and zero criteria air emissions. It is available in single 135 kW and dual 270 kW module engines for both medium- and heavy-duty applications.
"We see hydrogen engines and fuel cells as complimentary power sources, offering different options to customers depending on where they are on their path to zero carbon. Introducing hydrogen engines in the market will also accelerate the growth of hydrogen infrastructure to support the widespread adoption of fuel cell powertrains," concluded Trueblood.
About Cummins Inc.
Cummins Inc., a global power technology leader, is a corporation of complementary business segments that design, manufacture, distribute and service a broad portfolio of power solutions. The company's products range from internal combustion, electric and hybrid integrated power solutions and components including filtration, aftertreatment, turbochargers, fuel systems, controls systems, air handling systems, automated transmissions, electric power generation systems, microgrid controls, batteries, electrolyzers and fuel cell products. Headquartered in Columbus, Indiana (U.S.), since its founding in 1919, Cummins employs approximately 59,900 people committed to powering a more prosperous world through three global corporate responsibility priorities critical to healthy communities: education, environment and equality of opportunity. Cummins serves its customers online, through a network of company-owned and independent distributor locations, and through thousands of dealer locations worldwide and earned about $2.1 billion on sales of $24 billion in 2021.