Cummins zeros in on sustainability at IAA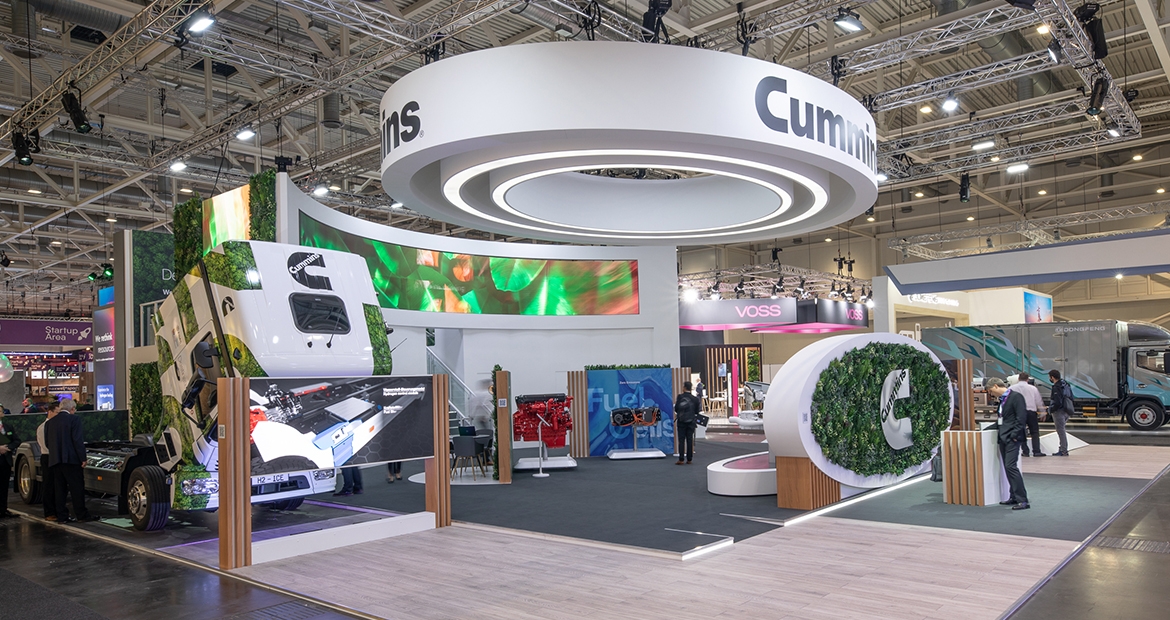 Today at IAA Transportation in Hanover, Germany, Jennifer Rumsey, President and CEO of global power leader Cummins Inc. (NYSE: CMI) reaffirmed the company's commitment to reach net-zero emissions from its products by 2050.
"We have to act now. Carbon once emitted to the atmosphere can't be taken back and we can make the greatest impact by focusing on a dual path approach. Our estimated impact of doing just that is an additional 1.4 gigatons of cumulative carbon reduction – the equivalent of removing all trucks from the road for three years," said Rumsey.
Through its Destination Zero™ strategy, Cummins will continue to advance the internal combustion engine technology it's renowned for with further advancements in efficiency, as well as compatibility with cleaner fuels like hydrogen, bio-diesel and hydrotreated vegetable oil (HVO). At the same time, the company will continue to innovate zero-emissions solutions like hydrogen fuel cell and battery technology to drive advancements in capability, lower costs and boost development of supporting infrastructure. This complimentary approach lowers emissions today by matching technology readiness with infrastructure readiness, ultimately driving wide-scale adoption using the right technology at the right time.
"We power some of the world's most demanding and economically vital applications. There is no single technology that will work for all of our customers.  We must advance solutions in a way that secures a sustainable future for the industries that keep the world running. That's why we have developed a company with the broadest range of ultra-low and zero-emission technologies dedicated to the commercial vehicle industry," continued Rumsey. 
Cummins' next-generation advanced diesel platform, X10, is on display at IAA to showcase a practical route to emissions reduction and decarbonization for applications that are not easily switched to alternative power solutions. This lightweight, compact 10 liter engine with high power density will provide heavy-duty truck capability meeting multiple future emissions regulations. Customers can reduce emissions with a familiar, proven technology that is easy to integrate and requires no change to current operations, service or maintenance set-up.
Also featured at IAA is Cummins' X Series, 15 liter fuel agnostic product with a common architecture optimized for a variety of low- and no-carbon fuels including bio-diesel and HVO, renewable natural gas, and hydrogen. All engines derive from the same base, facilitating a high degree of parts commonality. 
The hydrogen version of Cummins' fuel agnostic platform could become the initial step to reaching zero-emissions for medium and heavy-duty truck manufacturers. Cummins' B6.7H hydrogen engine is displayed at IAA in the driveline of a medium-duty truck, demonstrating the technology's compatibility with current truck designs and with comparable performance, range and payload.
Cummins revealed new zero-emissions products, including its next-generation fuel cell engine and a Lithium Iron Phosphate (LFP) battery. Designed to meet the duty-cycle, performance, and packaging requirements of medium- and heavy-duty trucks and buses, the new fuel cell technology is available in 135 kW single and 270 kW dual modules. Cummins is collaborating with Scania in Europe and Daimler Trucks in North America to develop and integrate these next-generation fuel cells into demonstrator vehicles. 
LFP is a proven battery chemistry developed without the use of nickel and cobalt, making it more affordable and sustainable. With faster charging, high power and a 10 percent longer life expectancy, Cummins LFP batteries are designed to meet the demands of continuous operation and have a lower total cost of ownership. LFP is introduced alongside the company's newest NMC batteries, the BP95E which has a 30 percent longer life than previous models, and the lightweight BP30E, compact enough to fit into the tightest space claims of most commercial vehicles.  
Through its acquisition of Meritor, Cummins is expanding its technical capabilities across the powertrain and related sub-systems. Adding Meritor's powertrain products and EV integration expertise to Cummins' complementary capabilities and customer knowledge creates the opportunity to drive technology development, regardless of power choice.
"We are in a unique position to do something no one else can do in helping our customers navigate and succeed in the decarbonization process with a range of technology options optimized to meet the needs of all stakeholders. Our innovation can be seen in the solutions on display at IAA this week, and we will continue to work hand-in-hand with our customers on zero-emissions solutions that further our shared goal of lessening our impact on the planet."
About Cummins Inc.
Cummins Inc., a global power technology leader, is a corporation of complementary business segments that design, manufacture, distribute and service a broad portfolio of power solutions. The company's products range from internal combustion, electric and hybrid integrated power solutions and components including filtration, aftertreatment, turbochargers, fuel systems, controls systems, air handling systems, automated transmissions, electric power generation systems, microgrid controls, batteries, electrolyzers and fuel cell products. Headquartered in Columbus, Indiana (U.S.), since its founding in 1919, Cummins employs approximately 59,900 people committed to powering a more prosperous world through three global corporate responsibility priorities critical to healthy communities: education, environment and equality of opportunity. Cummins serves its customers online, through a network of company-owned and independent distributor locations, and through thousands of dealer locations worldwide and earned about $2.1 billion on sales of $24 billion in 2021.