Cummins celebrates 10 quiet years of power generation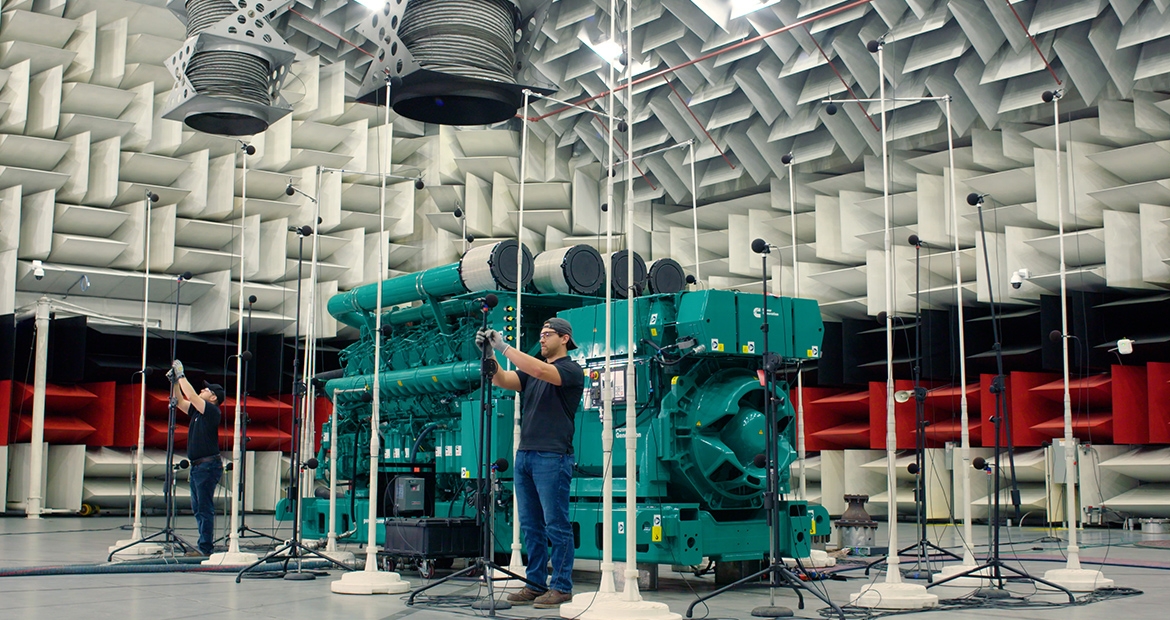 Cummins Inc. (NYSE: CMI) built an Acoustical Technology Center (ATC) at its Power System plant in Fridley, Minnesota in 2011. The state-of-the-art facility gives Cummins and its customers, the ability to test product noise levels to deliver the quietest power generation products on the planet.   
Noise emission regulations around the world require power solutions of all shapes and sizes to not exceed certain noise thresholds.  And, in order to pass those rigorous acoustic requirements, highly scientific and precise testing is essential. 
"The ATC is a magnificent house of sound. We recognize the need for an investment like this and wanted to make sure we had a world-class facility to deliver world-class solutions," said Gary Johansen, Vice President of Engineering for Cummins Power Systems.
The ATC is the largest of its kind in the world with a hemi-anechoic chamber that is 105 feet long, 80 feet wide, 36.5 feet high, and can record precision-grade acoustical data from 20 Hz to 20,000 Hz … the entire range of the human auditory recognition. 
Prior to the ATC, noise testing was conducted at an outdoor facility but due to harsh weather conditions in Minnesota and uncontrolled climate and outdoor background noise levels, the accuracy of the noise testing was compromised. The design of the facility includes patented anechoic wedges that line the interior of the chamber that are designed with "metadyne" perforated-metal to achieve a 50 Hz cutoff. The chamber is also equipped with a sophisticated ventilation system that transfers air at a rate of 222,500 cubic feet per minute while maintaining a regulated temperature and humidity level.
"The ATC is also a significant investment for the future," added Mr. Johansen. "Today we have been testing diesel and natural gas gensets, as well as other industrial equipment. But what we are quickly moving towards is testing hydrogen fuel cells, energy storage systems, and power electronics that control and manage the movement of power between assets and sources; so, in the future we may be testing fewer engines, and more new technologies."
The 10-year anniversary of the Acoustical Technology Center coincides with the launch of Cummins Destination Zero, the company's journey to net-zero carbon emissions by 2050.  Another demonstration of Cummins' commitment to environmentally safe and sustainable products.  
"Any person that visits the ATC will be marveled not only at what it looks like but also at what it can do," stated Alex Savelli, Managing Director of Cummins Electrolyzer business.
Click here for more information on the Acoustical Technology Center.
About Cummins Inc.
Cummins Inc., a global power technology leader, is a corporation of complementary business segments that design, manufacture, distribute and service a broad portfolio of power solutions. The company's products range from internal combustion, electric and hybrid integrated power solutions and components including filtration, aftertreatment, turbochargers, fuel systems, controls systems, air handling systems, automated transmissions, electric power generation systems, microgrid controls, batteries, electrolyzers and fuel cell products. Headquartered in Columbus, Indiana (U.S.), since its founding in 1919, Cummins employs approximately 59,900 people committed to powering a more prosperous world through three global corporate responsibility priorities critical to healthy communities: education, environment and equality of opportunity. Cummins serves its customers online, through a network of company-owned and independent distributor locations, and through thousands of dealer locations worldwide and earned about $2.1 billion on sales of $24 billion in 2021.