Cummins continues commitment to support Black-owned businesses by selling mask operation to logistics and supply company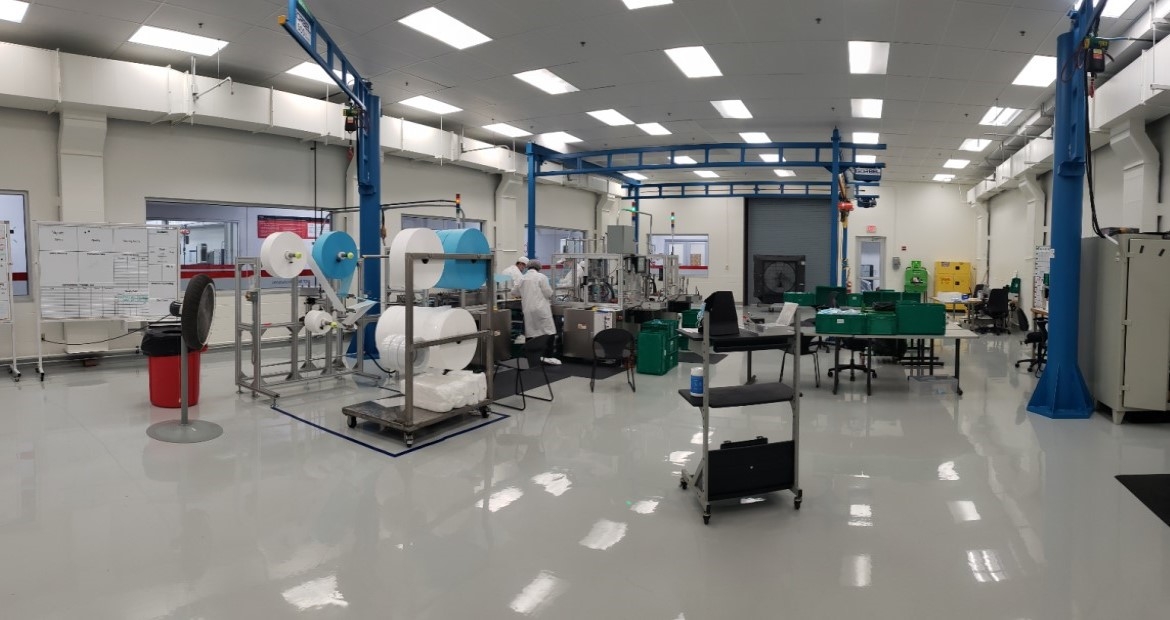 Cummins Inc. (NYSE: CMI) has sold the equipment the company used to make masks for employees during the pandemic to a Black-owned company in Indianapolis. The company, Team Cruiser, plans on creating a disability-friendly employer producing masks beyond the immediate response to the pandemic.
"This sale created a new Black American manufacturer," said Helena Hutton, Senior Director of Cummins' Center of Excellence for Supplier Inclusion in Strategic Purchasing. "It illustrates Cummins' commitment to partner with diverse-owned companies and contribute to generational wealth-building with business leaders of color. I am proud to be part of a company that makes deals like this one happen."
Christopher Barney, the owner of Team Cruiser, a logistics and supply company that has worked with Cummins in the past, hopes to offer masks for sale to the public later this year.
"We were very interested, for two specific reasons," Barney said. "The first reason is the ability to learn and grow from a manufacturing perspective with a global manufacturing company like Cummins. The second reason is that it provides us the opportunity to impact and serve the communities that we live in by providing jobs and supplying a quality American-made personal protective equipment mask."
In 2020, Cummins established mask-making operations in the United States, Mexico, and India to provide some 10 million masks to its employees worldwide. 
"With the pandemic seeming to wind down in the United States as more people get vaccinated, and with a healthy surplus of masks at the ready if needed in the U.S., the time was right for the company to think about selling the U.S. operations in Columbus, Indiana," said Cummins Partnership Strategy Manager Tarek Elharis. 
"The company never intended to produce masks beyond the pandemic," Elharis added, who has been active in the mask-making operation. Since the sale, the Cummins employees who had been making masks have been redeployed to areas of the company experiencing heavy demand as the U.S. economy recovers.
Barney's team is now working to establish a web-presence for its new line of products. and working with several veterans' groups and organizations serving people with blindness and other disabilities to create a workspace that can safely employ people with disabilities in its manufacturing operations.
Priscila Mendes, Vice President of Purchasing, Supply Chain Management said, "This is a chance for Cummins to help build stronger communities where it does business and live the company's value of diversity and inclusion for all business owners."
Listen and learn more about Cummins' relationship with Team Cruiser and supplier diversity on the Backstage Podcast, The Making of an American Manufacturing.
About Cummins Inc.
Cummins Inc., a global power technology leader, is a corporation of complementary business segments that design, manufacture, distribute and service a broad portfolio of power solutions. The company's products range from internal combustion, electric and hybrid integrated power solutions and components including filtration, aftertreatment, turbochargers, fuel systems, controls systems, air handling systems, automated transmissions, electric power generation systems, microgrid controls, batteries, electrolyzers and fuel cell products. Headquartered in Columbus, Indiana (U.S.), since its founding in 1919, Cummins employs approximately 59,900 people committed to powering a more prosperous world through three global corporate responsibility priorities critical to healthy communities: education, environment and equality of opportunity. Cummins serves its customers online, through a network of company-owned and independent distributor locations, and through thousands of dealer locations worldwide and earned about $2.1 billion on sales of $24 billion in 2021.