From Darlington to South Korea: The journey of Cummins' Darlington Engine Plant's 1.5 millionth Mid-Range engine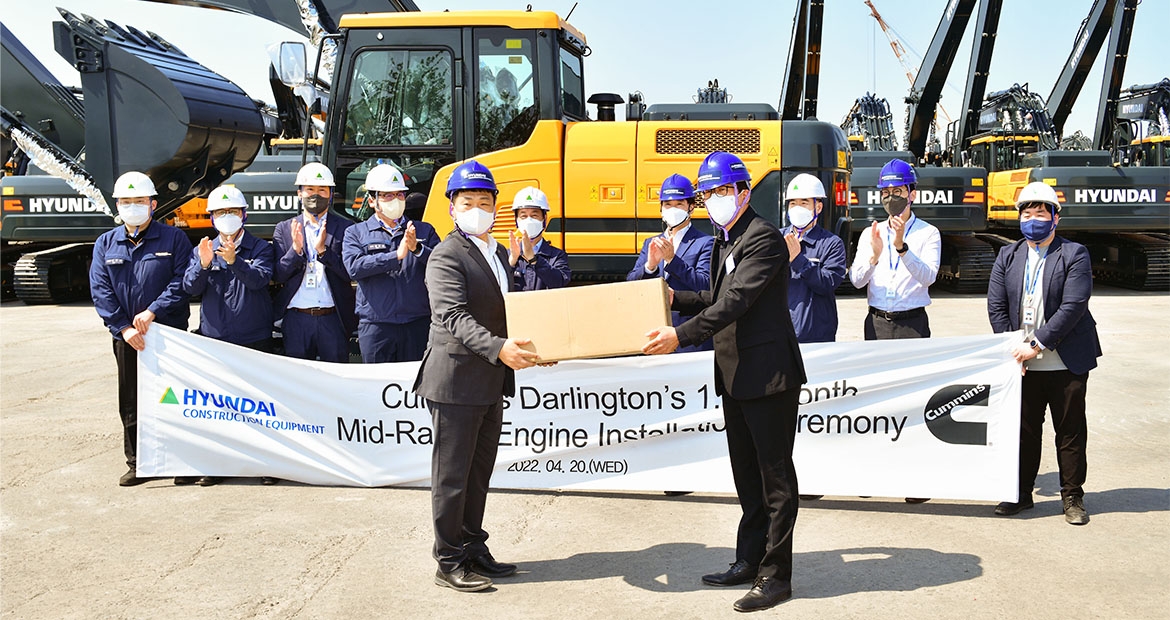 Cummins' Darlington Engine Plant produced its 1.5 millionth mid-range engine.
The 5.9 liter engine traveled over 5,400 miles to South Korea and been installed into a 22-ton HX220S Hyundai excavator.
The excavator will ultimately be delivered to a customer in Guatemala at the end of May.
HCE has been a business partner of over 30 years.
Cummins has announced that its Darlington Engine Plant's 1.5 millionth mid-range engine has made it across the globe to South Korea and been installed into a Hyundai excavator. 
In January, Cummins revealed that it had manufactured its 1.5 millionth Mid-Range engine, a B5.9, at its Darlington factory in the north-east of England. Since then, the team at Darlington has been tracking the progress of its now 'famous' engine and have estimated that it travelled over 5,400 miles from Darlington to machine plant at Ulsan City, South Korea. 
The 5.9 litre engine has been fitted into a 22-ton HX220S Hyundai excavator, providing the power for thousands of hours of heavy workload. This is not the end of the 1.5 millionth engine's journey as the excavator is destined for a customer in Guatemala at the end of May.
Craig Thomas, Cummins' Darlington Engine Plant Manager, said: "It is fantastic to be able to follow the journey of the 1.5 millionth engine since it left Darlington. This milestone is a great achievement for Cummins, and we are pleased to be able to share it with HCE, our business partners of over 30 years. The distance that this B5.9 engine has travelled truly reflects the global nature of our business, supplying products to customers in over 50 countries directly from Darlington." 
Cummins' Darlington factory produced 66,000 engines in 2021, and employs around 1,500 people working in engine assembly, exhaust aftertreatment manufacture, technical operations, and business support functions. It manufactures engines spanning a range of 3.8 to 9 litres displacement (75 to 430 hp), powering a wide range truck, bus, construction, agriculture, material handling, marine and power generation applications around the world.  
KS Yang, Hyundai Purchasing Executive Vice President, said: "Hyundai would like to congratulate Darlington Engine Plant on this milestone on the production of the 1.5 millionth mid-range engine and we are delighted to receive the engine for use in a Hyundai excavator. We look forward to seeing the 2 millionth engine produced in the future."
About Hyundai Construction Equipment

Established as a Heavy Machines Division within the Hyundai Heavy Industries Co., Ltd., HCE produces and sells construction equipment such as excavators and wheel loaders, as well as industrial vehicles such as forklift, tow and transport vehicles. HCE's factories produce 50,000 units of construction equipment and industrial vehicles on a yearly basis. Its sales revenue goal for 2018 is set at KRW 3.28 trillion. For the past 30 years, the company has spread its distribution channel through 540 dealer networks in 140 countries. For more information, visit www.hyundai-ce.com. 
About Cummins Inc.
Cummins Inc., a global power technology leader, is a corporation of complementary business segments that design, manufacture, distribute and service a broad portfolio of power solutions. The company's products range from internal combustion, electric and hybrid integrated power solutions to components including filtration, aftertreatment, turbochargers, fuel systems, controls systems, air handling systems, automated transmissions, electric power generation systems, microgrid controls, batteries, electrolyzers and fuel cell products. Headquartered in Columbus, Indiana (U.S.), since its founding in 1919, Cummins employs approximately 73,600 people committed to powering a more prosperous world through three global corporate responsibility priorities critical to healthy communities: education, environment and equality of opportunity. Cummins serves its customers online, through a network of company-owned and independent distributor locations, and through thousands of dealer locations worldwide and earned about $2.2 billion on sales of $28.1 billion in 2022.