Cummins releases new electric powertrain for terminal tractors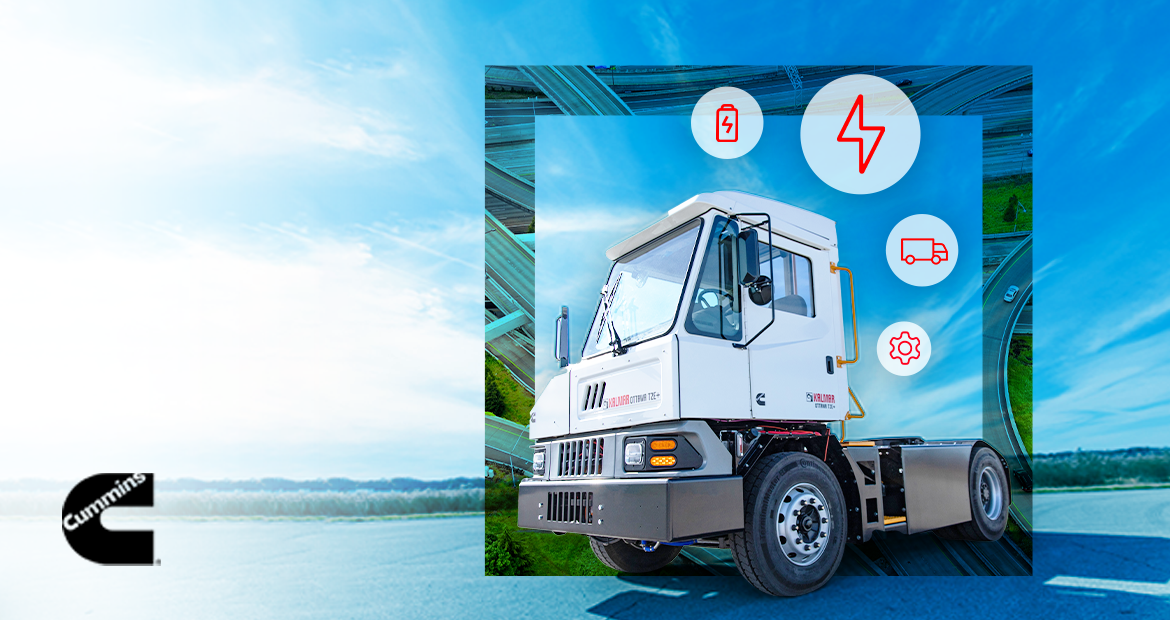 Cummins Inc. (NYSE: CMI) is releasing their new PowerDriveTM 8000 system to integrate into the terminal tractor application. Cummins will begin field tests in early 2022 with Kalmar, one of Cummins' lead customers for this solution. Together, Cummins and Kalmar will offer battery electric terminal tractors globally.
"Cummins is thrilled to work with Kalmar to bring a zero-emissions solution to the terminal tractor market," said Amy Davis, President of New Power at Cummins. "After decades of serving this market, we understand the requirements for this application and have specifically designed a solution to serve our customers better."
Cummins designed the PowerDrive 8000 for the terminal tractor segment to better meet the necessary duty-cycle and power requirements for the distribution and port environments. The driveline can handle a variety of vehicle configurations, supporting gross vehicle weights from 80,000 lbs. to 195,000 lbs. The system is equipped with compact, temperature-controlled batteries allowing the vehicles to operate in tough climate conditions around the world. The terminal tractors will be powered with up to 182 kWh of fast-charging Cummins batteries and will be equipped with DC-fast charge technology, enabling customers to use them in 24/7 operations.
"In line with our commitment to having a comprehensive electric product portfolio, we're delighted to release our new Cummins-powered electric terminal tractor," said Gina Lopez, Vice President Terminal Tractors, Kalmar. "We selected Cummins because of our longstanding cooperation in providing world-class drivetrain platforms, their global reach and their proven electric solution suitable to meet our needs."
Cummins is committed to making an emissions-free future a reality. Adoption of terminal tractor solutions is accelerating. Terminal tractors are ideal for electrification due to their duty cycle and operation within relatively confined spaces, making infrastructure planning and build out easier.
About Cummins Inc.
Cummins Inc., a global power technology leader, is a corporation of complementary business segments that design, manufacture, distribute and service a broad portfolio of power solutions. The company's products range from internal combustion, electric and hybrid integrated power solutions and components including filtration, aftertreatment, turbochargers, fuel systems, controls systems, air handling systems, automated transmissions, electric power generation systems, microgrid controls, batteries, electrolyzers and fuel cell products. Headquartered in Columbus, Indiana (U.S.), since its founding in 1919, Cummins employs approximately 59,900 people committed to powering a more prosperous world through three global corporate responsibility priorities critical to healthy communities: education, environment and equality of opportunity. Cummins serves its customers online, through a network of company-owned and independent distributor locations, and through thousands of dealer locations worldwide and earned about $2.1 billion on sales of $24 billion in 2021.