Cummins Rail expands clean diesel product offering with QST30 Tier 4 locomotive power module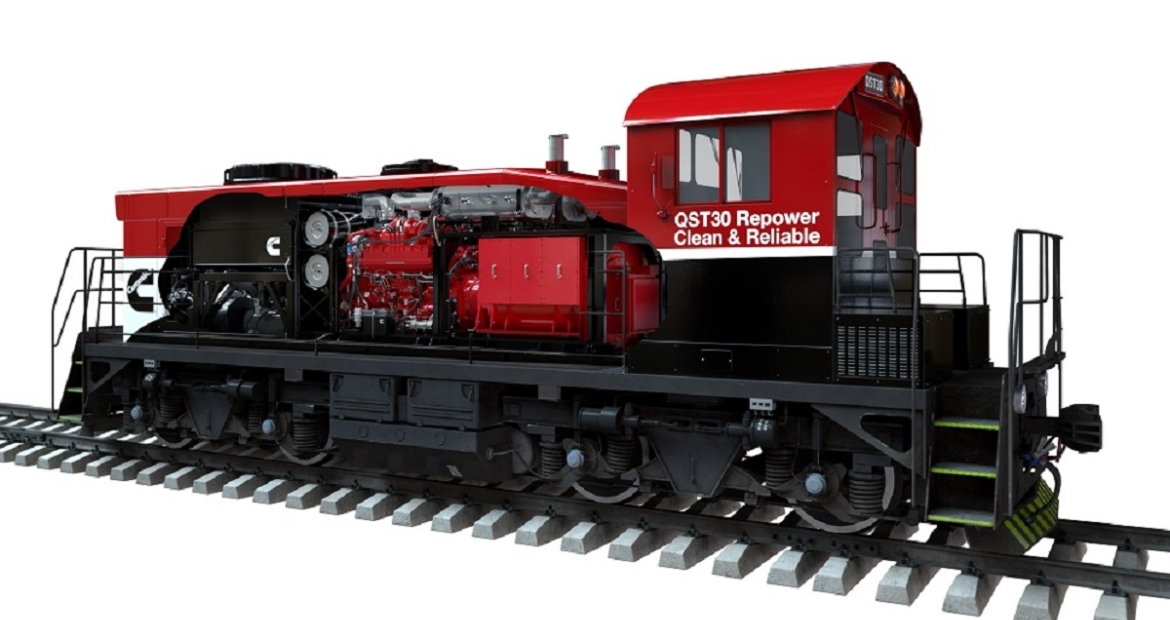 Cummins Inc. (NYSE: CMI) is expanding their offering to the rail market segment with their addition of the clean and reliable QST30 Tier 4 locomotive power module.
Cummins' QST30 locomotive power module will feature an engine, alternator, selective catalyst reduction (SCR) emissions system and radiator package with other engine related components — all on one standard skid. With ratings from 1,000 horsepower to 1,500 horsepower, the QST30 is perfectly sized to repower switcher locomotives. Reduce fuel consumption and qualify for EPA Tier 4 government funding with this easy-to-install, drop-in solution.
"Cummins is excited to offer the QST30 Tier 4 power module for locomotive repowers," said Regina Barringer, Global General Manager, Rail and Defense. "Our customers will benefit from performance and emissions improvements with this drop-in solution. Cummins' QST30 power module makes it easy for customers to modernize their rail assets to get the most value out of their equipment."
Cummins locomotive power modules are the ideal way to update a locomotive to clean, reliable diesel power. The success of a railroad depends on maximizing the useful life of capital-intense equipment like locomotives. Cummins is a recognized expert in repowering older units with modern engine technology and installation support necessary to complete projects on-time with minimum downtime.
The QST30 locomotive power module was designed as a straightforward upgrade to a modern, clean diesel engine. The locomotive power module will use proven SCR technology to achieve Tier 4 emissions. Cummins' SCR technology is an effective solution that reduces NOx emissions and improves fuel economy, while being virtually maintenance-free. Cummins Rail customers prefer the company's SCR system because unlike exhaust gas recirculation (EGR), SCR produces much less waste heat, which reduces cooling system loads and horsepower loss. It is currently used in a range of applications to reduce site emissions for switch yards, ports, and industrial sites. This solution will provide customers flexibility in their operations, and delivers an improved total cost of ownership that customers have come to expect with any Cummins solution. Cummins is proud to power rail operations by developing the next generation of rail power solutions that utilize a broad range of power innovations, emissions solutions, and connected technologies.
Customers can expect the QST30 locomotive power module to be available in Q1 of 2022.
About Cummins Inc.
Cummins Inc., a global power leader, is a corporation of complementary business segments that design, manufacture, distribute and service a broad portfolio of power solutions. The company's products range from diesel, natural gas, electric and hybrid powertrains and powertrain-related components including filtration, aftertreatment, turbochargers, fuel systems, controls systems, air handling systems, automated transmissions, electric power generation systems, batteries, electrified power systems, hydrogen generation and fuel cell products. Headquartered in Columbus, Indiana (U.S.), since its founding in 1919, Cummins employs approximately 57,800 people committed to powering a more prosperous world through three global corporate responsibility priorities critical to healthy communities: education, environment and equality of opportunity. Cummins serves its customers online, through a network of company-owned and independent distributor locations, and through thousands of dealer locations worldwide and earned about $1.8 billion on sales of $19.8 billion in 2020. Learn more at cummins.com.