100th battery electric bus production milestone reached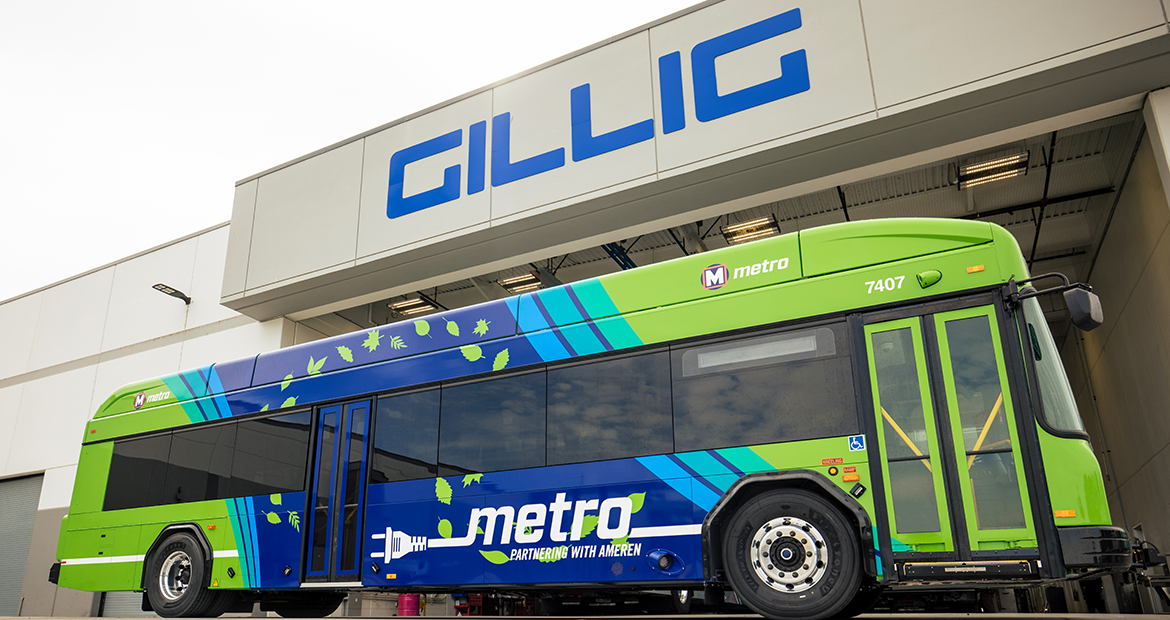 Cummins Inc. (NYSE: CMI) and GILLIG announced today the production of the 100th GILLIG battery-electric bus built since the two companies began partnering on the heavy-duty transit vehicle. The milestone bus will be delivered to Metro Transit in St. Louis, Missouri this month. The companies have collaborated since 2019 to bring reliable zero-emissions electric buses to communities across the country. 
"We're thrilled that our 100th electric bus is going to Metro, an agency that we have partnered closely with for over two decades," said GILLIG President and CEO Derek Maunus. "This milestone is the result of the passionate effort of the entire GILLIG organization over the past five years. I couldn't be more proud of our team. Our electric bus continues to set the standard for excellence in reliability, durability, cost effectiveness and performance."  
More than 50 transit agencies have already purchased or have orders for the electric bus. GILLIG is currently booking new bus orders into 2023.
GILLIG's second-generation electric bus is built on the company's proven Low Floor Platform. The companies developed a product which delivers industry-leading performance via the Cummins Battery Electric System, which features remote diagnostics and over-the-air connectivity backed by Cummins' extensive support network of qualified technicians across the nation. 
"This is a great milestone for Cummins, GILLIG and Metro Transit, but we are just getting started," said Amy Davis, Vice President and President, New Power segment at Cummins. "The adoption of zero-emissions technologies is critical to meeting sustainability targets and neutralizing climate change. Cummins is here to partner with customers to decarbonize and is committed to providing battery-electric solutions with the innovation, support and service that customers expect from Cummins."
GILLIG and Cummins have extensive experience in vehicle electrification. GILLIG established best practices and validated many of the technologies used in today's electric buses through the generations of diesel-electric hybrid and overhead trolley electric buses built to date and its first-generation fuel cell buses, which were deployed in 2001. Cummins demonstrated its first all-electric truck in 2017 after more than a decade of research and technology development, and has since delivered hundreds of electrified powertrains across a variety of applications. Since GILLIG's second-generation battery-electric bus was unveiled in 2019, the companies have worked together to deliver the most reliable and durable electric bus in service. The bus builds upon the legacy of excellence and proven transit performance of the more than 27,000 GILLIG buses in service throughout the United States today.
The companies partnered to conduct thorough validation testing to ensure the safety and performance of the bus and powertrain in harsh environments. In addition, the electric bus completed testing with the Federal Transit Administration's Bus Test Program in Altoona, Pennsylvania, in July, where it scored exceptionally well in all measurement categories, especially for durability and performance.   
 
About Cummins Inc.
Cummins Inc., a global power leader, is a corporation of complementary business segments that design, manufacture, distribute and service a broad portfolio of power solutions. The company's products range from diesel, natural gas, electric and hybrid powertrains and powertrain-related components including filtration, aftertreatment, turbochargers, fuel systems, controls systems, air handling systems, automated transmissions, electric power generation systems, batteries, electrified power systems, hydrogen generation and fuel cell products. Headquartered in Columbus, Indiana (U.S.), since its founding in 1919, Cummins employs approximately 57,800 people committed to powering a more prosperous world through three global corporate responsibility priorities critical to healthy communities: education, environment and equality of opportunity. Cummins serves its customers online, through a network of company-owned and independent distributor locations, and through thousands of dealer locations worldwide and earned about $1.8 billion on sales of $19.8 billion in 2020. Learn more at cummins.com.