Cummins introduces new EC-AGS+ wireless control system for Onan generator sets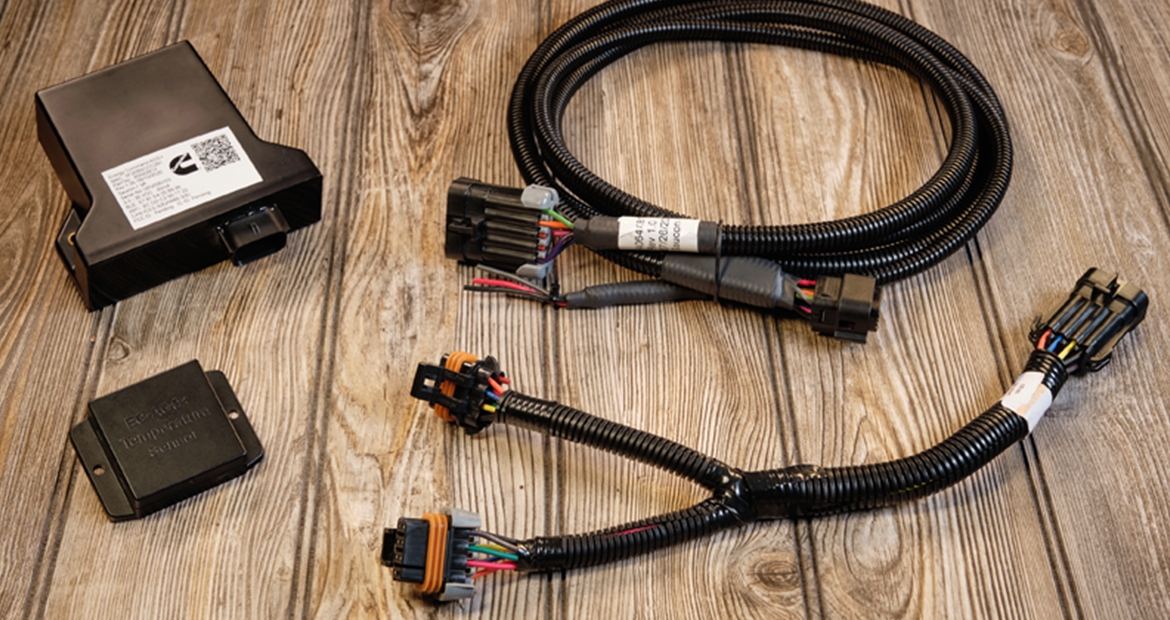 Latest Cummins product showcased at America's Largest RV Show® in Hershey, Pennsylvania
Cummins Inc. (NYSE: CMI) is unveiling its latest innovation for the RV market this week at the 52nd annual America's Largest RV Show in Hershey, Pennsylvania. The NEW EC-AGS+ wireless control system for Onan diesel and gas generator sets allows the user to control their generator utilizing an app on their mobile device. The wireless control enables automatic, manual or voice activation to start the generator set, receives maintenance reminders within Bluetooth range and allows for climate monitoring. 
"The key feature of the EC-AGS+ is the automatic generator start function," said Karl Wilson, North American Sales Director for Cummins. "Once enabled, the generator will start up when the batteries need to be charged, and if the temperature gets too warm so the air conditioner needs to start." 
Wilson also said the EC-AGS+ comes with one wireless temperature sender but can work with up to three. They can be placed anywhere in the coach to monitor different rooms. The control has a learning capability that will start the generator up before programmed quiet hours to make sure the batteries are fully charged for the night. It is designed for easy aftermarket installation. 
In addition to the automatic nature of the device, the EC-AGS+ enables the user to access maintenance and exercise reminders, and full-text descriptions for generator fault codes. Alerts can be sent to the phone via Bluetooth, and a list of past events/fault codes are available for troubleshooting. RV information such as coach temperature, battery level and generator hours are also available in the app.
Dan Wise, Power Generation Parts Leader for North America, said the unit is available for sale on shop.cummins.com. "It is also available through your local Cummins distributor or authorized dealer," Wise said. 
To learn more about the EC-AGS+ visit cummins.tech/EC-AGS or shop.cummins.com for product availability. 
Please note, The EC AGS is compatible with every permanently mounted gas or diesel RV and Commercial mobile generator with the exception of the Onan QD 3200. It is not compatible with our portable generator line. The Auto Generator Start feature for low voltage is not compatible with lithium batteries.
About Cummins Inc.
Cummins Inc., a global power technology leader, is a corporation of complementary business segments that design, manufacture, distribute and service a broad portfolio of power solutions. The company's products range from internal combustion, electric and hybrid integrated power solutions to components including filtration, aftertreatment, turbochargers, fuel systems, controls systems, air handling systems, automated transmissions, electric power generation systems, microgrid controls, batteries, electrolyzers and fuel cell products. Headquartered in Columbus, Indiana (U.S.), since its founding in 1919, Cummins employs approximately 73,600 people committed to powering a more prosperous world through three global corporate responsibility priorities critical to healthy communities: education, environment and equality of opportunity. Cummins serves its customers online, through a network of company-owned and independent distributor locations, and through thousands of dealer locations worldwide and earned about $2.2 billion on sales of $28.1 billion in 2022.