Cummins demonstrates in NACFE Run on Less – Electric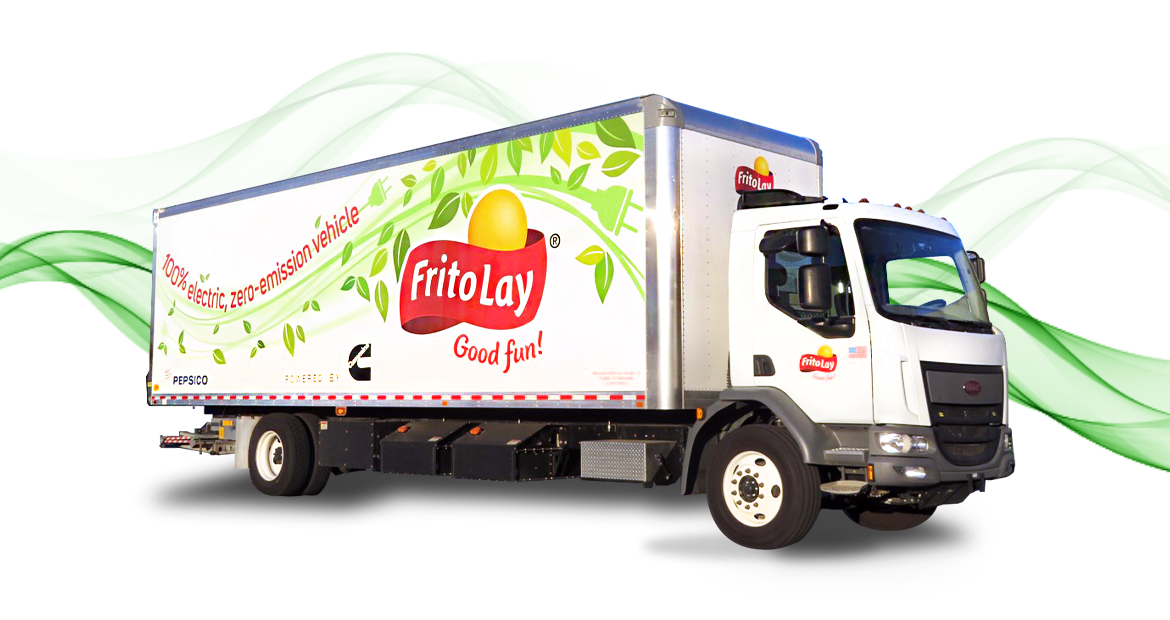 With less than one month until the showcase, Cummins Inc. (NYSE: CMI) is gearing up for the North American Council for Freight Efficiency (NACFE) Run on Less - Electric (RoL-E), an electric truck technology demonstration. The RoL-E is a three-week event beginning Sept. 2 featuring daily performance metrics, and real-world fleet stories documenting the benefits and challenges of deploying electric trucks. Cummins is participating in the event with a class 6 box truck powered by the Cummins PowerDrive™ electric powertrain. 
To participate in RoL-E, Cummins is collaborating with Frito-Lay, a division of PepsiCo and leading food manufacturer. Cummins delivered the electric truck to Frito-Lay on Nov. 17, 2020, and the vehicle was immediately put into operation, running daily routes, delivering food products to supermarkets and grocery stores in Manteca, California, and surrounding communities. The truck was reliably running up to six days a week, averaging a total of 65-80 miles per day with an uptime of over 95%. After more than six months of field tests and continuous promising uptime results in the Manteca area, the truck is now running routes in Modesto, California. In this facility, Frito-Lay is in the process of replacing all of its existing diesel-powered fleet equipment with zero-emissions (ZE) and near-zero emissions (NZE) technologies. RoL-E will capture performance data from the truck as it completes real-world work in Modesto. 
"Cummins is thrilled to showcase our electrified technology in the NACFE Run on Less - Electric," said Amy Davis, President of Cummins New Power. "A demonstration like RoL-E provides valuable insights for fleets across the country and allows us to continually validate, improve and expand our technologies and portfolio of power solutions. We are developing zero-emissions solutions that improve the environment and continue to provide customers the power, performance, and reliability to be successful."
"In 2017 and again in 2019, NACFE Run on Less projects worked to showcase best-in-class demonstrations of advancements in freight efficiency," said Mike Roeth, executive director at NACFE, "With Run on Less - Electric, fleets, along with their truck OEM partners, have the opportunity to establish efficiency expectations for new battery technologies, all the while meeting sustainability goals."
Updates, daily performance data and fleet perspectives will be shared throughout the RoL-E demonstration and will be available starting Sept. 2 at runonless.com/metrics. Click here to see a video of the Rol-E demonstration.
About Frito-Lay North America
Frito-Lay North America is the $18 billion convenient foods division of PepsiCo, Inc. (NASDAQ: PEP), which is headquartered in Purchase, N.Y. Frito-Lay snacks include Lay's and Ruffles potato chips, Doritos tortilla chips, Cheetos snacks, Tostitos tortilla chips and branded dips, SunChips multigrain snacks and Fritos corn chips. The company operates 30+ manufacturing facilities across the U.S. and Canada, more than 200 distribution centers and services 315,000 retail customers per week through its direct-store-delivery model. Learn more about Frito-Lay at the corporate website, http:www.fritolay.com/ and on Twitter http://www.twitter.com/fritolay.
About PepsiCo
PepsiCo products are enjoyed by consumers more than one billion times a day in more than 200 countries and territories around the world. PepsiCo generated more than $70 billion in net revenue in 2020, driven by a complementary food and beverage portfolio that includes Frito-Lay, Gatorade, Pepsi-Cola, Quaker, Tropicana, and SodaStream. PepsiCo's product portfolio includes a wide range of enjoyable foods and beverages, including 23 brands that generate more than $1 billion each in estimated annual retail sales. Guiding PepsiCo is our vision to Be the Global Leader in Convenient Foods and Beverages by Winning with Purpose. "Winning with Purpose" reflects our ambition to win sustainably in the marketplace and embed purpose into all aspects of our business strategy and brands. For more information, visit www.pepsico.com.
About Cummins Inc.
Cummins Inc., a global power leader, is a corporation of complementary business segments that design, manufacture, distribute and service a broad portfolio of power solutions. The company's products range from diesel, natural gas, electric and hybrid powertrains and powertrain-related components including filtration, aftertreatment, turbochargers, fuel systems, controls systems, air handling systems, automated transmissions, electric power generation systems, batteries, electrified power systems, hydrogen generation and fuel cell products. Headquartered in Columbus, Indiana (U.S.), since its founding in 1919, Cummins employs approximately 57,800 people committed to powering a more prosperous world through three global corporate responsibility priorities critical to healthy communities: education, environment and equality of opportunity. Cummins serves its customers online, through a network of company-owned and independent distributor locations, and through thousands of dealer locations worldwide and earned about $1.8 billion on sales of $19.8 billion in 2020. Learn more at cummins.com.