Cummins Reports First Quarter 2021 Results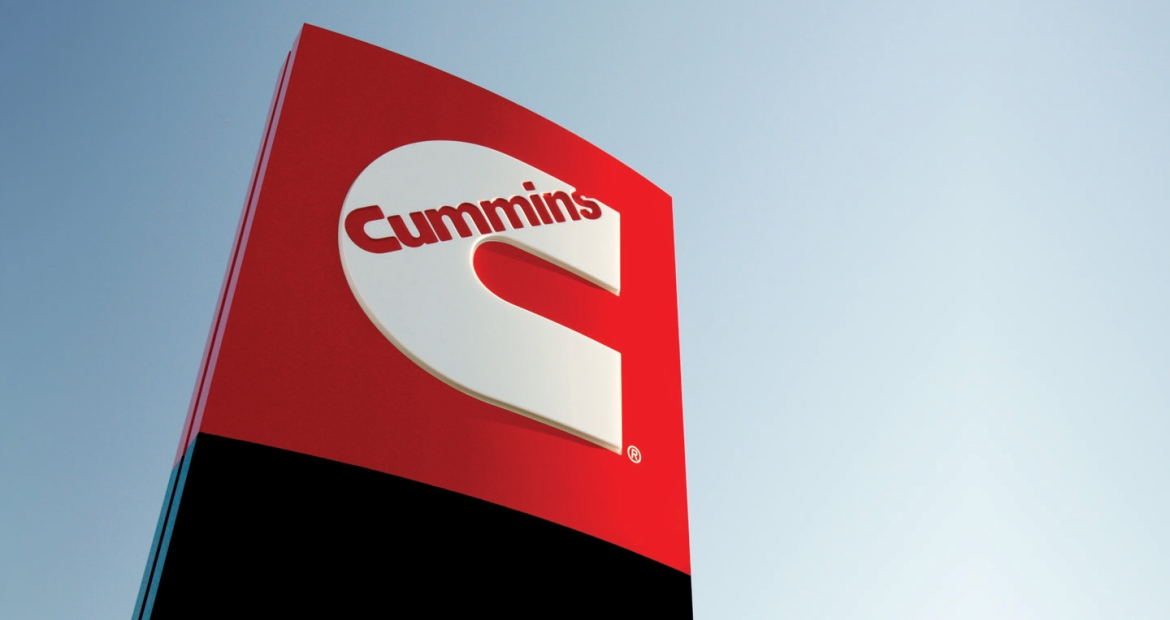 First quarter revenues of $6.1 billion; GAAP1 Net Income of $603 million
First quarter EBITDA of 16.1 percent; Diluted EPS of $4.07
The company is raising its full year 2021 revenue guidance to be up 20 to 24 percent; up from 8 to 12 percent
EBITDA is now expected to be in the range of 15.5 to 16.0 percent; up from 15.0 to 15.5 percent
Cummins Inc. (NYSE: CMI) today reported results for the first quarter of 2021.
First quarter revenues of $6.1 billion increased 22 percent from the same quarter in 2020. Sales in North America increased 7 percent while international revenues increased 45 percent driven by strong demand across all global markets as well as new product sales in China and India.
"Demand accelerated in the first quarter, as the global economy continued to improve, driving strong sales growth across most businesses and regions and resulting in solid profitability. The strength and breadth of the rebound in demand has surpassed our original expectations and we have raised our full year outlook", said Chairman and CEO Tom Linebarger. "While we are encouraged by the rising demand, the pace of recovery has placed a strain on global supply chains leading to increased costs and challenges in fulfilling end-user demand. The shortage of key components such as semiconductor chips has been the primary challenge, with adverse weather conditions impacting the US, and bottlenecks in global logistics further adding to order backlogs. The ability to supply is our key focus now and we are doing everything we can to mitigate the impact. I want to thank our global employees, especially those in our supply chain and manufacturing operations, and our suppliers for their extraordinary efforts to manage through these challenges and support our customers."
Earnings before interest, taxes, depreciation and amortization (EBITDA) in the first quarter were $980 million (16.1 percent of sales), compared to $846 million (16.9 percent of sales) a year ago. Net income attributable to Cummins in the first quarter was $603 million ($4.07 per diluted share) compared to $511 million ($3.41 per diluted share) in 2020. The tax rate in the first quarter was 22.0 percent including $4 million, or $0.03 per share, of favorable discrete items.
2021 Outlook: 
Based on the current forecast, Cummins is raising its full year 2021 revenue guidance to 20 to 24 percent, an increase from 8 to 12 percent due to stronger demand across all markets. EBITDA is expected to be in the range of 15.5 to 16.0 percent, an increase from the prior range of 15.0 and 15.5 percent of sales, primarily due to increased demand. The Company expects to return 75 percent of Operating Cash Flow to shareholders in 2021 in the form of dividends and share repurchases.
"We are raising our guidance for 2021 on both revenue and profitability. We continue to take necessary precautions at all our facilities to mitigate the spread of COVID-19 and our focus remains on the health and safety of our employees. We are optimistic that continued vaccination distribution globally will reduce the impact of the virus in the second half of the year, but there is still a risk of an increase in cases and the potential for new virus variants that could result in lower customer demand, additional facility shutdowns or additional supply chain constraints in the future. Cummins is in a strong position to keep investing in future growth, bringing new technologies to customers and returning cash to shareholders." said Chairman and CEO Tom Linebarger.
First Quarter 2021 Highlights:
Cummins was named to Ethisphere's World's Most Ethical Companies list for a 14th consecutive year.
The Company announced a global strategic partnership with Daimler to provide medium duty powertrain systems for Daimler Trucks and Buses, allowing both companies to be more competitive, drive global innovation, expand offerings to customers and reduce emissions.
Cummins continued its commitment to gender equality on International Women's Day. With a goal of having 24 hours of continuous conversations on gender equity, more than 5,000 employees participated in 47 conversations hosted in 22 countries around the world. The Cummins Powers Women program also continued its progress by forming a new partnership with Promundo in Europe to prevent violence against women.
Cummins Vice Chairman, Tony Satterthwaite, testified before Congress in the Hearing on Transportation Technologies, reinforcing Cummins' commitment to achieve a net zero carbon emissions future through continued innovation in advanced internal combustion, battery, and fuel cell technologies. Satterthwaite urged the government to make the infrastructure investments required to support the successful market adoption of zero carbon emission technologies.
The Company announced employees, contingent workers and their spouses and dependents (ages 16+) could receive the Pfizer-BioNTech COVID-19 vaccine at several locations across the United States. Cummins continues to collaborate with health officials around the world to provide employees with access to COVID-19 vaccines.
1 Generally Accepted Accounting Principles in the U.S.
First quarter 2021 detail (all comparisons to same period in 2020):
Engine Segment
Sales - $2.5 billion, up 14 percent
Segment EBITDA - $354 million, or 14.4 percent of sales, compared to $365 million or 16.9 percent of sales
On-highway revenues increased 15 percent driven by strong demand in the North American truck and pickup markets and off-highway revenues increased 9 percent driven by strong demand in international construction markets
Sales increased 10 percent in North America and 24 percent in international markets
Distribution Segment
Sales - $1.8 billion, up 1 percent
Segment EBITDA - $160 million, or 8.7 percent of sales, compared to $158 million or 8.7 percent of sales
Revenues in North America were down 6 percent and international sales increased by 17 percent
Increased demand in power generation and engine markets offset by declines in parts and service as a result of supply chain constraints
Components Segment
Sales - $2.2 billion, up 43 percent
Segment EBITDA - $421 million, or 19.6 percent of sales, compared to $279 million or 18.6 percent of sales
Revenues in North America increased by 15 percent and international sales increased by 82 percent due to higher demand in China and India
Power Systems Segment
Sales - $1.0 billion, up 16 percent
Segment EBITDA - $126 million, or 12.3 percent of sales, compared to $77 million, or 8.7 percent of sales
Power generation revenues increased by 18 percent driven by growth in recreational vehicle and datacenter markets while industrial revenues increased 9 percent due to stronger demand in mining markets
New Power Segment
Sales - $35 million, up 250 percent
Segment EBITDA loss - $51 million
Revenues increased due to greater demand in transit and school bus markets in addition to the commissioning of electrolyzer projects and shipments of fuel cell systems to the rail market
Costs associated with the development of fuel cells and electrolyzers as well as products to support battery electric vehicles are contributing to EBITDA losses
Forward-looking disclosure statement
Information provided in this release that is not purely historical are forward-looking statements within the meaning of the Private Securities Litigation Reform Act of 1995, including statements regarding our forecasts, guidance, preliminary results, expectations, hopes, beliefs and intentions on strategies regarding the future. These forward-looking statements include, without limitation, statements relating to our plans and expectations for our revenues and EBITDA. Our actual future results could differ materially from those projected in such forward-looking statements because of a number of factors, including, but not limited to: any adverse results of our internal review into our emissions certification process and compliance with emission standards; increased scrutiny from regulatory agencies, as well as unpredictability in the adoption, implementation and enforcement of emission standards around the world; changes in international, national and regional trade laws, regulations and policies; changes in taxation; global legal and ethical compliance costs and risks; evolving environmental and climate change legislation and regulatory initiatives; future bans or limitations on the use of diesel-powered products; failure to successfully integrate and / or failure to fully realize all of the anticipated benefits of the acquisition of Meritor, Inc. (Meritor); raw material, transportation and labor price fluctuations and supply shortages; any adverse effects of the conflict between Russia and Ukraine and the global response (including government bans or restrictions on doing business in Russia); aligning our capacity and production with our demand; the actions of, and income from, joint ventures and other investees that we do not directly control; large truck manufacturers' and original equipment manufacturers' customers discontinuing outsourcing their engine supply needs or experiencing financial distress, or change in control; product recalls; variability in material and commodity costs; the development of new technologies that reduce demand for our current products and services; lower than expected acceptance of new or existing products or services; product liability claims; our sales mix of products; failure to complete, adverse results from or failure to realize the expected benefits of the separation of our filtration business; our plan to reposition our portfolio of product offerings through exploration of strategic acquisitions and divestitures and related uncertainties of entering such transactions; increasing interest rates; challenging markets for talent and ability to attract, develop and retain key personnel; climate change, global warming, more stringent climate change regulations, accords, mitigation efforts, greenhouse gas (GHG) regulations or other legislation designed to address climate change; exposure to potential security breaches or other disruptions to our information technology environment and data security; political, economic and other risks from operations in numerous countries including political, economic and social uncertainty and the evolving globalization of our business; competitor activity; increasing competition, including increased global competition among our customers in emerging markets; failure to meet environmental, social and governance (ESG) expectations or standards, or achieve our ESG goals; labor relations or work stoppages; foreign currency exchange rate changes; the price and availability of energy; continued availability of financing, financial instruments and financial resources in the amounts, at the times and on the terms required to support our future business; and other risks detailed from time to time in our SEC filings, including particularly in the Risk Factors section of our 2022 Annual Report on Form 10-K and Quarterly Reports on Form 10-Q. Shareholders, potential investors and other readers are urged to consider these factors carefully in evaluating the forward-looking statements and are cautioned not to place undue reliance on such forward-looking statements. The forward-looking statements made herein are made only as of the date of this press release and we undertake no obligation to publicly update any forward-looking statements, whether as a result of new information, future events or otherwise. More detailed information about factors that may affect our performance may be found in our filings with the SEC, which are available at http://www.sec.gov or at http://www.cummins.com in the Investor Relations section of our website.
About Cummins Inc.
Cummins Inc., a global power technology leader, is a corporation of complementary business segments that design, manufacture, distribute and service a broad portfolio of power solutions. The company's products range from internal combustion, electric and hybrid integrated power solutions to components including filtration, aftertreatment, turbochargers, fuel systems, controls systems, air handling systems, automated transmissions, electric power generation systems, microgrid controls, batteries, electrolyzers and fuel cell products. Headquartered in Columbus, Indiana (U.S.), since its founding in 1919, Cummins employs approximately 73,600 people committed to powering a more prosperous world through three global corporate responsibility priorities critical to healthy communities: education, environment and equality of opportunity. Cummins serves its customers online, through a network of company-owned and independent distributor locations, and through thousands of dealer locations worldwide and earned about $2.2 billion on sales of $28.1 billion in 2022.