Cummins brings the next generation of power to Middle East Energy 2020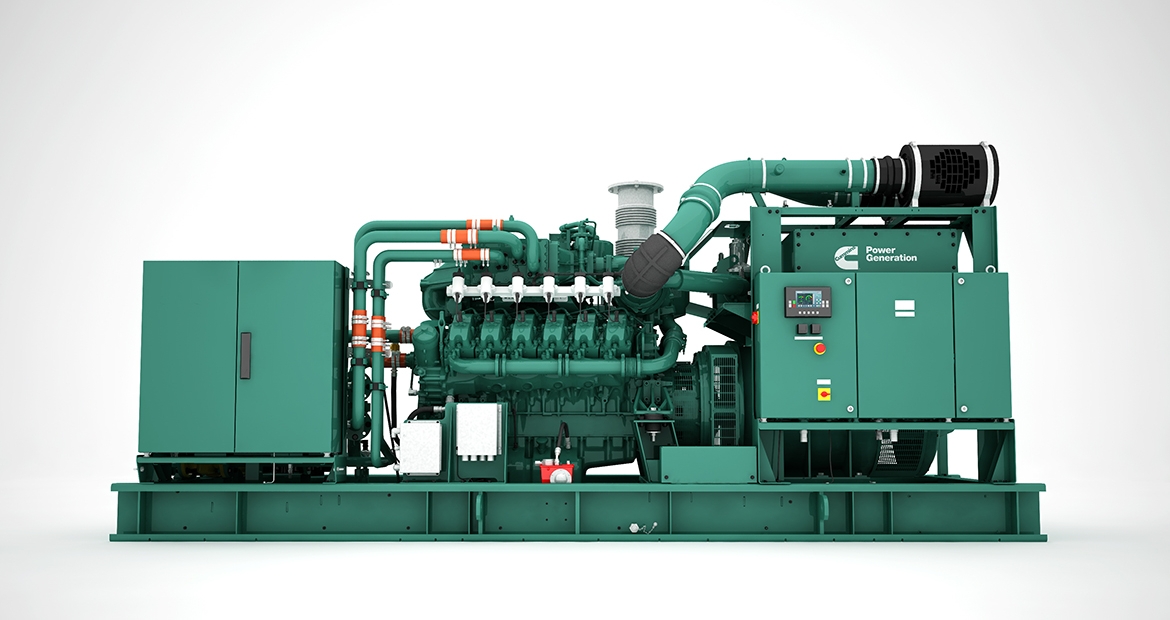 Cummins Inc. (NYSE: CMI) will showcase its latest innovative technologies and solutions during the Middle East Energy (MEE) show, at the Dubai World Trade Center (March 5 - 7). In its centennial year Cummins Power Generation will be introducing the new C25G gas generator series to the global natural gas markets.  
The C25G series is engineered to deliver superior fuel efficiency with a power density of 500kW (50Hz) and 580kW (60Hz) from a 25L engine while providing reduced maintenance costs per kWh. The C25G generator series offers a total package of gas generator capabilities for prime, peaking power and island mode applications, while being suitable for a diverse set of industries ranging from hospitals and manufacturing to commercial building and greenhouses requiring reliable continuous operation.
"Following the launch of the HSK78G gas generator series, Cummins is now extending its portfolio with the addition of the C25G gas series offering a wider range of integrated solutions for any gas power need across key power nodes" said Chris Downs, Global Energy Management Marketing Leader. 
The C25G models comply with all global emissions regulations while delivering a high electrical efficiency up to 41.6% (50Hz) and 40.6% (60Hz) on pipeline natural gas down to 71 and 68 methane number (MN) respectively at full power. In addition to its generator capabilities, the advanced control systems fitted to the C25G series provide users with access to advanced monitoring, diagnostics and predictive analytics maximizing the generators' uptime and reducing maintenance labor costs.
Additional Cummins products showcased
Alongside the C25G gas generator series showcased on stand S3.D30, Cummins will be showcasing: 
Two new Digital Master Controls (DMCs); the DMC2000 and DMC6000 that feature comprehensive design flexibility, control modularity and over 1,200 failure scenarios to ensure best-in-class performance reliability and system uptime. Incorporating decades of engineering expertise and customer insights Cummins will be demonstrating all scalable options available for complete system control across any operation.

KTA19-G4

The KTA19-G4 18.9-liter dual speed diesel engine powered by Cummins G-drive. This Coolpac engine rated at 500kWe forms part of the world-renowned Cummins K engine family series known for its robustness, durability and dependability. This engine utilizes the Cummins PT fuel system for improved fuel efficiency, enhanced engine performance and lower derating thresholds for temperature and altitude making this engine a top performer in the harshest of conditions. 
The new QSG12 Coolpac engine powered by Cummins G-drive - introduced for the first time. This new engine retains the proven durability and performance offered by the award-winning Cummins on-highway engine series while offering lower emissions and improved power density to meet the demands of the wider power generation markets. "The QSG12 Coolpac engine model can pick up 100% block load in one step, without impacting the power output and efficiency" said Nigel Chisman, Global G-drive Marketing Leader.
Cummins technical experts will offer a demonstration of the PowerCommand® Cloud digital solution – a fully integrated cloud-based system bringing together continuous monitoring, multi-location management, on-the-go access and visibility with real-time notifications, remote service and calibration and remote asset control. 
The 10kW Rugged Mobile Power (RMP) generator. This product series is ideal for defense and disaster relief applications as it is proven to perform in extreme physical environments by operating in temperatures from -45°C to 58°C. When compared with other commercial generator sets, the RMP series offers reduced maintenance costs while offering increased fuel efficiency up to 20% over other commercial and military generators.

Cummins QSB7 commercial generator series

The new low kVA QSB7 commercial generator series, which will be making its global debut. This new series is a fully integrated system with a power density from 160-220kVa (50Hz) and 135-200kW (60Hz), while offering greater Limiting Ambient Temperature (LAT) capabilities enabling the generator to run in hotter climates with no derate and impact on performance. The generator's compact footprint provides the ability to fit six enclosed generators within a 40ft container, saving shipping and logistical costs. The smaller footprint allows for more efficient use of the available floor space during installation and commissioning. In addition, the rugged 4-cycle diesel engine powering the generator delivers reliable power, low emissions and fast response to load changes. 
Coupled with the above displays, visitors can view various aftermarket product offerings available to keep their equipment operating. The QuickFit® advanced engine oil change system will be one of the main displays. This easy to up-fit service system, can save up to 70-80% of time for an oil change service event while eliminating spills and increasing technician safety. Furthermore, the Cummins 'There is a Difference' kiosk showcased on stand, will allow customers to view a 4-minute video analyzing the critical differences in quality and performance between Genuine Cummins and non-genuine parts. Live demo sessions carried out by Cummins experts will be held throughout the duration of the show to highlight the importance of using Genuine Cummins New & ReCon® parts that are built to meet or exceed the engine's original specifications for performance, reliability and many more.
Throughout the duration of the show visitors will have the opportunity to meet with the Cummins experts and learn about all the latest products and innovations such as the new unregulated mobile power generator range specifically designed for the Africa, Middle East and Asia Pacific markets. 
From dense urban areas to remote locations, communities, operations and industries of all types Cummins is ready to bring the culture of knowledge, know-how and innovation on the stand at the MEE show to showcase what serves as fuel for the next generation of power.
 
About Cummins Inc.
Cummins Inc., a global power leader, is a corporation of complementary business segments that design, manufacture, distribute and service a broad portfolio of power solutions. The company's products range from diesel, natural gas, electric and hybrid powertrains and powertrain-related components including filtration, aftertreatment, turbochargers, fuel systems, controls systems, air handling systems, automated transmissions, electric power generation systems, batteries, electrified power systems, hydrogen generation and fuel cell products. Headquartered in Columbus, Indiana (U.S.), since its founding in 1919, Cummins employs approximately 61,600 people committed to powering a more prosperous world through three global corporate responsibility priorities critical to healthy communities: education, environment and equality of opportunity. Cummins serves its customers online, through a network of company-owned and independent distributor locations, and through thousands of dealer locations worldwide and earned about $2.3 billion on sales of $23.6 billion in 2019. See how Cummins is powering a world that's always on by accessing news releases and more information at https://www.cummins.com/always-on.