Cummins debuts new 4-cylinder structural engine at Agritechnica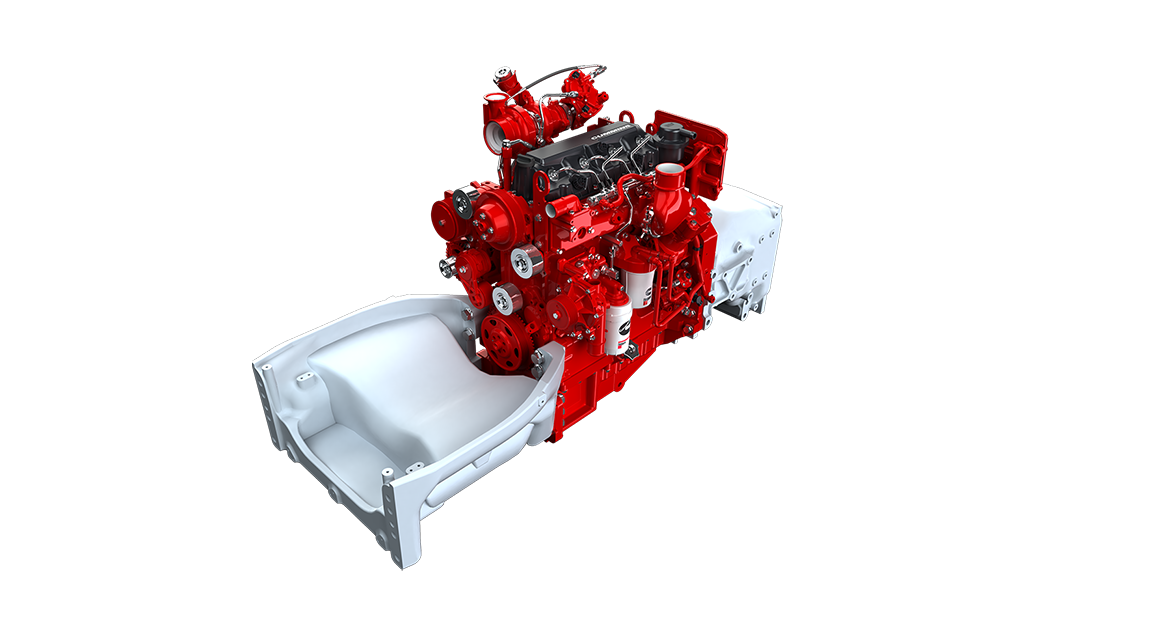 Cummins new structural 4-cylinder engine will debut at Agritechnica 2019 in Hanover, Germany. The new engine is available with 3.8 litre (F3.8) and 4.5 litre (F4.5) displacements, complementing the 6-cylinder B6.7 structural launched at the previous Agritechnica.
Visitors will see the new arrival on stand D19, in hall 16 in Hanover Messe.
Signifying an extension to its agriculture line up, Cummins' new structural F3.8 and F4.5 engines provide compact and capable four-cylinder options for tractors in the 67 – 149 kW (90 – 200 hp) power band. They are the company's latest innovation for tractor applications and, alongside the six-cylinder B6.7 engine, expand Cummins structural product coverage from 67 to 243 kW (90 – 326 hp).
"For Stage V, Cummins technology significantly improved the capabilities of our F3.8 engine, with 33% more power and 31% more torque versus its Stage IV predecessor. Pushing it up to 173 hp has made it a leader in its class. We are now making this product available with a structural block and oil pan for agricultural tractor applications. As part of our Performance Series range, it will deliver more machine capability and substantial productivity benefits for the farmers who operate Cummins powered equipment," explains Ann Schmelzer, General Manager Global Agriculture at Cummins.
The F3.8 structural engine will also be offered in a 4.5 litre configuration to extend its power capability above 129 kW (173 hp) to 149 kW (200 hp). With up to 780 Nm peak torque the F4.5 is ideal for higher powered farming equipment. Externally, the F3.8 and F4.5 engines are identical, offering tractor manufacturers flexibility with consistent packaging across multiple products and power ranges.
As with the B6.7 structural, the new 4-cylinder block and oil pan include design features to minimize weight yet provide maximum strength for engine and driveline durability.
Both F3.8 and F4.5 benefit from Cummins wastegate turbocharging as standard, with Holset® VGT™ variable turbocharger technology available on the F4.5 engine for applications requiring higher torque across a wider range of engine speeds.
The F3.8 and F4.5 structural engines meet EU Stage V emissions legislation with Cummins' Flex Module aftertreatment. This uses the same technology developed for Cummins Single ModuleTM aftertreatment, in a flexible two piece package. It enables the required emissions levels to be met without the use of exhaust gas recirculation (EGR). The Flex Module is adaptable to suit the available space across a range of tractor designs, without impacting lines of visibility from the cab.
"Customer flexibility has been a core consideration during the design of our new structural engines. Both products can be tailored to suit a variety of installations with features such as the oil pan, fan hub position, turbocharger position and aftertreatment customizable to suit packaging requirements. Our electronic control capability means that performance is tailored for on-farm operation with the optimum power bulge and torque back up available to suit tractor duty cycles. The EGR-free design facilitates lower total cost of ownership for farmers through higher fuel efficiency, and less servicing with up to 1000 hours of operation between oil drain intervals." concludes Schmelzer.
Cummins global manufacturing capability means that these engines can be manufactured in a number of facilities (e.g. US, UK or China), dependent on where our OEM customers need them.
About Cummins Inc.
Cummins Inc., a global power technology leader, is a corporation of complementary business segments that design, manufacture, distribute and service a broad portfolio of power solutions. The company's products range from internal combustion, electric and hybrid integrated power solutions and components including filtration, aftertreatment, turbochargers, fuel systems, controls systems, air handling systems, automated transmissions, electric power generation systems, microgrid controls, batteries, electrolyzers and fuel cell products. Headquartered in Columbus, Indiana (U.S.), since its founding in 1919, Cummins employs approximately 59,900 people committed to powering a more prosperous world through three global corporate responsibility priorities critical to healthy communities: education, environment and equality of opportunity. Cummins serves its customers online, through a network of company-owned and independent distributor locations, and through thousands of dealer locations worldwide and earned about $2.1 billion on sales of $24 billion in 2021.