Cummins attracts next generation of talent with university partnership and Sonnenwagen
Darlington, United Kingdom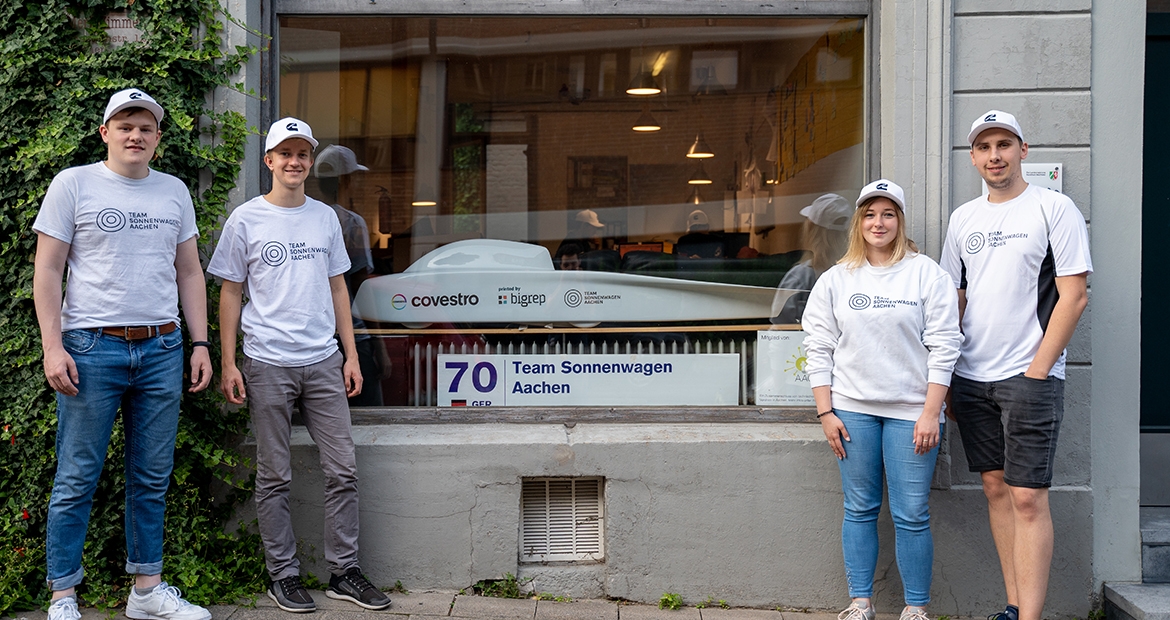 Cummins is delighted to announce a new collaboration with Aachen University students as part of our plans to expand our early career programmes across Europe. This includes a partnership with Sonnenwagen to sponsor their team in The World Solar Challenge taking place in Australia starting on 13th and finishing on 20th October. 
The World Solar Challenge in made up of teams from universities, from over 30 countries across the world, who design a solar power vehicle to travel over 3000 km in the fastest time. The 3000 km course is about the same as Berlin, Germany to Faro, Portugal or Cummins headquarters in Columbus, Indiana to Las Vegas.
The 2019 competition marks the 15th journey from the most northerly point of Australia - Top End, to Adelaide.
Success in the journey is about energy management and engineering innovation. The car only has a small battery reserve for cloudy conditions. All other energy must come from the sun or be recovered from the braking energy of the vehicle. Low aerodynamic drag and rolling resistance are also key.
"As an innovation and technology leader, is it important for Cummins to attract the next generation of talent to fulfill our mission to power a more prosperous world. This exciting partnership helps us achieve this as we look to attract early career individuals into our business and develop our future relationship with Aachen University," explained Kirsten Beaton, Cummins Director of Talent Acquisition-EMEA.  "Recently, we launched a number of internship programmes based at Cummins Emission Solutions in Marktheidenfeld, Germany."
"The students and their support team taking part have designed, engineered and built their own vehicle to power across some of the world's most challenging landscapes." said Mark Cox, Talent Acquisition Lead – Early Career. "Our team recently attended the roll out of team Sonnenwagen's solar car and the enthusiasm and technical knowledge of the students involved in the project was very impressive. I wish them all the best of the luck in the challenge."
Cummins has long-standing community partnerships across the world aimed at encouraging education especially among young people and women. 
Sonnenwagen is a non-profit organization, which was founded in 2015 by students of RWTH Aachen and the University of Applied Sciences in Aachen. Sonnenwagen aims at pushing the boundaries in the field of electromobility and shaping the future of mobility.
For more information on Sonnenwagen and the World Solar Car Challenge please visit: https://www.sonnenwagen.org/en/.
 
About Cummins Inc.
Cummins Inc., a global power leader, is a corporation of complementary business units that design, manufacture, distribute and service a broad portfolio of power solutions. The company's products range from diesel and natural gas engines to hybrid and electric platforms, as well as related technologies, including battery systems, fuel systems, controls, air handling, filtration, emission solutions and electrical power generation systems. Headquartered in Columbus, Indiana (U.S.A.), since its founding in 1919, Cummins employs approximately 62,600 people committed to powering a more prosperous world through three global corporate responsibility priorities critical to healthy communities: education, environment and equality of opportunity. Cummins serves customers in approximately 190 countries and territories through a network of approximately 600 company-owned and independent distributor locations and over 7,600 dealer locations and earned about $2.1 billion on sales of $23.8 billion in 2018.
See how Cummins is powering a world that's Always On by accessing news releases and more information at https://www.cummins.com/always-on. Follow Cummins on Twitter at https://twitter.com/cummins and on YouTube at https://www.youtube.com/user/CumminsInc.