Cummins to showcase technology that transforms during Railway Interchange 2019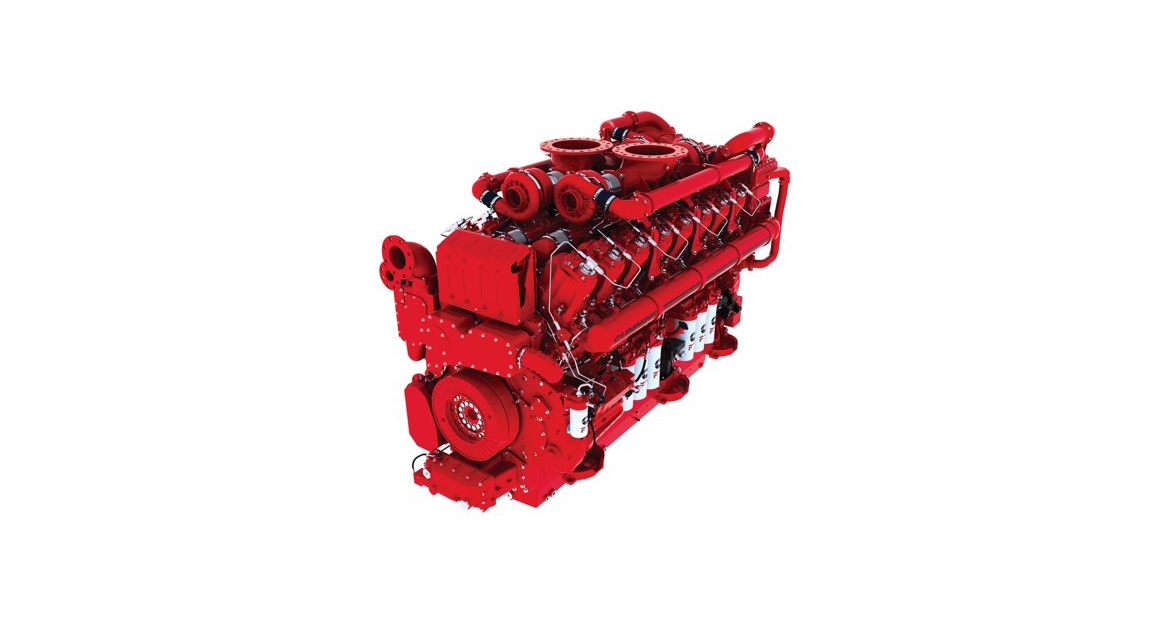 Cummins Inc. (NYSE: CMI) is showcasing its latest and most well-known rail portfolio at Railway Interchange 2019 in Minneapolis, Minnesota, from September 22-25. For over 100 years, Cummins has brought innovation, reliability, and performance to customers around the world, and has been a recognized leader, continuing to develop innovative and reliable products in the rail business for years.
Cummins' theme, 'Technology that Transforms' is reflected in its exhibit and focuses on dependable power and how the technology in the rail market has transformed throughout the years.
The Cummins QSK95 engine for locomotive builders is looking for a new-power approach to achieve cleaner, more efficient performance, the QSK95 is the engine of choice to deliver radically improved power capability for both freight and passenger operations. With over 4400 horsepower (3281 kilowatts) of output from 16 cylinders, the QSK95 surpasses other high-speed engines. In terms of emissions capability and compact installation, the QSK95 is ahead of much larger medium-speed engines with a similar output. 
Earlier this year, Siemens Mobility announced their new partnership with Amtrak and VIA Rail Canada for more than 100 of Siemens' Charger locomotives powered by the Cummins QSK95 Tier 4 engine system, which will help deliver clean, efficient power for these new projects. For Cummins, this partnership represents two of the largest deals in the company's rail history, with both contracts including multi-year parts, service, and support for Cummins Sales & Service as well. 
Continually transforming the rail industry, the company launched an energy dense, lightweight battery back (BP74E) into production in 2019. The BP74E can be used as a standalone component or connected in parallel and used in Cummins' range of multipack power systems. Cummins' proprietary Battery Management System (BMS) is the brains of the pack, ensuring safety by continuously monitoring and controlling key parameters, as and when required.
In addition, the Cummins QSB6.7 Track Pack will be on display; one of the most popular and versatile engines ever built by Cummins, making it a great addition to the rail engine catalog. While other manufacturers outsource their emissions aftertreatment systems, Cummins manufactures its own; the QSB6.7 engine is a quiet operation, including an 80 percent reduction in noise at idle, one of the many benefits from the common-rail fuel system. The enhanced sociability from the high-pressure common-rail design virtually eliminates smoke and improves experience.
PrevenTech for rail will also be exhibited; a new digital solution providing remote engine monitoring and reporting of equipment health. PrevenTech utilizes an aftermarket device installed by Cummins on customers' equipment to transmit encrypted engine data in real-time using cellular connectivity. Data is digitally analyzed to evaluate performance and report potential issues back to customers using alert notifications with service recommendations.
Finally, the legendary and historical HVID engine will be displayed at the Cummins booth. The HVID was designed by engineer Rasmus HVID, and first seen by Clessie Cummins. It was known as the best engine available, as a small kerosene burning engine. The engine was available in 1.5, 3, 6 and 8 horsepower versions. It was used for agricultural pumps, grinding, sawing, electrical generation and other stationary power requirements.
Visit the Cummins booth to see how the company has been developing technology since 1919 to transform the industry.
About Cummins Inc.
Cummins Inc., a global power leader, is a corporation of complementary business units that design, manufacture, distribute and service a broad portfolio of power solutions. The company's products range from diesel and natural gas engines to hybrid and electric platforms, as well as related technologies, including battery systems, fuel systems, controls, air handling, filtration, emission solutions and electrical power generation systems. Headquartered in Columbus, Indiana (U.S.A.), since its founding in 1919, Cummins employs approximately 62,600 people committed to powering a more prosperous world through three global corporate responsibility priorities critical to healthy communities: education, environment and equality of opportunity. Cummins serves customers in approximately 190 countries and territories through a network of approximately 600 company-owned and independent distributor locations and over 7,600 dealer locations and earned about $2.1 billion on sales of $23.8 billion in 2018.
See how Cummins is powering a world that's Always On by accessing news releases and more information at https://www.cummins.com/always-on. Follow Cummins on Twitter at https://twitter.com/cummins and on YouTube at https://www.youtube.com/user/CumminsInc.