Cummins Inc. Becomes CharIN Member with Bid to Drive the Deployment of Universal Charging Infrastructure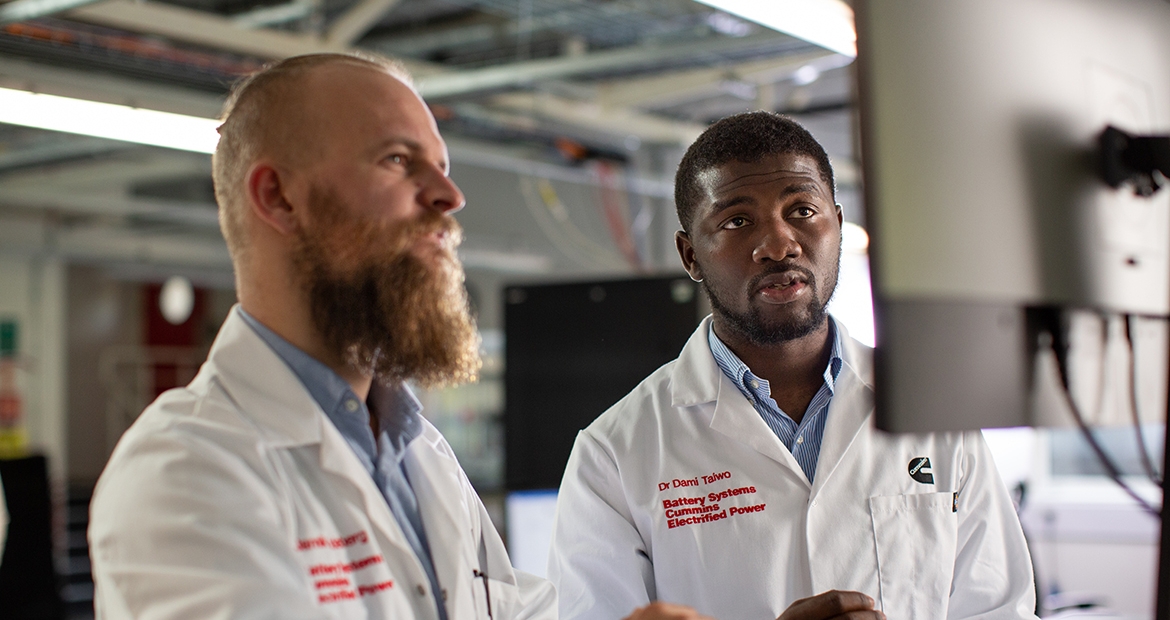 Today, Cummins Inc. (NYSE: CMI) announced its membership in CharIN E.V., an association of automotive and industrial companies that seek to advance the adoption of electric vehicles through the development and implementation of the Combined Charging System (CCS)—a standardized charging platform for all electric vehicles. 
Membership in CharIN E.V. will enable Cummins to contribute its expertise and resources to the association as it scales its investment in electric powertrain technologies and components.
"Cummins is proud to play its part in the development of a universal charging platform, which will be instrumental in the adoption of electric vehicle technologies globally," said Julie Furber, Vice President—Electrified Power, Cummins. "Our membership in CharIN reflects Cummins' advocacy for a standardized charging platform and supports our efforts to provide customers with the necessary infrastructure to make operation of commercial electric vehicles feasible."
Charging commercial vehicles presents greater challenges than those seen in the passenger vehicle market. Trucks and buses require large, energy dense battery packs to facilitate long range travel and carriage of significant payloads. With often infrequent breaks in routes, a robust infrastructure is needed to make electric commercial vehicles feasible. At truck stops and depots, many DC charge points will need to be installed, so that vehicles can pull a high current from the grid, and charge rapidly, before moving on to their next location. CharIn promotes discussions between prime power, utilities and charge point companies with a view to facilitating the installation of a robust, reliable and consistent charging infrastructure.
Cummins is very well positioned to understand the energy requirements of customers through its expertise in Li-ion battery technology and access to extensive laboratory analysis around duty cycles of commercial vehicles. The company will play an active role in CharIN regional and global meetings, collaborating with other member organizations to draft legislation, conduct research and develop a certification system for CCS with the overall aim of supporting the provision of accessible, electric charging networks throughout the regions in which the company operates.
About CharIN
The Charging Interface Initiative e.V. - abbreviated to CharIN e.V. - is a registered association founded by Audi, BMW, Daimler, Mennekes, Opel, Phoenix Contact, Porsche, TÜV SÜD and Volkswagen. Based in Berlin, Germany it is open to all interested parties. The purpose of the CharIN organization is to develop and establish the Combined Charging System (CCS) as the global standard for charging battery powered electric vehicles. Our goals include: expanding the global network of companies supporting CCS, drafting requirements to accelerate the evolution of charging related standards, and defining a certification system for all manufacturers implementing CCS in their products. In this connection the limits drawn by antitrust laws are to be observed by all members. Visit www.charinev.org to learn more.
About Cummins Inc.
Cummins Inc., a global power leader, is a corporation of complementary business segments that design, manufacture, distribute and service a broad portfolio of power solutions. The company's products range from diesel, natural gas, electric and hybrid powertrains and powertrain-related components including filtration, aftertreatment, turbochargers, fuel systems, controls systems, air handling systems, automated transmissions, electric power generation systems, batteries, electrified power systems, hydrogen generation and fuel cell products. Headquartered in Columbus, Indiana (U.S.), since its founding in 1919, Cummins employs approximately 61,600 people committed to powering a more prosperous world through three global corporate responsibility priorities critical to healthy communities: education, environment and equality of opportunity. Cummins serves its customers online, through a network of company-owned and independent distributor locations, and through thousands of dealer locations worldwide and earned about $2.3 billion on sales of $23.6 billion in 2019. See how Cummins is powering a world that's always on by accessing news releases and more information at https://www.cummins.com/always-on.