Cummins Announces First Quarter Results; Raises Outlook for 2018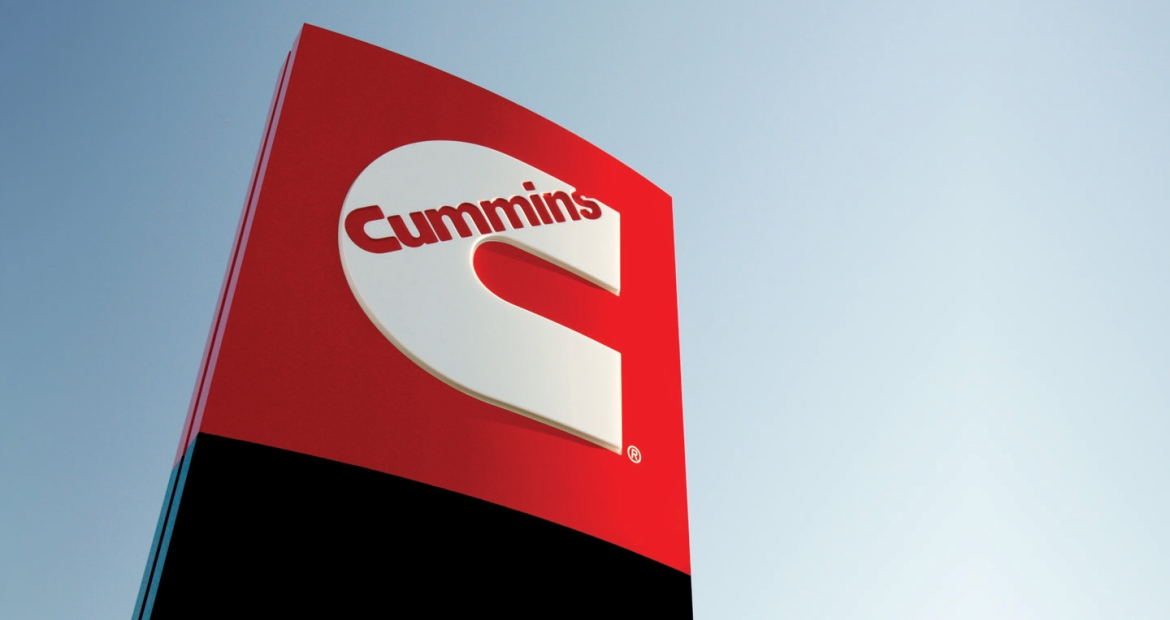 Cummins Inc. (NYSE: CMI) today reported results for the first quarter of 2018.
First quarter revenues of $5.6 billion and EBITDA of 12.6 percent of sales
GAAP1 Net Income of $325 million and Diluted EPS of $1.96
Full year revenues expected to increase 10 to 14 percent
EBITDA is expected to be in the range of 15.4 to 15.8 percent of sales
First quarter Diluted EPS negatively impacted by $0.87 reflecting the cost of a product campaign
First quarter Diluted EPS negatively impacted by $0.47 as a result of discrete tax charges
First quarter revenues of $5.6 billion increased 21 percent from the same quarter in 2017. Strong demand for trucks, construction and mining equipment drove the majority of the revenue increase. Currency favorably impacted revenues by 2 percent, primarily due to a weaker US dollar.
Sales in North America improved by 22 percent while international revenues increased by 20 percent led by strong growth in Europe, Latin America, China and India.
"Improving demand in a number of the Company's core markets, combined with our strong global market share and the success of new products aimed at lowering emissions, resulted in sales growth of 21 percent in the first quarter," said Chairman and CEO Tom Linebarger.
During the first quarter, the Company recorded a pre-tax charge of $187 million for the expected costs of a product campaign. This campaign is part of a proactive plan to address the performance of an aftertreatment component in certain on-highway products produced between 2010 and 2015 in North America. The Company is in the process of finalizing the details of the campaign and, as is customary, the campaign is subject to regulatory approval.
Earnings before interest, taxes, depreciation and amortization (EBITDA) in the first quarter were $700 million, or 12.6 percent of sales, down from $705 million or 15.4 percent of sales a year ago. Excluding the impact of the campaign charge, EBITDA for the first quarter of 2018 was $887 million or 15.9 percent of sales.
Net income attributable to Cummins in the first quarter was $325 million ($1.96 per diluted share), compared to $396million ($2.36 per diluted share). First quarter results included $78 million in discrete tax charges, primarily related to U.S. tax reform. Excluding the discrete tax charges, net income attributable to Cummins in the first quarter was $403 million ($2.43 per diluted share), reflecting a 23 percent tax rate.
"Cummins delivered solid operating performance in the first quarter led by strong incremental margins in the Power Systems segment," continued Linebarger. "As a result of rising demand and continued benefits from cost reduction initiatives, we have raised our full year outlook for sales and EBITDA."
Based on the current forecast, Cummins expects full year 2018 revenues to be up 10 to 14 percent, compared to prior guidance of up 4 to 8 percent. EBITDA is projected to be in the range of 15.4 to 15.8 percent of sales, down from 15.8 to 16.2 percent of sales. Excluding the impact of the first quarter charge for the product campaign, full year EBITDA is expected to be in the range of 16.2 to 16.6 percent, reflecting strong incremental EBITDA of 28 percent at the midpoint, compared to 2017.
The Company returned $341 million to shareholders in the form of dividends and share repurchases in the first quarter, consistent with its plan to return at least 50 percent of Operating Cash Flow in 2018.
First Quarter 2018 Highlights:
Cummins was named one of the world's Most Ethical Companies by the Ethisphere Institute, a leader in defining and advancing the standards of ethical business practices. This is the 11th consecutive year Cummins has made Ethisphere's list.
Cummins received the highest ranking possible for its environmental and social performance from Institutional Shareholder Services (ISS), a key source of information for institutional investors. This is the first time ISS has reviewed companies on an environmental and social basis.
The new Cummins Westport ISX12N engine, manufactured at the Jamestown Engine Plant, became the world's first class 8 on-highway truck engine certified by the California Air Resources Board to their near-zero emissions standard.
1 Generally Accepted Accounting Principles
First quarter 2018 detail (all comparisons to same period in 2017)
Engine Segment
Sales - $2.4 billion, up 21 percent
Segment EBITDA - $286 million, or 11.7 percent of sales, compared to $273 million or 13.5 percent of sales
Segment EBITDA reflects a charge of $93 million reflecting the expected costs of a campaign to address the performance of an aftertreatment component
On-highway revenues increased 20 percent, and off-highway revenues increased 23 percent primarily due to increased global demand in truck and construction markets
Distribution Segment
Sales - $1.9 billion, up 13 percent
Segment EBITDA - $123 million, or 6.6 percent of sales, compared to $130 million or 7.9 percent of sales
Revenues in North America increased by 15 percent and in international markets by 8 percent
Components Segment
Sales - $1.8 billion, up 30 percent
Segment EBITDA - $227 million, or 12.9 percent of sales, compared to $216 million or 16.1 percent of sales
Segment EBITDA reflects a charge of $94 million which represents the expected costs of a campaign to address the performance of an aftertreatment component
The Eaton Cummins Automated Transmission joint venture recorded sales of $117 million and an EBITDA loss of $3 millionin the first quarter
Revenues in North America increased by 35 percent, and international sales grew by 25 percent due to higher commercial truck production in North America as well as additional content in India with the introduction of Bharat Stage IV in 2017 and a weak U.S. dollar
Power Systems Segment
Sales - $1.1 billion, up 22 percent
Segment EBITDA - $142 million, or 13.2 percent of sales, compared to $85 million, or 9.6 percent of sales
Increased demand in mining, oil and gas and power generation markets drove the growth in sales
Electrified Power Segment
Sales - $2 million
Segment EBITDA loss: $10 million
For Cummins Inc. and Subsidiaries Condensed Consolidated Statements of Income, Balance Sheets, Statement of Cash Flow, Segment Information and Select Footnote Data, visit our Investor Relations Website. 
Forward-looking disclosure statement
Information provided in this release that is not purely historical are forward-looking statements within the meaning of the Private Securities Litigation Reform Act of 1995, including statements regarding our forecasts, guidance, preliminary results, expectations, hopes, beliefs and intentions on strategies regarding the future. These forward looking statements include, without limitation, statements relating to our plans and expectations for our revenues and EBITDA percentage for the full year of 2018. Our actual future results could differ materially from those projected in such forward-looking statements because of a number of factors, including, but not limited to: the adoption and implementation of global emission standards; the price and availability of energy; the pace of infrastructure development; increasing global competition among our customers; general economic, business and financing conditions; governmental action; changes in our customers' business strategies; competitor pricing activity; expense volatility; labor relations; and (i) a sustained slowdown or significant downturn in our markets; (ii) our truck manufacturing and OEM customers discontinuing outsourcing their engine needs; (iii) the development of new technologies; (iv) the discovery of any significant additional problems with our engine platforms or aftertreatment systems in North America; (v) performance or safety-related recalls; (vi) lower than anticipated market acceptance of our new or existing products or services; (vii) a slowdown in infrastructure development and/or depressed commodity prices; (viii) unpredictability in the adoption, implementation and enforcement of increasingly stringent emissions standards around the world; (ix) our reliance on significant earnings from investees that we do not directly control; (x) the adoption and impact of new tax legislation; (xi) potential security breaches or other disruptions to our information technology systems and data security; (xii) financial distress or a change-in-control of one of our large truck OEM customers; (xiii) our pursuit of strategic acquisitions and divestitures; and (xiv) other risks detailed from time to time in our Securities and Exchange Commission filings including particularly in the Risk Factors section of our 2017 Annual Report on Form 10-K. Shareholders, potential investors and other readers are urged to consider these factors carefully in evaluating the forward-looking statements and are cautioned not to place undue reliance on such forward-looking statements. The forward-looking statements made herein are made only as of the date of this press release and we undertake no obligation to publicly update any forward-looking statements, whether as a result of new information, future events or otherwise. More detailed information about factors that may affect our performance may be found in our filings with the Securities and Exchange Commission, which are available at http://www.sec.gov or at http://www.cummins.com in the Investor Relations section of our website.
Presentation of Non-GAAP Financial Information
EBITDA is a non-GAAP measure used in this release, and is defined and reconciled to what management believes to be the most comparable GAAP measure in a schedule attached to this release. Cummins presents this information as it believes it is useful to understanding the Company's operating performance, and because EBITDA is a measure used internally to assess the performance of the operating units.
About Cummins Inc.
Cummins Inc., a global power leader, is a corporation of complementary business segments that design, manufacture, distribute and service a broad portfolio of power solutions. The company's products range from diesel, natural gas, electric and hybrid powertrains and powertrain-related components including filtration, aftertreatment, turbochargers, fuel systems, controls systems, air handling systems, automated transmissions, electric power generation systems, batteries, electrified power systems, hydrogen generation and fuel cell products. Headquartered in Columbus, Indiana (U.S.), since its founding in 1919, Cummins employs approximately 61,600 people committed to powering a more prosperous world through three global corporate responsibility priorities critical to healthy communities: education, environment and equality of opportunity. Cummins serves its customers online, through a network of company-owned and independent distributor locations, and through thousands of dealer locations worldwide and earned about $2.3 billion on sales of $23.6 billion in 2019. See how Cummins is powering a world that's always on by accessing news releases and more information at https://www.cummins.com/always-on.