Electric Power System Introduced by Cummins at Busworld Turkey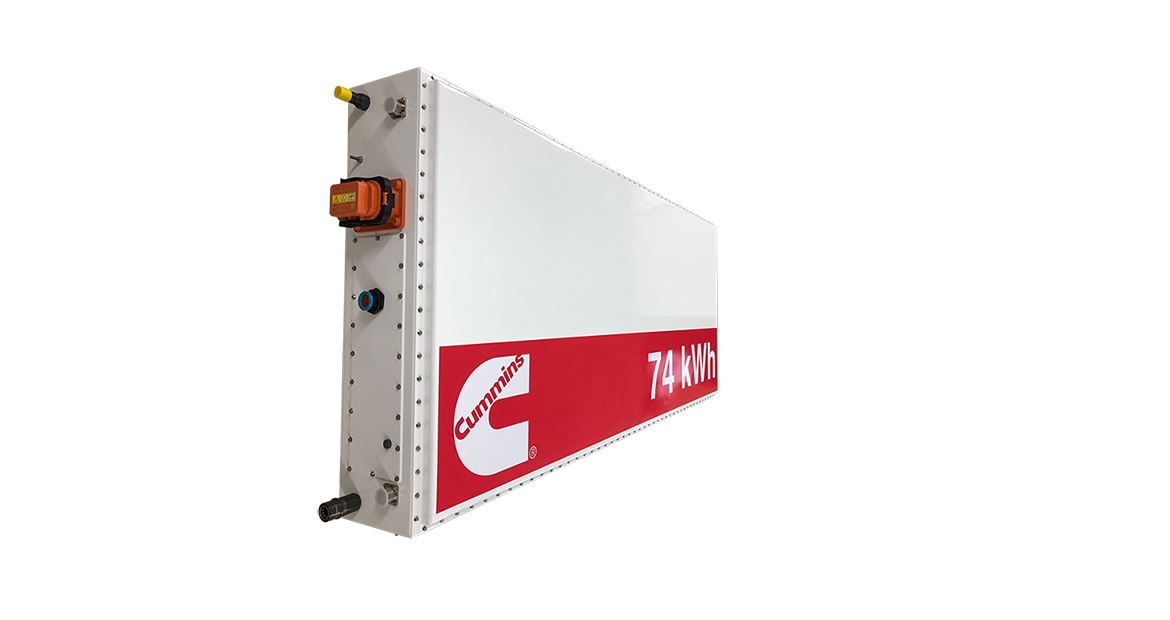 Modular System Is Standardized On A New Cummins 74-kWh Battery Pack
Cummins has introduced an electric system for city bus, shuttle and intercity bus applications in Turkey
The system is configurable either for a full battery electric vehicle (BEV) or a range extended electric vehicle (REEV)
The zero emission electric system can be configured with four to eight Cummins battery packs with an energy storage capability of between 296 to 592-kWh
Cummins today introduced an electric system for city bus, shuttle and intercity bus applications in Turkey at the BUSWORLD show taking place in Izmir. The system is configurable either for a full battery electric vehicle (BEV) or a range extended electric vehicle (REEV) incorporating an engine-generator to combine energy delivery with the battery pack. The system is standardized on a new Cummins 74-kWh battery pack with more space-efficient packaging, enabling easier bus integration with a modular format expandable to eight batteries with up to 385 km (240 miles) operating range on a single charge.
The Cummins-designed and built batteries utilize Li-ion technology to achieve a higher energy density and proprietary control technology to maintain the battery state-of-charge for a longer zero emission bus range. A high-efficiency traction motor provides direct drive with continuous, gearless acceleration and quiet operation. 
Operational flexibility is provided with an integral plug-in connection for overnight or route end charging, as well as options for on-route opportunity charging where a pantograph or charge plate infrastructure is available.
"The introduction of Cummins new electric powertrain system fully complements our  Euro 6 clean diesel, natural gas and conventional hybrid products, offering the most   energy diverse power portfolio in the industry ready for all bus applications on the most environmentally appropriate basis," said Cenk Yavuz, Cummins Territory Leader - Turkey.
"Our BEV and REEV electric architecture was designed to be fully adaptable for today's diesel bus models. This allows transport authorities to specify the same buses that work so well for them today with an electric system, retaining the benefit of fleet commonality. This will also ensure a more cost-effective technology transition for our many bus customers in Turkey," added Yavuz.
The zero emission electric system can be configured with four to eight Cummins battery packs with an energy storage capability of between 296 to 592-kWh (kilowatt hour). This installation flexibility means that the system is ideally suited to cover the most popular city bus sizes operating in Turkey, with an energy consumption of 9 Litres/100 km (30 mpg) diesel equivalent to bring a major reduction in operating costs.
The system provides a continuous electrical output of 215-kW (288 hp), increasing to a peak output of 350-kW (469 hp) whenever a power boost is required. The high-voltage system operates at a nominal 660V when battery state-of-charge is around 50 percent.
The electric range of the bus is maximized through the regenerative braking function  of the powertrain. On a frequent stop/start duty-cycle, this could contribute the equivalent of 20 percent to the battery pack state-of-charge.            
Range Extender Versatility
Cummins range extended electric vehicle (REEV) system features three battery packs to achieve a zero-emission bus range of over 80 km (50 miles) for operating in city centers and other environmentally challenged areas. When travelling on commuter or intercity routes, the system switches to engine-generator mode with ultra-low emission capability and a range equivalent to that of a diesel-only powered bus.  
The Cummins 2.8-litre engine featured in the REEV system represents a 60 percent downsize in displacement compared to engines used in an equivalent sized bus, resulting in a much reduced fuel consumption of 18 Litres /100 km (15 mpg) to significantly lower the carbon footprint. A power assist function is available from the battery pack whenever the bus needs additional energy.
The ability of the REEV system to switch between shorter-range battery-only mode and extended-range engine-generator mode allows specific areas to be geofenced by utilising Cummins over-the-air connected technology. The REEV system enables the bus to travel significant distances beyond the city charging infrastructure. 
"Our new electric system will be expertly serviced by the Cummins network in the same way we currently support our diesel-powered and natural gas-powered fleets. This is an important factor for bus operators in Turkey, as it means seamless support for when they specify our BEV and REEV systems for their fleets," said Yavuz.
Higher Energy Efficiency
The Cummins BEV and REEV systems incorporate the same traction motor and power electronics to deliver a continuous torque output of 1850 Nm, eliminating the need for gear shifting and dramatically reducing powertrain noise. When the bus requires additional tractive power during rapid acceleration or for climbing gradients, the system delivers an instant peak torque boost up to 3500 Nm. 
Electrical energy is also exportable from the Cummins system to the electric-powered accessories featured on the bus, such as e-power steering, e-HVAC, e-air compressors  and e-cooling fans. The electrical supply from the Cummins system can be both low-voltage DC with up to 21 kW and high-voltage AC with over 30 kW of power, helping to simplify the installation and lower the cost of the e-accessories package. 
The same electronic control module used on the popular Euro 6 bus engines is adapted for use as the BEV and REEV system controller, offering familiar Cummins diagnostics that bus operators experience today. 
Note to editor: Images of Cummins electric systems for bus applications can be downloaded from: https://www.cumminseurope.com/tr/busworldturkiye. 
About Cummins Inc.
Cummins Inc., a global power leader, is a corporation of complementary business segments that design, manufacture, distribute and service a broad portfolio of power solutions. The company's products range from diesel, natural gas, electric and hybrid powertrains and powertrain-related components including filtration, aftertreatment, turbochargers, fuel systems, controls systems, air handling systems, automated transmissions, electric power generation systems, batteries, electrified power systems, hydrogen generation and fuel cell products. Headquartered in Columbus, Indiana (U.S.), since its founding in 1919, Cummins employs approximately 61,600 people committed to powering a more prosperous world through three global corporate responsibility priorities critical to healthy communities: education, environment and equality of opportunity. Cummins serves its customers online, through a network of company-owned and independent distributor locations, and through thousands of dealer locations worldwide and earned about $2.3 billion on sales of $23.6 billion in 2019. See how Cummins is powering a world that's always on by accessing news releases and more information at https://www.cummins.com/always-on.