Cummins Upgrades the QSV91 Gas Series to Offer Superior Robustness and Greater Flexibility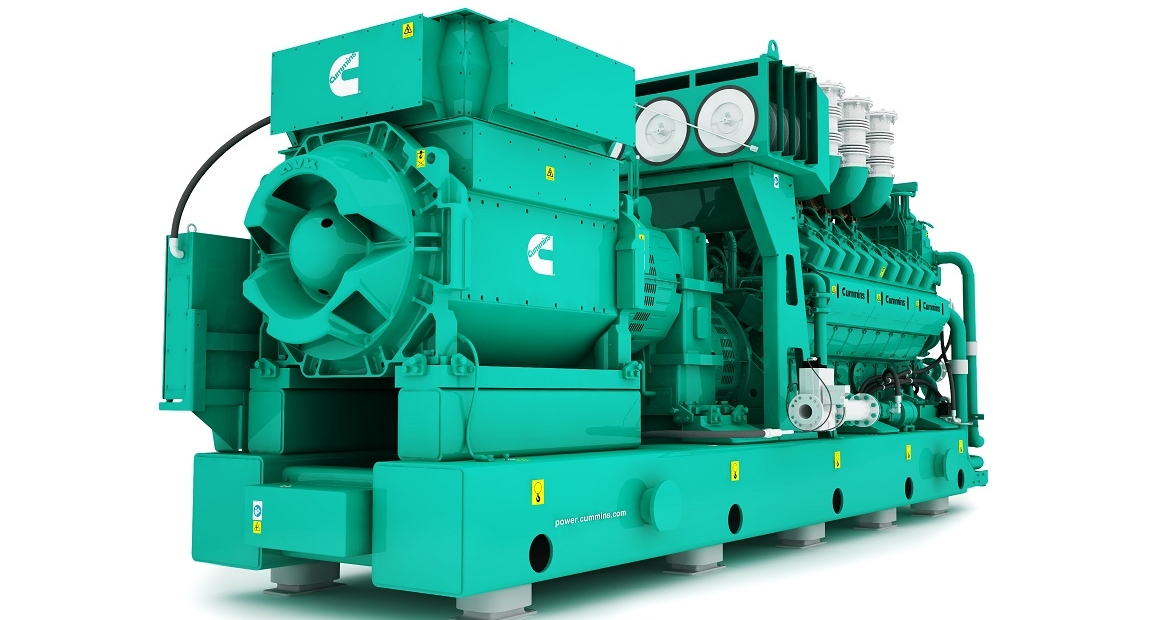 Cummins Inc. has announced the launch of a new upgraded 60 Hz natural gas generator set, powered by an 18-cylinder multi-turbo natural gas engine, as part of its 91-liter gas product range. 
Cummins Inc. (NYSE: CMI) has announced the launch of a new upgraded 60 Hz natural gas generator set, powered by an 18-cylinder multi-turbo natural gas engine, as part of its 91-liter gas product range. The new model series offers higher power up to 2,000 kW at low emissions down to 0.5g/hp-h NOx without aftertreatment, in addition to meeting the transient requirements of ISO 8528-5 G1. 
The QSV91 gas series minimizes voltage, frequency deviation and operational time-to-recover as well as achieving 100 percent load shed without shutdown. The new series has been developed to function in extreme environments and is capable of operating in ambient temperatures of up to 131°F and at 4,921 feet above sea level, making it suitable for a wide range of industries and applications. The series can function in continuous and standby power mode at 60 Hz through the use of a single generator set rated 1.54 MWe to 2 MWe. These features will make it a preferred choice for isolated locations and off-grid applications, indeed anywhere a rugged and robust power solution is needed. 
The upgraded series also offers fuel flexibility, being able to produce electricity from pipeline natural gas or other alternative gaseous fuels such as oilfield gas with low methane numbers. The new product series has electrical efficiency of up to 38.3 percent and offers a wide methane number operating range for low methane number fuels down to 40 MN. 
Peter Schroeck, General Sales Manager for Cummins North and Central America, said, "We have invested in the development of the new QSV91 gas series to ensure strong product performance, application flexibility, fuel flexibility, low emissions and robust load handling. The multi-turbo design provides optimal transient response as well as high altitude and ambient temperature capability. It offers superior performance and efficiency, providing dependable power to satisfy a wide range of operational and environmental requirements. Balancing key technologies allows us to develop the best solution for our customers." 
The Cummins QSV91 gas series are already proven in a wide variety of applications across the world. The introduction of the upgraded QSV91 series builds on the continuing success of Cummins gas generator sets in the 60 Hz market, providing more robustness and flexibility. 
Find out more at: https://power.cummins.com/QSV91. 
About Cummins Inc.
Cummins Inc., a global power leader, is a corporation of complementary business segments that design, manufacture, distribute and service a broad portfolio of power solutions. The company's products range from diesel, natural gas, electric and hybrid powertrains and powertrain-related components including filtration, aftertreatment, turbochargers, fuel systems, controls systems, air handling systems, automated transmissions, electric power generation systems, batteries, electrified power systems, hydrogen generation and fuel cell products. Headquartered in Columbus, Indiana (U.S.), since its founding in 1919, Cummins employs approximately 61,600 people committed to powering a more prosperous world through three global corporate responsibility priorities critical to healthy communities: education, environment and equality of opportunity. Cummins serves its customers online, through a network of company-owned and independent distributor locations, and through thousands of dealer locations worldwide and earned about $2.3 billion on sales of $23.6 billion in 2019. See how Cummins is powering a world that's always on by accessing news releases and more information at https://www.cummins.com/always-on.