Cummins Expands EPA Tier 3 Marine Generator Product Line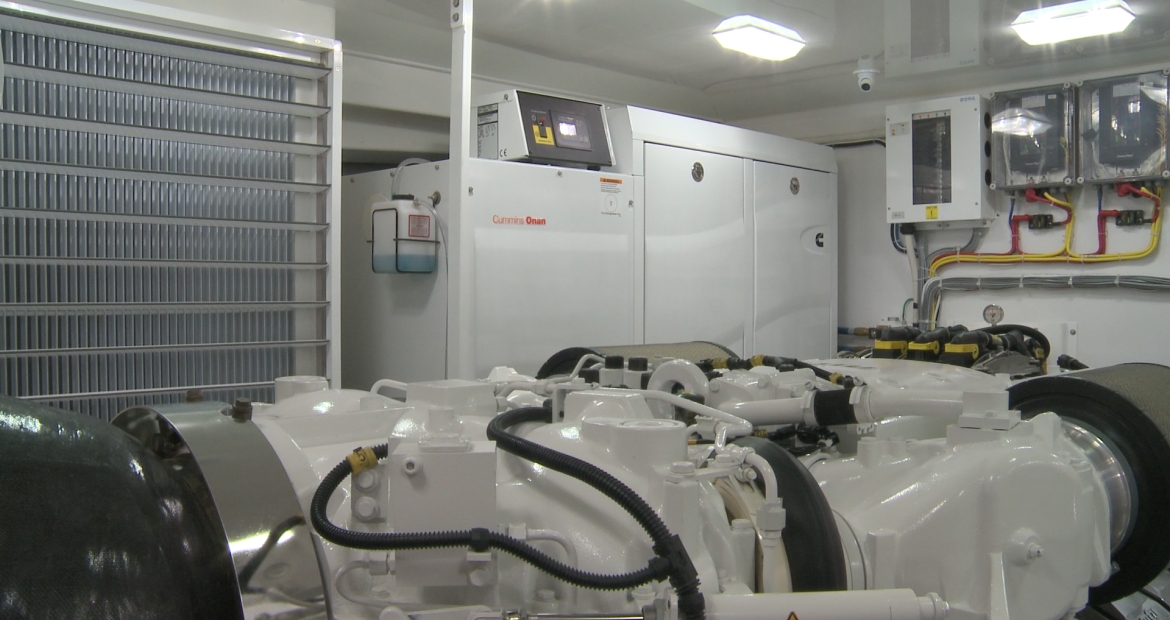 Cummins Inc. (NYSE: CMI) announced today the expansion of its U.S. Environmental Protection Agency (EPA) Tier 3 certified marine generator products during the Miami International Boat Show.
Cummins will feature a new Onan Marine QD series generator with a power range of 40 kWe to 65 kWe. The latest Tier 3 QD generators offer customers reduced emissions with the quietest operation in the industry, powering the comforts that make your boating experience more enjoyable.
The expanded power range of the Onan marine QD Series generators comes just as recreational vessels are requiring more electrical capacity to power increasing house loads. Boaters see their vessels as an extension of their home with comfort expectations that have driven additional electrical loads; additional lighting, ice makers, satellite TV, air conditioning, gyro stabilization, full service kitchens and washer/dryers have become the norm demanding more electricity in vessels of all sizes.
The new platform can be paralleled allowing it to provide electrical power for vessels with a need up to 130 kWe enabling Cummins to offer a QD Series product for a larger class of yacht. Providing a single platform with a wider power output range provides boat builders more flexibility to offer their customers the amenities they desire, knowing Cummins can provide a generator for all of their electrical needs without having to redesign their engine room layouts.   
The new product will be available in a variety of configurations including two cooling system options, heat exchange or keel cooled, with or without the Onan sound shield and also with single or three phase power options. The new power range will be sold under six different model names, MDDCS, MDDCT, MDDCU, MDDCW and MDDCY, depending on the kilowatt and the hertz requirement.
Cummins also recently announced the unification of its brand strategy across its Power Systems business segment, which provides high-speed engines from 760 – 4400hp and power generation equipment from 2-3,500kW, including standby and prime power gen sets, alternators, switchgear and other components. Previously the portfolio featured the Cummins, Cummins Power Generation and Cummins Onan brands. Moving forward the branding will be consolidated under the Cummins brand. The Cummins Power Generation and Cummins Onan brands have been retired and the Onan name synonymous with mobile gensets, has been repositioned as a generator product line. The first rebranded marine product will be delivered in January 2018.
"As a result of the creation of the Power Systems business segment in 2016, we re-evaluated how we wished to be positioned in the market. Coming together under one new business structure means that the time is right to move to a more cohesive brand strategy under the one Cummins brand, one that will better position us to leverage our brand strength and ensure we continue to deliver on our brand promise of dependability across the globe." said Norbert Nusterer, President, Cummins Power Systems.
As with all marine products from Cummins the Onan Marine QD series generators are backed by a global service and support network providing peace of mind for boat owners knowing wherever they cruise Cummins will be close. 
About Cummins Inc.
Cummins Inc., a global power leader, is a corporation of complementary business segments that design, manufacture, distribute and service a broad portfolio of power solutions. The company's products range from diesel and natural gas engines to hybrid and electric platforms, as well as related technologies, including battery systems, fuel systems, controls, air handling, filtration, emission solutions and electrical power generation systems. Headquartered in Columbus, Indiana (U.S.A.), since its founding in 1919, Cummins currently employs approximately 58,600 people committed to powering a more prosperous world. Cummins serves customers in about 190 countries and territories through a network of some 500 company-owned and independent distributor locations and approximately 7,500 dealer locations. Cummins earned $1 billion on sales of $20.4 billion in 2017. Press releases can be found on the Web at www.cummins.com. Follow Cummins on Twitter at www.twitter.com/cummins and on YouTube at www.youtube.com/cumminsinc.