Cummins Reports Third Quarter 2017 Results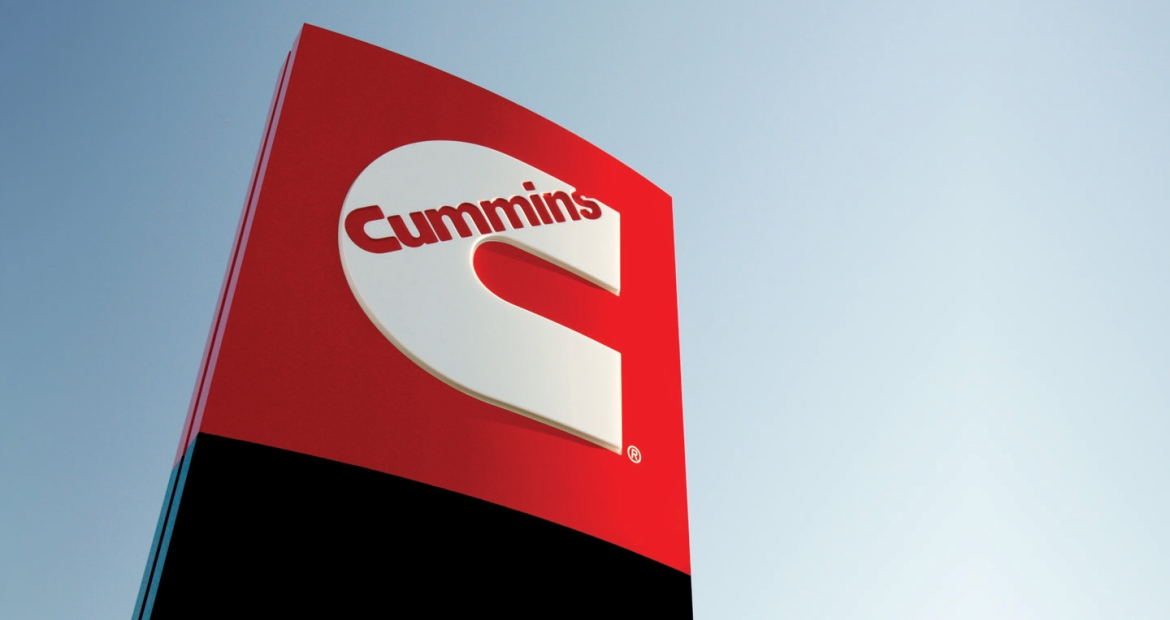 Cummins Inc. (NYSE:CMI) today reported results for the third quarter of 2017.
Third quarter revenues of $5.3 billion, GAAP1 Net Income of $453 million
EBIT of 12.1% of sales, Diluted EPS of $2.71
Cummins expects full-year 2017 revenues to be up 14% to 15%
EBIT is expected to be in the range of 11.8% to 12.2%
Third quarter revenues of $5.3 billion increased 26% from the same quarter in 2016. Revenues in North America increased 25% due to higher demand in truck, oil and gas and construction markets. International sales grew 28% primarily due to strong truck and construction demand in China, sales of new products in India, and increased demand from global mining customers.
Net income attributable to Cummins in the third quarter was $453 million, or $2.71 per diluted share, compared to $289 million, or $1.72 per diluted share. The tax rate in the third quarter of 2017 was 26.5%.
Earnings before interest and taxes (EBIT) was $640 million, or 12.1% of sales, an increase from $398 million, or 9.5% of sales, a year ago.
"Cummins experienced positive momentum in demand in a number of important markets, resulting in strong sales growth in the third quarter," said Chairman and CEO Tom Linebarger. "Earnings improved over the year-ago period due to stronger volumes and operational improvements that more than offset increased quality costs. Year to date, we have returned $913 million to shareholders in the form of dividends and share repurchases consistent with our plan to return 50% of Operating Cash Flow in 2017."
Outlook
Based on its current forecast, Cummins expects full-year 2017 revenues to grow 14% to 15%, an increase from the company's previous projection of 9% to 11% growth. EBIT is expected to be in the range of 11.8% to 12.2% of sales, which is unchanged from the prior guidance except for the inclusion of the impact of the new Eaton Cummins Automated Transmission Technologies joint venture. The joint venture, which is consolidated within the Components segment, is expected to report 2017 sales of approximately $150 million and negative EBIT of $25 million due in part to the amortization of intangible assets.
Third quarter 2017 highlights:
The Company entered into an asset purchase agreement with Brammo, Inc., which designs and develops battery packs for mobile and stationary applications. When complete, this will be an important milestone in Cummins' efforts to become a global electrified power leader.
The Eaton Cummins Automated Transmission Technologies joint venture became fully operational on schedule on August 1. The joint venture will capitalize on the secular shift to more automated transmissions in commercial vehicle markets.
1 Generally Accepted Accounting Principles
Third quarter 2017 detail (all comparisons to same period in 2016)
Engine Segment
Sales - $2.3 billion, up 26%
Segment EBIT - $229 million, or 9.8% of sales, compared to $89 million or 4.8% of sales
EBIT includes a $63 million warranty charge related to a quality campaign
On-highway revenues increased by 25%, and off-highway revenues increased 30% primarily due to increased demand globally in truck and construction markets
Distribution Segment
Sales - $1.8 billion, up 17%
Segment EBIT - $91 million, or 5.2% of sales, compared to $96 million or 6.4% of sales
Organic sales increased 12% due to improved sales to off-highway markets
The impact of acquisitions and the disposal of power generation rental assets in North America resulted in a net percent increase in revenues
Components Segment
Sales - $1.5 billion, up 34%.
Segment EBIT - $217 million , or 14.2% of sales, compared to $148 million or 12.9% of sales
International revenue increased 45%, primarily due to higher truck demand in China and the sale of new products in India
Sales in North America increased 26% due to stronger orders from on-highway customers
Power Systems Segment
Sales - $1.1 billion, up 23%
Segment EBIT - $81 million, or 7.7% of sales, compared to $59 million, or 6.9% of sales
Increased demand for industrial engines from mining and oil & gas customers was the main contributor to the revenue growth
About Cummins
Cummins Inc., a global power leader, is a corporation of complementary business units that design, manufacture, distribute and service diesel and natural gas engines and related technologies, including fuel systems, controls, air handling, filtration, emission solutions and electrical power generation systems. Headquartered in Columbus, Indiana, (USA) Cummins currently employs approximately 55,400 people worldwide and serves customers in approximately 190 countries and territories through a network of approximately 600 company-owned and independent distributor locations and approximately 7,400 dealer locations. Cummins earned $1.39 billion on sales of $17.5 billion in 2016. Press releases can be found on the Web at www.cummins.com. Follow Cummins on Twitter at www.twitter.com/cummins and on YouTube at www.youtube.com/cumminsinc.
Forward-looking disclosure statement
Information provided in this release that is not purely historical are forward-looking statements within the meaning of the Private Securities Litigation Reform Act of 1995, including statements regarding our forecasts, guidance, preliminary results, expectations, hopes, beliefs and intentions on strategies regarding the future. These forward looking statements include, without limitation, statements relating to our plans and expectations for our revenues for the full year of 2017. Our actual future results could differ materially from those projected in such forward-looking statements because of a number of factors, including, but not limited to: the adoption and implementation of global emission standards; the price and availability of energy; the pace of infrastructure development; increasing global competition among our customers; general economic, business and financing conditions; governmental action; changes in our customers' business strategies; competitor pricing activity; expense volatility; labor relations; and other risks detailed from time to time in our Securities and Exchange Commission filings, including particularly in the Risk Factors section of our 2016 Annual Report on Form 10-K. Shareholders, potential investors and other readers are urged to consider these factors carefully in evaluating the forward-looking statements and are cautioned not to place undue reliance on such forward-looking statements. The forward-looking statements made herein are made only as of the date of this press release and we undertake no obligation to publicly update any forward-looking statements, whether as a result of new information, future events or otherwise. More detailed information about factors that may affect our performance may be found in our filings with the Securities and Exchange Commission, which are available at http://www.sec.gov or at http://www.cummins.com in the Investor Relations section of our website.
Presentation of Non-GAAP Financial Information
EBIT is a non-GAAP measure used in this release, and is defined and reconciled to what management believes to be the most comparable GAAP measure in a schedule attached to this release. Cummins presents this information as it believes it is useful to understanding the Company's operating performance, and because EBIT is a measure used internally to assess the performance of the operating units.
Webcast information
Cummins management will host a teleconference to discuss these results today at 10 a.m. EST. This teleconference will be webcast and available on the Investor Relations section of the Cummins website at www.cummins.com. Participants wishing to view the visuals available with the audio are encouraged to sign-in a few minutes prior to the start of the teleconference.
ACQUISITION
In April 2017, we entered into an agreement to form a joint venture with Eaton Corporation PLC (Eaton), which closed on July 31, 2017 (the acquisition date). We purchased a 50 percent interest in the new venture named Eaton Cummins Automated Transmission Technologies for $600 million in cash. In addition, each partner contributed $20 million for working capital. The joint venture will design, assemble, sell and support medium-duty and heavy-duty automated transmissions for the commercial vehicle market, including new product launches. We consolidated the results of the joint venture in our Components segment as we have a majority voting interest in the venture by virtue of a tie-breaking vote on the joint venture's board of directors. We do not expect this new venture to have a significant impact on our consolidated results in 2017.
ENGINE SYSTEM LOSS CONTINGENCY
During 2017, the CARB and U.S. EPA began selecting certain of our pre-2013 model year engine systems for additional emissions testing. We have been notified that a portion of the CARB and EPA selected engine systems have failed emissions testing due to the unexpected degradation of an aftertreatment component. Although we have no official notice from the CARB or EPA on these engine systems to date, we are working with the agencies on a resolution of these matters. We are developing and testing solutions to address the technical issues, which could include a combination of calibration changes, service practices and hardware changes. We recorded a charge of $29 million to "cost of sales" in our Condensed Consolidated Statements of Income in the third quarter of 2017 for the expected cost of field campaigns to repair some of these engine systems.
In addition, we are currently evaluating other engine systems for model years 2010 through 2015 that could potentially be subject to similar degradation issues. At this point in time, we have not yet determined the impact to other model years and engine systems or the percentage of the engine system populations affected.
Because this remains under review with a number of yet unresolved variables, we are not yet able to estimate the outcome for these matters. It is possible, however, that they could have a material effect on our results of operations in the periods in which the uncertainties are resolved.
We do not currently expect any fines or penalties from the EPA or CARB related to this matter.
SUBSEQUENT EVENT
On October 12, 2017, we entered into an asset purchase agreement with Brammo Inc., an engineer and manufacturer of lithium ion batteries primarily related to the utility vehicle markets, for approximately $70 million to be paid in cash at closing. In addition to the closing consideration, the agreement contains an earnout based on future results of the acquired business, which could result in a maximum additional $100 million payment to the former owners. The majority of the purchase price will likely be assigned to intangible assets and goodwill. We expect the transaction to close in the fourth quarter of 2017.
View source version on businesswire.com: http://www.businesswire.com/news/home/20171031005201/en/
Source: Cummins Inc.
Cummins Inc.
Carole Casto, 317-610-2480
Vice President - Marketing and Communications
[email protected]
About Cummins Inc.
Cummins Inc., a global power leader, is a corporation of complementary business segments that design, manufacture, distribute and service a broad portfolio of power solutions. The company's products range from diesel, natural gas, electric and hybrid powertrains and powertrain-related components including filtration, aftertreatment, turbochargers, fuel systems, controls systems, air handling systems, automated transmissions, electric power generation systems, batteries, electrified power systems, hydrogen generation and fuel cell products. Headquartered in Columbus, Indiana (U.S.), since its founding in 1919, Cummins employs approximately 61,600 people committed to powering a more prosperous world through three global corporate responsibility priorities critical to healthy communities: education, environment and equality of opportunity. Cummins serves its customers online, through a network of company-owned and independent distributor locations, and through thousands of dealer locations worldwide and earned about $2.3 billion on sales of $23.6 billion in 2019. See how Cummins is powering a world that's always on by accessing news releases and more information at https://www.cummins.com/always-on.