Cummins: A Global Power Leader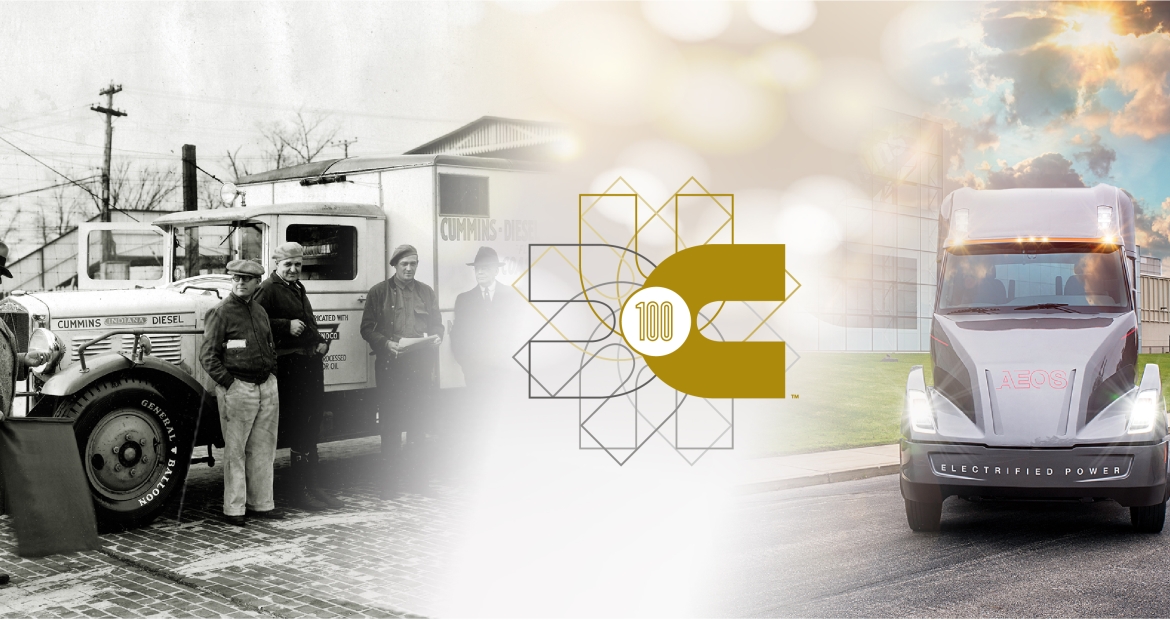 The rise of Cummins - 100 years old in 2019 - from a tiny machine shop in Columbus, Indiana (USA), to a global power leader offering a broad portfolio of products, is a story right in drama, a story of trials and triumphs. 
Cummins Engine Co. was founded on Feb 3rd, 1919, with William G. Irwin, a banker, supplying the starting capital. Irwin had hired Clessie Cummins in 1908 to drive and maintain his car and later set him up in business as an auto mechanic. 
Cummins, a self-taught mechanical genius, was convinced that the engine technology invented by Rudolph Diesel in the 1890s - while still unproven commercially - held great promise for its fuel economy and durability. 
Cummins started working full-time on diesel engines in 1919 when he heard that giant American retailer Sears, Roebuck & Co. would buy single-cylinder engines produced under license to Hvid. Clessie persuaded Irwin to negotiate a contract with Sears for 4,500 1.5 and 3 horsepower (hp) Hvid engines, but the beginning was inauspicious. Sears said the engines were defective and the contract was canceled in 1922 and Clessie went back to the drawing board.
The Critical Breakthrough
Clessie continued to experience pain, his experimental engines ripping the sides out of his fishing boats or tearing themselves to remnants. Then he made breakthroughs that solved critical problems of injection timing. He also created a fuel injector some experts described as 'simpler than a fountain pen.'
In 1924, emerging out of the swirl of innovation and problem solving, came the company's first distinctive engine line, the Model F (for four-cycle), the early editions of which were installed in fishing trawlers. These were believed to be the very first diesel-powered fishing vessels in North America. 
The Model F proved so economical that its popularity spread to other applications - generator sets, drills, shovels, and air compressors. The engine had one or two pistons, bolted as separate units to a common base, and developed 12.5 hp at 600 rpm from a 5.5-inch bore and a 7.5-inch stroke. 
On Christmas Day in 1929, Clessie took W.G. Irwin for a ride in America's first diesel-powered automobile - a Cummine marine engine-driven Packard. 
With his diesel engine and unique fuel injection system finally coming together and being used to repower trucks originally fitted with petrol engines, a dramatic leap forward in the evolution of diesel technology was realized.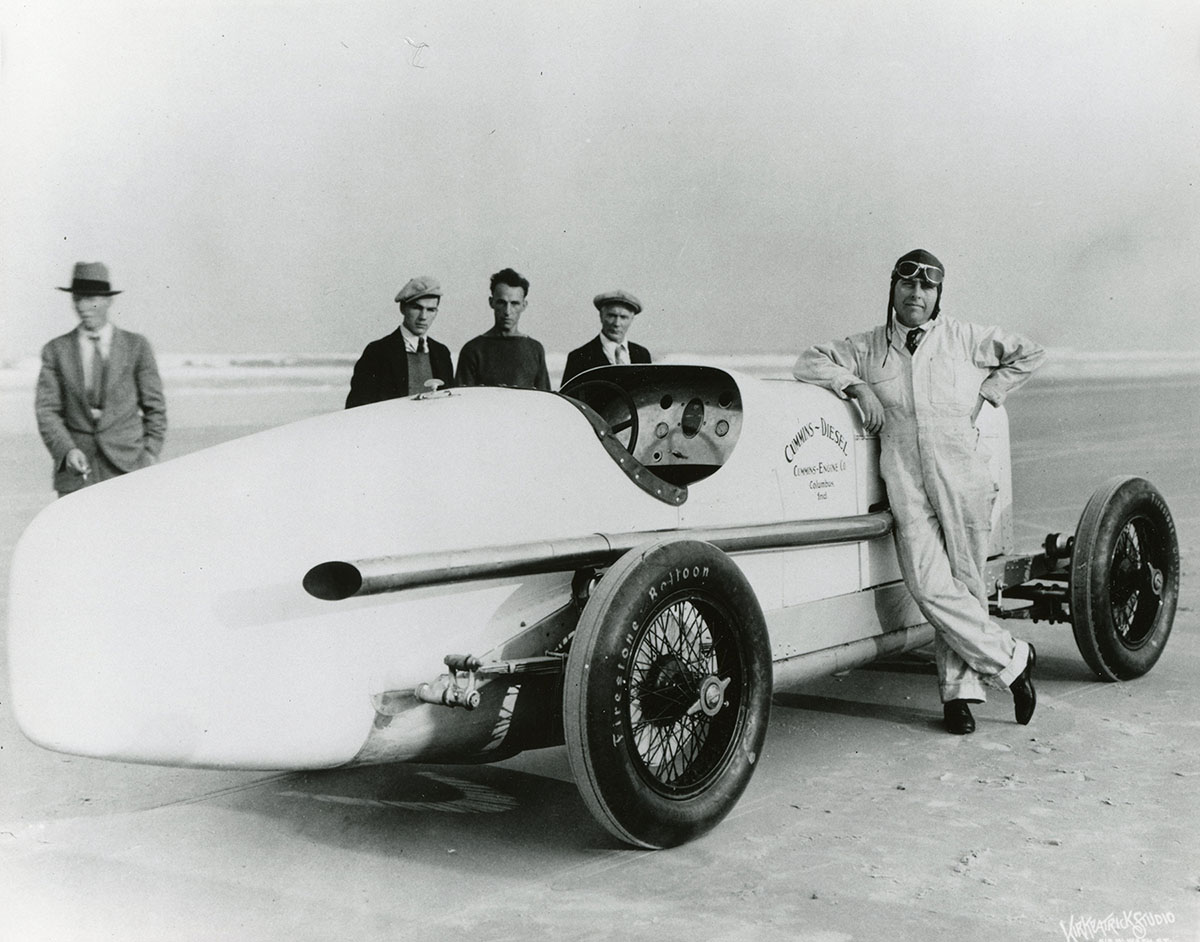 Capturing Global Attention
With a new infusion of Irwin capital, Clessie Cummins set out to prove that his diesel engines could conquer the road and he began to capture the world's attention through a series of creative, headline-making events in diesel-powered trucks, buses, and cars. 
In one celebrated run, Clessie piloted a Cummins-powered truck coast-to-coast (New York to Los Angeles) on $11.22 worth of furnace oil. The truck traveled 3,214 miles and averaged 43.02 miles per hour. 
He also set a new world diesel-powered record of 100.755 mph in a race car at Daytona Beach, Florida. In yet another stunt in a diesel passenger car, Clessie drove his Cummins-powered Auburn from New York to San Francisco in 1935 on $7.63 worth of fuel. The Cummins Model A aluminum 6-cylinder engine in the Auburn was the world's first light diesel designed exclusively for a car. 
J. Irwin Miller, the great-nephew of W.G. Irwin, became general manager in 1934 and went on to lead the company to international prominence over the next four decades. In 1937, Cummins earned its first profit.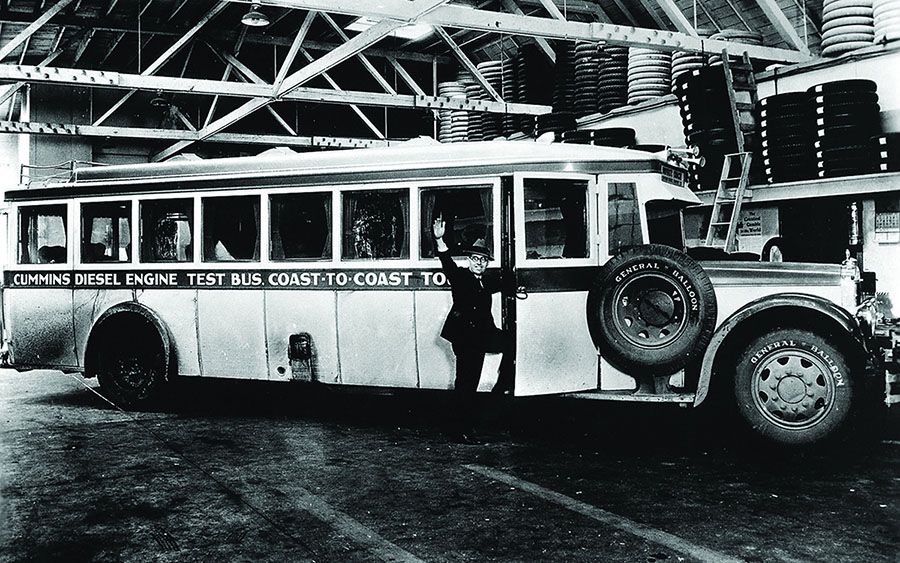 The company's first diesel engine designed specifically for highway trucking - the 6-cylinder Model H rated at 125 hp - was proving very successful. 
The 672 cu.in. displacement engine had two valves per cylinder and gained a reputation as a remarkable workhorse with its power, fuel-efficiency, and reliability. As truckers recommended the engine to their colleagues, the business began to flourish. 
In 1941, Cummins began offering the transport industry's first 100,000-mile warranty and a year later the US Army ordered 5,000 H Model engines for trucks. During World War II, most of the company's output went to the war effort. Cummins engines endured the harshest conditions, from the tropics to the sub-arctic. The convoys that supplied the Allied Forces in Europe, Africa, and elsewhere were powered in part by Cummins engines. 
Many of the famous Livery cargo ships and Miki-class tugs that supported the war effort also depended on Cummins marine generators for power. 
With America embarking on a massive interstate highway construction program in the 1950s, Cummins engines powered much of the equipment that built the roads and the thousands of trucks that rolled down them. 
As Cummins continued to grow its business in the U.S., the company began looking beyond its traditional borders. Cummins opened its first foreign manufacturing facility in Shotts, Scotland, in 1956 and by the end of the 1960s, Cummins has expanded its Sales and Service network to 2,500 dealers in 98 countries. Today, Cummins serves customers in more than 190 countries through a network of 500+ distributors and 7,500+ dealer locations.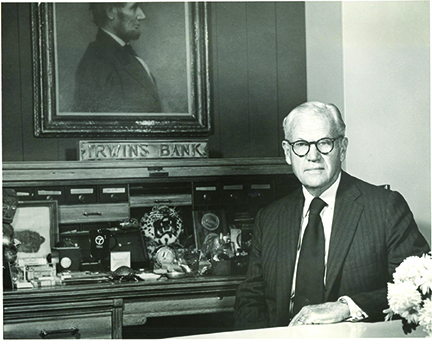 The Focus on Emerging Countries
Led by the visionary leadership of J. Irwin Miller, Cummins forged strong ties to emerging countries such as China, India, and Brazil, where Cummins had a major presence before most other American multinational companies. Today, Cummins has grown into one of the largest engine manufacturers in both China and India. Cummins, however, is no longer just an engine business, but a global power leader manufacturing diesel and natural gas engines, hybrid engines, generators, and is up and coming in electrified power. The company pledges to have an electrified powertrain for urban buses on the market by the end of 2019. 
Cummins had sales of 23.8 billion in 2018 - a company record. With more than 60,000 employees worldwide, Cummins serves customers in a multitude of markets. In fact, the company powers more types of equipment in more markets than any other engine company with engine sizes ranging from 2.8 liters to 95 liters. 
With engine development often taken for granted, it's easy to overlook the incredible engineering challenges Clessie Cummins faced to create a mechanically reliable engine and to set the standards for a company that is now the only survivor in a once-crowded field of independent engine makers. Not only that, Cummins is a technology leader, working relentlessly to provide cutting-edge solutions to the increasingly difficult challenge of Powering a World That's Always On.
Clessie Cummins' spirit of innovation and commitment to quality certainly lives on a century later.