Saroja Empowers Authentic Representation at Cummins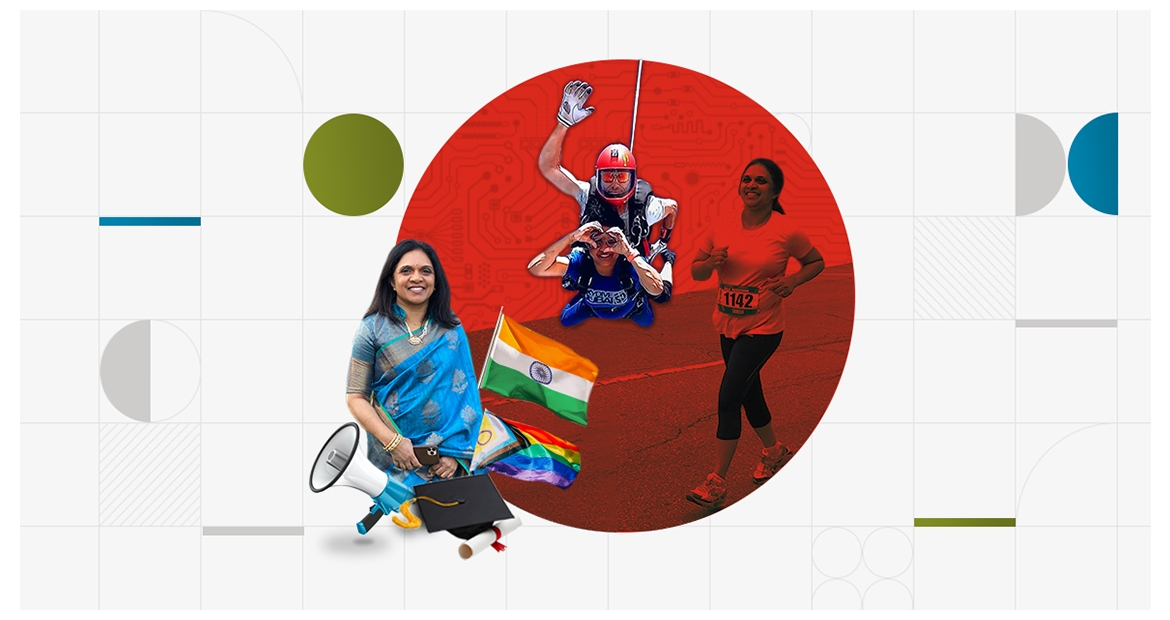 Saroja and Cummins are in a serious relationship. The two have been together for 22 years and, Saroja says, she's grateful for every minute of it.
Saroja began at Cummins as a contractor in the Research and Technology organization immediately after graduate school in 1997. After three years, understanding the values of Cummins fit so well with her personal and career goals, when it was time to take their relationship to the next level, she became a full-time employee. Today, as the Director of Integration, EDI and Value Stream Management Technology Platforms, Saroja manages more than ten teams of product-centered, agile software engineers and product owners who code, develop software products, create value for their customers, manage technology platforms, and build automation of software delivery and APIs for every business unit, function, and area business office in the company. "We're thinking about the big picture of where Cummins wants to go digitally. We have some big goals as an IT department to make solutions available to build your products wherever you are with agility, capabilities that are most valuable with resiliency and sound underlying foundations," she says. "My team is creating a platform of digital solutions easy to consume by all either internally or externally."
She calls herself a cheerleader, a motivator, and a decision-maker, and recently she's returned to recruiting at conferences like the Society of Women Engineers, Out4Undergrad, National Black Society of Engineers, and Women in Computing . As subcommittee leader of the IT organization's Diversity, Equity, and Inclusion Attract team at Cummins, she gets encouraged to connect with thousands of talented women and non-binary computing technologists out there, seeking to achieve intersectional gender and pay parity. Information Technology and digitization will be essential for Cummins to pursue goals in introducing new products (Electric, Hydrogen), new digital capabilities, Destination Zero, and Planet 2050, we need all different perspectives and power in technical computing.
"This last Out4Undergrad conference was life-changing," she says. "I met all these undergrads, nonbinary and transgender technologists as people. It was heart-wrenching listening to stories kids shared about not having access to basic things like love, respect, rights, or even access to a bathroom, which my kids and I take for granted. As a mother I thought, is that true? Is that possible? I thought I was in a modern country, and here's a kid telling me they're lost and have given up. I had a light switch turned on."
Deeply moved, Saroja, who is influenced by Gandhi's wisdom "to be the change you want to see in the world", decided right then that she needed to do something more. She is currently trying to figure out how to make the biggest impact, whether inside the workplace or outside the larger community. At this point in her career, she believes her biggest contribution to changing the world can come from mentoring young female, non-binary or feminine-presenting, college graduates.
She notes, "maybe with just one sentence I can give them a new perspective, hope, encouragement and let them know it's possible, it's OK to go for it. Boldly go where no one has gone before, be who you want to be (your authentic self), and get to grow through that process. Plus, I learn from them as well."
She's also considering something as simple as proposing that Cummins add 'other' as a dropdown choice for gender on their job application forms. She's confident something like that would be considered at Cummins because to her, "you're valued as a person here."
It's one of the reasons that she decided to start her relationship with Cummins all those years ago. "Cummins is like an entire world of its own — with people from every country — a multicultural community which lends itself to diversity and acceptance," she says. The richness of experience that comes from being around so many different kinds of people help her feel connected.