Sustainability initiatives shape manufacturing of 6.7 turbo diesel engine and local community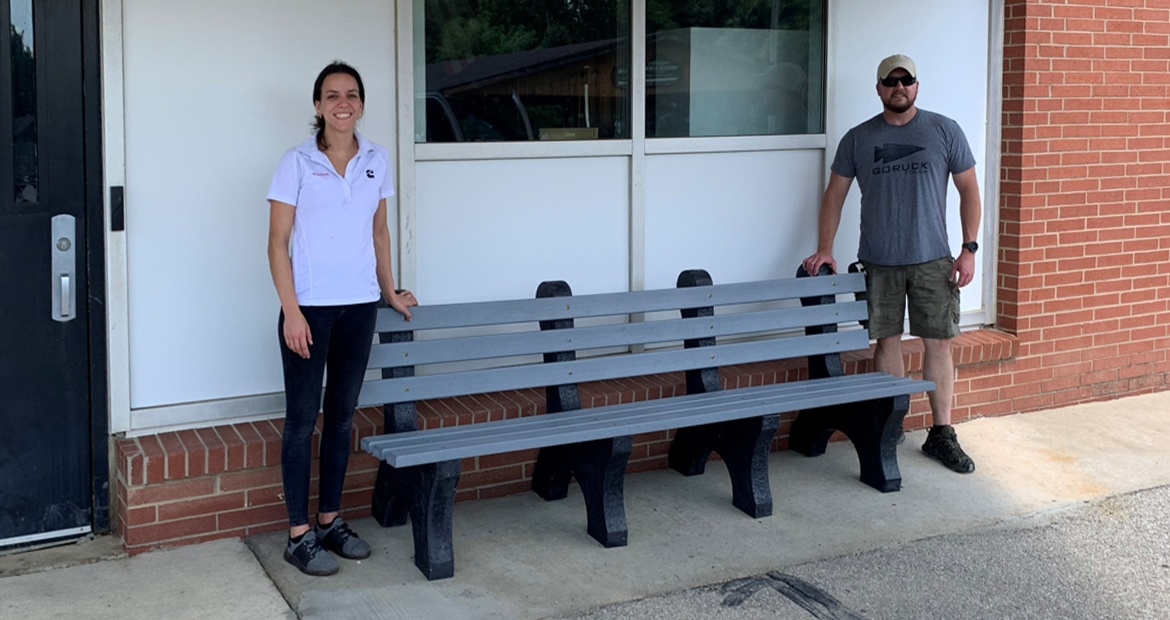 As wildfires, floods, and rising temperatures become more frequent, the need for sustainable, environmentally friendly solutions in manufacturing grows. With stricter regulations and EPA industry standards, it's important for OEMs, fleets and customers to know their products, diesel engines to hydrogen engines, are manufactured with a smaller carbon footprint.
Cummins Inc.'s Columbus Mid-Range Engine Plant (CMEP) is taking key steps towards environmental goals, one sustainable initiative at a time. As Cummins continues to work towards key targets and 2030 goals included in its PLANET 2050 environmental sustainability strategy, promoting sustainability both in facilities and the community has proven impactful.
Here are five key ways Columbus Mid-Range Engine Plant's sustainability team is implementing green initiatives, and educating others along the way.
No. 1 E-waste recycling collection
Electronic waste (e-waste) is the world's fastest-growing waste stream. As our lives become more intwined with the latest tech gadgets, the more we discard our electronic devices as they near the end of their useful life.
In 2019, over 53.6 metric tons of e-waste was generated across the world. E-waste is increasing at an alarming rate, at almost two metric tons per year. E-waste poses health risks for humans from open air burning and exposure to harmful toxins like lead and mercury. This risk extends to the impact on our environment.
To recycle current technology and promote the continuation of e-waste recycling, Columbus Mid-Range Engine Plant organized a Columbus, Indiana community-wide recycling collection event. Over 860 pounds of electronic waste was diverted from landfills, ultimately avoiding leaking hazardous and toxic chemicals into the environment.
No. 2 Plastic caps competition
The production of plastic components is a growing concern for our environment. Nearly 400 million tons of plastics are produced every year. Caps on plastic bottles is one such plastic. While the entire bottle is an issue, caps pose an increased hazard as they are small enough to be ingested by wildlife and leave behind microplastics in the environment as they degrade.
Aiming to gather as many plastic caps as they could, the plant arranged a "caps competition." Over the duration of June, which is Environmental Awareness month, plant employees helped collect a total of 250 pounds of plastic caps. Caps gathered were sent to recycling facilities that used them to create new products like benches.
With the hopes of encouraging young students in the Columbus community to recycle, the bench was donated to Mount Healthy Elementary School as a feature in their playground.
No. 3 Vote with your (cigarette) butts
The top form of litter in the entire world? Cigarettes.
It's estimated that nearly 750 million to 1.5 billion pounds of tobacco waste is generated every year, equating to roughly 4.5 trillion cigarette butts disposed improperly, despite a global decline in smoking rates.
Cigarettes are often made with harmful chemicals like arsenic, cellulose acetate, lead and other heavy metals. It can take anywhere from two to 25-years for a cigarette to decompose, during which, toxins leach into the ground and contaminate air and water resources. Cigarettes are one of the largest sources of marine litter, not to mention a problem for urban fires and wildfires due to a lack of fire-safe disposal receptacles.
Throughout the plant's campus, "Ballot bins" are stationed to promote the proper disposal of cigarettes in fire and nature-safe receptacles. To encourage Cummins Midrange Engine Plant to recycle, the ballot bin allows them to vote on their favorite competitors using their cigarettes (Coke or Pepsi? cats or dogs) without littering.
No. 4 Paint elimination
For 30 years, CMEP has been assembling the RAM 6.7-liter diesel engine and coating it in clear paint for protection. However, in November 2021, the plant eliminated its paint process after conducting lengthy assessments that reduced waste within the plant while maintaining the quality and durability of the engine itself.
Since eliminating their paint process, not only has the plant reduced the use of 265 gallons of paint and countless plastic caps, stickers, and covers shielding components from paint. The plant has also saved 10,000 gallons to 14,000 gallons per day of water waste and reduced their natural gas usage by 88%.
Having a sustainably manufactured product is important, especially for fleets seeking to lower their carbon footprint and adhere to the strict regulations and standards set by the EPA. Paint elimination has contributed towards Cummins' key 2030 goals including reducing volatile organic compound emissions from paint and coating operations, and reducing absolute water consumption in facilities and operations.
The plant also received the Indiana Governor's award the plant for their paint elimination strategy.
No. 5 Nitrile glove lifecycle
In April of 2022, CMEP became the first Cummins plant in North America to implement a nitrile glove recycling program to divert waste from landfills.
Nitrile gloves are a standard PPE practice in many food, industrial, and chemical lab environments. Made from the compound nitrile, these synthetic, rubber gloves are particularly popular due to their chemical and abrasion resistance. For plant employees, nitrile gloves work as a second barrier to protect employees from exposure to harmful chemicals and injury as they inspect the 6.7-liter diesel engine. They also protect residue employees may have on their hands from contaminating products. In one year, 800 employees can go through over 530 cases of nitrile gloves, equating to roughly 875,000 gloves. 
Kimberly-Clark Professional, one of the first manufacturers to offer a recycling program for non-hazardous PEE, partnered with the plant to recycle and repurpose their biodegradable nitrile gloves. The plant fills gaylords full of nitrile gloves every two weeks and ships them to be sorted by a non-profit organization in western Virginia that provides jobs for disabled and disadvantaged workers. Used, non-contaminated gloves are then converted into plastic pellets and made into new products like storage bins, shelves, and lawn chairs. In the end, the plant has created a lifecycle for nitrile gloves while simultaneously creating jobs.
Since the program launch, CMEP gathers on average 320 pounds of nitrile gloves every two weeks. If they continue to use an average of 530 cases of gloves they typically go through in a year, the plant could expect to divert almost 3.75 tons of waste from landfills each year.
CMEP continues to fulfill key 2030 goals, like creating life cycles for materials, reducing their scope 3 absolute lifetime greenhouse gas (GHG) emissions and water consumption in their facility and operations, as a part of Cummins' PLANET 2050 environmental strategy. Throughout their initiatives, the plant strives to not only improve the surrounding environment with crucial sustainability practices, but also bring the community along with them. 
Learn more about Cummins' PLANET 2050 strategy and the nine, key 2030 goals.