Jasmine powers her career at Cummins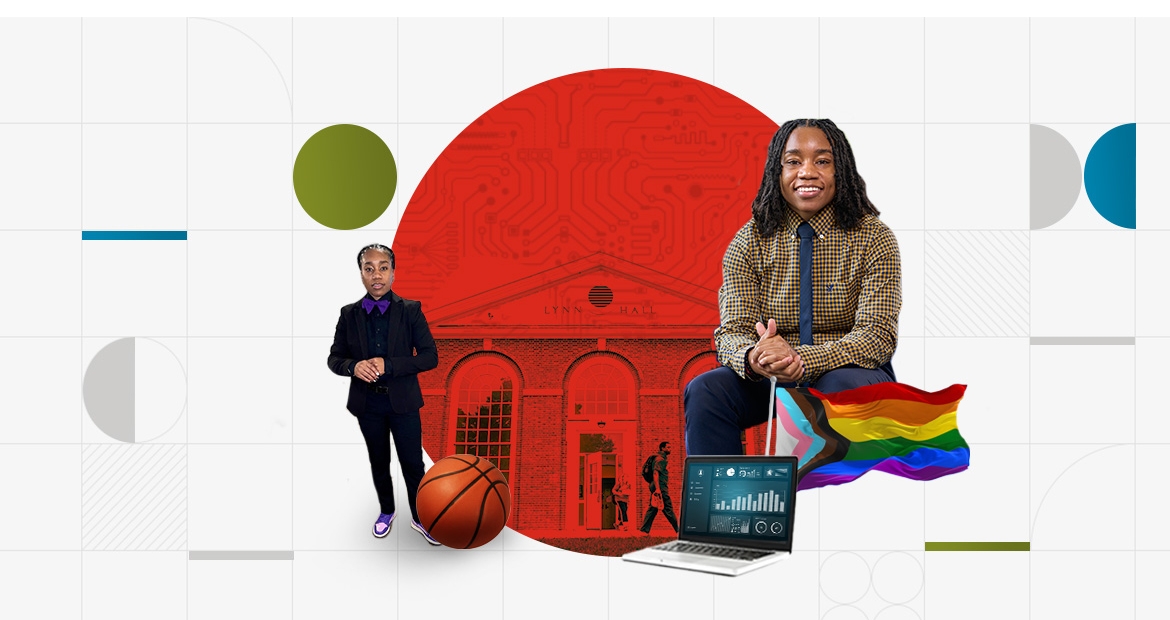 Life is a series of sliding doors, opening, and closing with opportunities and setbacks, just waiting for you to step in or out. Communications Manager Jasmine stepped through one of those doors while she was a student at Hanover College in Indiana, and it changed her life forever.
When Jasmine was a junior at Hanover College, she was asked to give a speech about the role financial aid has played in her college journey. Mark Levett, the Vice President of Corporate Responsibility and CEO of the Cummins Foundation at the time, also happened to be there as one of the members of the Board of Trustees at Hanover.
Coincidentally, he sat at the same table as Jasmine at the event and loved her speech. He asked about her post-graduation plans, and she said she was considering working for a phone company. Levett replied, "No, trust me, you'll want to come to Cummins."
He was right. In 2011, Jasmine interned at Cummins, and in 2012, she began working full-time in their Engine Business Unit (EBU) in marketing.
Jasmine loves the world of marketing communications because "something is always changing. A trend, metrics — you get to learn every day," she says. "Plus, there are so many different areas of marcomms like digital, operations and public relations. So, there is an opportunity to learn and move around to keep things interesting."
Currently, Jasmine stays interested through project management-based work that includes everything from leading and executing marketing-related trade show requests to creating an integrated marketing plan for three different Cummins industries she supports. Collecting, analyzing and reporting on metrics and performance also plays a large role in her day-to-day duties.
"I just make sure each of my projects are on track, meeting the goals of the teams while monitoring changes and looking for ways to optimize the work based on things coming down the line," she says.
When asked about her team, Jasmine applauded their small, three-person cohort.
"We have a great leader," she says. "She's a thinker, planner, doer. She has a way of mapping everything out to ensure we're meeting the needs of our stakeholders but also growing in our roles as individuals. She's always plugging us into things and helping us develop as individual contributors."
It's that opportunity for growing to your full potential that Jasmine lauds as the best part about working at Cummins because she says Cummins makes it OK to start working there without knowing exactly where you want to end up. Employees are encouraged to do a little bit of everything and move around to different divisions to find their perfect fit within the company. The Cummins door slides both ways if you will.
Being able to move while still acquiring skills is important to Jasmine. "I don't know how many other companies are doing that. It's great to learn and grow in the same space without jumping from company to company," she says.
For her own growth, Jasmine was recently nominated by Cummins to be part of an external leadership program. She also won a Community Impact Award for her work on the Cummins Pride Employee Resource Group (ERG) Pride Parade and Festival Global Impact.
In 2018, Jasmine and other members of the Pride ERG opened doors when they created a planning process for the Indianapolis Pride Parade and Festival that could be replicated by other global Pride ERGs. The creation of this process not only increased the number of Cummins Pride ERG chapters that take part in their local pride parade and/or festival, but it also help launch new Pride ERG chapters across the company in various locations. Finally, this initiative created consistent visibility of Cummins's support of LGBTQ+ individuals (reinforcing inclusivity at Cummins) and attracted new employees to Cummins as a safe place to work.
"I'm proud of that [Pride ERG] work because it showed our [Cummins] values and that there were people in the company who cared about making sure things were in place to allow you to be your authentic self at work, and that it is acceptable to be you."
She adds that being allowed to be authentic at work also has benefits because "if you can't be your true self, then you're not giving 100%. We've got to break that barrier."
Through her college and university recruiting work, she also encourages would-be employees to see their authentic selves as assets.
"I encourage [recruits] to be the author of their own story and remind them it's not just about telling your story. You have to control and own the narrative, but take action as well," she says.
As the author of her own story, Jasmine takes pride in bringing her authentic self to Cummins every day to build a better workplace and a better world — with open doors for all.